Ben Franklin may have cited taxes as one of two certainties in this life, but CFOs might disagree — at least when it comes to the taxability of research-and-development spending.
For the past 30 years, companies have enjoyed a tax credit for increases in their R&D expenditures, but have never been sure whether that credit would be there from one year to the next. Congress has had to vote to extend the temporary provision 14 times over those three decades, which has made budgeting for innovation a less-than-scientific endeavor.
This year has been no different. Despite almost universal political support for renewing and even improving the measure, Congress appeared (as of Labor Day) to be ready to let the credit lapse at the end of 2011.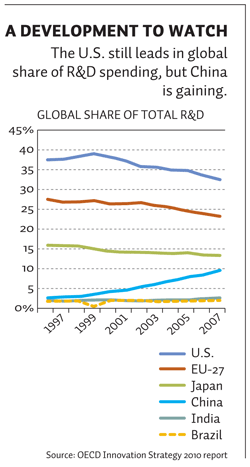 To be sure, the credit, which provides a subsidy for corporate research spending in excess of a base amount, has come in for sharp criticism in recent years, particularly in the pages of a November 2009 General Accountability Office report to Congress on the credit's design and administration. The GAO claimed that a significant portion of the credit amounted to "a windfall for [corporate] taxpayers, earned for spending they would have done anyway, instead of being used to support potentially beneficial new research."
That alleged windfall stems from current accounting rules that govern the credit; under one of the options used by many companies, increases in R&D spending can be gauged by relating them to a base amount that may date as far back as the 1980s, when the credit was first introduced. Critics maintain that when companies do that, they can chart a misleadingly large increase in their R&D outlays — and thus yield a whopping tax credit.
That criticism is far from new, and has never undermined companies' confidence that the credit will ultimately win yet another legislative reprieve. But this time around something has changed. The inability demonstrated by congressional Republicans and Democrats to come to an amicable solution on the debt ceiling — plus their unclear agenda concerning other tax issues — has created a new sense of peril around the R&D tax credit.
The traditional legislative impermanence of the credit, "particularly combined with the uncertainty of what's going on in Washington," says Paul Clancy, finance chief at Biogen Idec, has caused his company's management to "discount the probability of whether [the credit] will be there."
If the credit is not extended this year, the consequences will be almost immediate — but, ironically, not immediately known. That's because the credit must be signed into law in a given year in order for corporations to apply it to that year's financial reporting. Should the credit lapse, the true state of many companies' aftertax income may not come to light until late 2012.
There is another irony in play: even as the prospects for extension seem more grim than at any time since the credit was passed into law in 1981, the potential for the creation of a permanent R&D tax credit looks better than ever. It is, after all, one of the few subjects on which arch tax-cutters and steadfast stimulus promoters can agree. In his 2012 budget proposal, for example, President Obama proposed making the R&D credit permanent — as do a number of current House bills with strong bipartisan backing.
Acting through coalitions like the Silicon Valley Tax Directors Group, companies including Adobe Systems, Apple, Amazon.com, and Netflix are also pushing hard on the issue. "We view the creation of an enhanced, simplified, and permanent R&D tax credit as a vital reform," says Mark Garrett, CFO at Adobe. "More-predictable, -favorable R&D tax treatment would enable Adobe and its peers to strengthen R&D investment in the United States."
Two Sources of Controversy
Indeed, the biggest ongoing tax problem for U.S. corporate R&D might not be the perennial legislative uncertainty. Even if a permanent, business-friendly revision of the credit is signed into law and eliminates that headache, there will still be the Internal Revenue Service to contend with. To date, the credit has been a contentious issue between tax collectors and corporations.
One thorny issue pertains to how companies must document "nexus," which in this context refers not to a company's location but to the connection between a particular research activity and the costs associated with it. The other sticking point involves a requirement that companies document R&D activities in real time, rather than after the fact.
At the core of the nexus controversy is the allocation of R&D expenditures via a "cost-center" approach, a method favored by many companies, versus the "project-based" approach favored by the IRS. In the latter, companies track the pay of both permanent and contract employees working on a specific project, as well as supplies and overhead. "That way the company knows exactly how much it spends on each project," explains Kendall Fox, a principal with PricewaterhouseCoopers.
That approach to tax accounting works well for some industries, such as aerospace and defense, which tend to bill the government on a project-by-project basis. Most companies, though, don't bill for their services that way, and don't need such detailed information to manage their businesses, notes Fox. For them, setting up the software systems needed to capture project-related costs could be an onerous and needless expense.
Instead, they tend to track R&D expenses using a cost-center method that allocates outlays to various departments or business units. For example, a company doing cancer research might aggregate all the costs incurred by scientists working on six different molecular compounds, rather than separately determining how much is spent on each of those six, according to Fox. "Whether it's one or six, all are qualifying activities, and [companies] should be able to account for how much [they] spend on those in the aggregate," he contends.
Until now, the IRS has disagreed. Project-based accounting "generally establishes the required nexus, whereas cost-center accounting does not always provide the nexus between qualified activities and their related costs," according to the agency's 2008 guidance.
Especially distasteful to the IRS are various hybrid approaches that combine cost-center and project-based accounting, and which are used by most companies applying for the R&D credit. "The manner in which the information is compiled typically does not support the relationship between the accounting records and the research activities or [qualified research expenses]," according to the IRS's guidance.
Real-Time Reporting
The IRS is not only concerned about which process companies use in seeking the credit, but also about which data they provide. The service wants it to be as current as possible: agents are advised that "information to prove or support the claim should be contemporaneous and available for inspection…. The amount and type of documentation that the taxpayer has available will determine how you should proceed with the examination."
In short, the IRS wants companies to create and maintain real-time documentation of their research endeavors, according to Jeff Malo, a director at WTP Advisors, a tax and business consultancy. The service objects to a "retroactive approach" that would enable taxpayers to go as long as four years without documenting their activities, he says.
Busy scientists and engineers have tended to provide after-the-fact documentation to support their companies' R&D credit filings. A particular problem with this kind of "look-back" approach is that it involves the use of estimates, according to Malo.
In connection with their tax-compliance efforts, companies commonly require research staff to fill out questionnaires on which they estimate the percentage of time they dedicated to qualified activities over the last tax year. Malo says that it began to strike him as odd that such estimates almost always end in round or nearly round numbers, such as 60%, 75%, or 25%.
Malo, who has spent three years as a tax litigator for the U.S. Department of Justice, says that if he had an opportunity to cross-examine a research scientist supplying such estimates, he would ask, "'What percentage of your time was qualified for the week of January 7 through January 15?' And I expect the answer would be, 'Not sure.' 'What about the week of March 10 through March 17?' And again, 'Not sure.'"
Companies should take heed, because if such a line of questioning enabled the IRS to undermine the credibility of the witness's testimony, it could put the company at the "mercy of the IRS in terms of what their qualified research expense would be," Malo says.
The horizon isn't altogether bleak, however. Despite the uncertain political climate in Washington, there's a good chance that Congress will pass a bill blessed by President Obama next year that would make the tax credit permanent. Further, there is substantial bipartisan support for legislation that would boost the percentage of qualified research expenses certain companies would be able to claim in calculating R&D tax credits from the current rate of 14% to a portion as high as 20%.
At least one bill being considered by the House, in fact, would make a currently available simplified method of R&D expense reporting permanent, thus resolving one of the key design flaws of the credit as identified by the GAO. But so far, legislators have done little or nothing to address the aforementioned points of contention between the IRS and corporate taxpayers.
Lacking legislative solutions, companies should continue to expect tough scrutiny from the IRS on those matters. But they can at least be cheered by the possibility that the hard knocks they must endure on R&D taxation will pertain to a credit that they can count on going forward.
David M. Katz is New York bureau chief and senior editor for accounting at CFO.