A new whistle-blower program that went into effect earlier this month may pressure companies into accelerating internal investigations that are prompted by employee tips.
By sticking to a tighter time frame, companies could give regulators the impression that corporate officials — and not a whistle-blower — were on top of a potential problem from the beginning. That impression could help companies gain leniency with regulators and be looked upon favorably by the investing public. "It shows the [Securities and Exchange Commission] you take the allegations seriously, and it allows you to spin the allegations in a manner that is most positive for the company," says Lisa Noller, a partner at law firm Foley & Lardner.
The need for a deadline comes from the SEC's whistle-blower program, which awards cash bounties to witnesses of securities fraud. Critics of the rules have said they encourage employees to bypass their own compliance departments and go directly to the SEC with concerns. In fact, the commission will still consider a fraud informant as a whistle-blower if 120 days elapse between the time the informant reports a problem through internal means (such as to the audit committee or chief compliance officer) and the time the SEC gets wind of it from that source.
However, law firms are recommending that companies self-report the problem before that 120-day window closes. Having the SEC hear about the problem directly from the company could also limit the scope of the regulator's own investigation. Under similar whistle-blower rules in the False Claims Act, companies that are proactive show regulators that "you've done the work for them," says Noller. "You reduce the likelihood they'll poke around and broaden the investigation."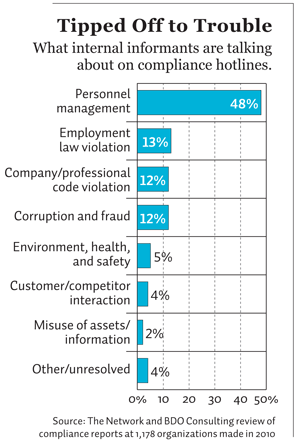 Noller also points out that whistle-blowers could turn their theories over to the SEC in the meantime in an attempt to cash out. Nearly two weeks ago, the commission launched a new Web page for people to report securities-laws violations and seek a possible cash award. Informants would collect 10% to 30% of wrongdoers' payout to the SEC for enforcement cases that involve penalties worth more than $1 million.
Last year 68% of internal tips at companies and public-sector organizations led to an internal investigation, according to a study released this week by The Network Inc. and BDO Consulting that looked at compliance hotlines over the past five years (see chart). "Companies are looking at the information and following up on any issues more diligently," says Luis Ramos, chief executive officer of The Network, a governance, risk, and compliance consultancy.
However, companies too often leave whistle-blowers hanging, contends Ramos. They could do a better job of circling back with tipsters to know when and if an issue has been resolved, he says. Given the SEC's new whistle-blower rules, that work appears even more important.
Senior executives could also help reduce the stigma often attached to whistle-blowers who risk their job to report possible wrongdoing. "CFOs should foster an environment where compliance is celebrated rather than punished," says Ramos.