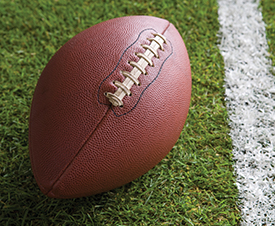 The National Football League has become the nation's most watched pastime and also the most lucrative. Projected to gross billions of dollars from television rights alone in 2016, the NFL is now the most valuable sports league in the world. But how much do you really know about this corporate juggernaut? Take our quiz to find out.
1. Having signed a six-year, $140 million contract in June, who is the NFL's highest paid player?
A. Joe Flacco
B. Tom Brady
C. Eli Manning
D. Andrew Luck
2. Which football stadium cost a record $1.6 billion to build in 2010?
A. Soldier Field (Chicago)
B. MetLife Stadium (New York)
C. AT&T Stadium (Dallas)
D. Levi's Stadium (San Francisco)
3. With an average ticket price of $132, which NFL stadium is the most expensive for spectators?
A. Gillette Stadium (New England)
B. Soldier Field (Chicago)
C. FedEx Field (Washington)
D. Hard Rock Stadium (Miami)
4. Which NFL franchise is valued at a record $4 billion?
A. New York Giants
B. Seattle Seahawks
C. Dallas Cowboys
D. New England Patriots
5. The NFL's least valuable franchise is the Buffalo Bills. How much were they bought for in 2014?
A. $2.2 billion
B. $955 million
C. $2.9 billion
D. $1.4 billion
6. How many NFL games ranked in the top 50 most-watched TV programs in 2015?
A. 45
B. 6
C. 22
D. 13
7. How much revenue is the NFL estimated to earn during the 2016 season?
A. $2.2 billion
B. $5 billion
C. $13 billion
D. $22 billion
Sources: Fundrise, Bankrate, ESPN
---
Answers: 1-D; 2–B; 3–B; 4–C; 5–D; 6–A; 7–C