As a graduate student in international economics at the University of California, Berkeley, in the early 1980s, Chris Ballinger sometimes found himself engaged in speculation about what would happen when money became electronic, and whether anybody other than a central bank could issue it. Twenty-five years later, the digital currency bitcoin answered those questions.
But for Ballinger—by then CFO of Toyota Financial Services, the financing arm of Toyota Motor—the most interesting development was not the new cryptocurrency but the technology behind it. Many others shared his interest. "What drew us was the ability to register things of value, whether they were financial things, physical property, intellectual property—and have absolute certainty of ownership and avoidance of double-spend," Ballinger recalls. "That allows you to wring cost and efficiency out of a system. If you know when somebody offers to sell you something that they are the real owner and the exchange will be certain and can't be undone, you can execute that transfer very quickly—without any middleman costs."
Just imagine if a finance department never had to reconcile another set of intercompany accounts. Or resolve a financial dispute with a vendor, wait for a payment to clear, or set aside collateral to cover counterparty risk.
Too good to be true? For the moment, yes. But it's all possible, theoretically, with the use of distributed ledger technology, or, as it is more commonly known, blockchain—the particular type of distributed ledger technology that enabled the creation of bitcoin in 2009.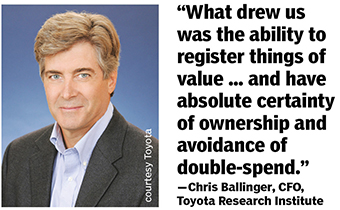 A lot must happen to get from where we are today to the paradise blockchain proponents promise. Many smart people remain skeptical that blockchain, or any other variation of distributed ledger technology, will deliver all that its most fervent acolytes envision. But judging by the accelerating pace at which blockchain initiatives are making headlines, it's hard to imagine that blockchain won't have an impact on the world of finance. Will companies that ignore the technology today find themselves at a competitive disadvantage tomorrow?
"Clearly there are risks of going too early—of spending money building things nobody wants or is ready for, that are not yet of a scale to make them pay off," says Ballinger, now CFO and director of mobility services at Toyota Research Institute, part of automaker Toyota Motor. But Ballinger's opinion is that companies that don't adopt distributed ledger technology in some form will hasten their obsolescence.
Plenty of companies, especially in financial services, are trying to make sure that doesn't happen. In a survey of 200 financial institutions in 16 countries conducted for the IBM Institute for Business Value, 14% of the respondents said they plan to go into blockchain production at scale in 2017. A companion survey of 200 commercial and retail banks found that by 2018, nine out of 10 will have invested in blockchain solutions for deposit-taking, while 15% expect to have some type of commercial blockchain application up and running this year. The report concluded that the banking industry "is hurtling toward blockchain adoption far faster than many expected."
Venture capitalists also bet on the technology's future by funneling anywhere from $1 billion to $1.5 billion of capital into blockchain and bitcoin companies in 2016.
"I cannot recall another technology that has generated this much interest from as wide a segment of the business world," adds Todd McDonald, chief operating officer of R3, which is leading a 70-organization consortium exploring commercial applications for distributed ledgers.
What It Is
For anyone who has puzzled over the significance of bitcoin but has largely sidestepped any rigorous investigation of the technology behind it, a quick primer. A blockchain is a type of distributed ledger, meaning it is shared by many users over a peer-to-peer computer network. The ledger itself is made up of "blocks" of data, each of which has been assigned a unique digital identifier, or "hash." Each block of hashed data is built on the block that came before it, ensuring a complete, highly transparent, auditable trail of information on an ever-growing "blockchain" that cannot be changed or altered.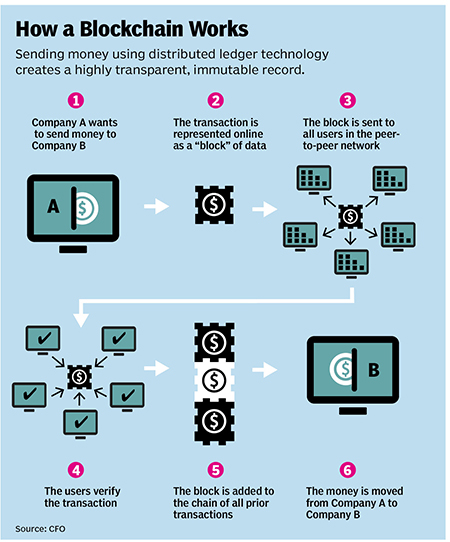 The blockchain is shared by all users, with new transactions requiring validation by more than one user—a consensus—before being accepted and shared universally. The result is that all users can be confident of the blockchain's reliability; it represents a literal "single view of the truth" for everyone.
The immutability is what allows participants in a blockchain to conduct business without having to wait for, or worry about, transactions being reconciled. It is expected that corporations will make use of a so-called "permissioned" blockchain, which, in part to speed its operation, allows users to restrict who participates in the consensus mechanism and how. A public blockchain open to anyone—like the bitcoin blockchain—doesn't offer that level of control.
The corporate finance function, Ballinger notes, is all about financial transactions, contracts, and the trading of financial instruments, often with chains of people facilitating payments. For large transactions, the frictional costs may be modest, but for small ones they can be material, if not prohibitive. Distributed ledger systems could eliminate those burdens for finance organizations once all the various parties they work with have agreed to participate in a blockchain.
While groups like R3 work toward that ideal, Ballinger is leading Toyota's efforts to apply distributed ledger technology to a wide variety of ends, from streamlining the vehicle registration process to making the company's supply chain faster, easier, and less expensive to manage. He's also investigating whether other auto companies might be interested in a consortium that would explore blockchain applications specific to their industry. "I'm a believer in this," Ballinger says. "I'm excited about it."
Experimentation
Ballinger is hardly alone. As noted, virtually every major financial institution is trying to leverage distributed ledger technology's ability to streamline vast facets of their operations and eliminate the costly reconciliation activities that accompany financial transactions—before someone beats them to the punch. And other industries aren't far behind. The following are just a small sampling of projects in the works at banks and other companies:
Stock exchange operator Nasdaq is testing a blockchain-based trading platform called Linq, which, among other things, allows a company to issue securities to private investors.
Depository Trust and Clearing Corporation is partnering with IBM, R3, and others to build a new blockchain-based trade information warehouse to settle payments of credit default swaps.
Health-care companies are studying blockchain as a way to enable more efficient and secure sharing of medical records.
U.K. freight forwarder Marine Transport International is creating real-time digital ledgers of shipping data for port officials and cargo owners, recognizing that visibility into the provenance and value of cargo could shrink shipping costs.
IBM is testing a new application of blockchain technology in its global financing business. Its goal is to speed resolution of transaction disputes with its suppliers, financing customers, and partners. By doing so, it hopes to free some of the $100 million in IBM capital that can be tied up in those disputes at a given time.
While blockchain technology is unfledged, Keith Bear, a vice president and global leader for financial markets at IBM, says it's "mature enough to commit quite sizable and sophisticated applications to it." In addition to reducing the cost of existing business models, he says, blockchain has the potential to help companies develop new ways of serving clients that might not presently be easy or affordable.
Finance Usage
How will finance departments use distributed ledger technology? Experts identify four ways that early blockchain applications could benefit the finance function:
Elimination of reconciliation. "The majority of corporate finance transactions—transfer of shares, transfer of funds, signing of contracts—have several tracks managed by various stakeholders," says Alex Zinder, senior director, software engineering, for Nasdaq. He notes that those tracks are generally interdependent but unconsolidated. "We want to move to a shared ledger model in areas where currently there are redundant and replicated ledgers," Zinder says. "The immutable and verifiable properties of a blockchain solution enable this capability and create a full audit trail and extended assurance capabilities."
Streamlining settlement activities. Software company SAP demonstrated the potential for this application last summer when ATB Financial, a Canadian financial institution, transferred 1,000 Canadian dollars to a bank in Germany using technology from SAP and blockchain startup Ripple. Instead of needing several days for settlement with the counterparty bank and for account reconciliation, the payment was completed in about 20 seconds. Blockchain experts say companies could achieve similar efficiencies when providing collateral to a counterparty. Instead of requiring an agent to hold the collateral and handle mark-to-market calculations, a blockchain would allow the parties to have the collateral marked to market according to a pre-agreed formula—spelled out in a "smart contract"—that would also trigger exchanges of collateral automatically and directly between them. (See "How Smart Are Smart Contracts?" below.) "The next wave of blockchain adoption and experimentation is going to be around a lot of back-office processes similar to settlement—just taking days out of settlement time," predicts Kris Hansen, SAP's senior principal for financial services.
Facilitating supply chain financing. "Supply chain finance is incredibly inefficient," says Ballinger, noting that it can stretch across many tiers to fairly remote parts of the world where accessing capital is expensive. "Companies have tried to create visibility into those lower tiers and push cheaper capital down into the supply chain. But it's hard to protect your interests at those levels." With a blockchain, companies could register just about every aspect of the supply chain—bills of lading, purchase orders, certificates of origin, parts and components themselves—and protect their ownership in the things they're buying. In addition to helping to reduce financing costs, Ballinger says, putting supply chains on blockchains would help companies know more quickly and precisely where parts are—a benefit when their supply chain is disrupted by a natural disaster or some other unusual event. It also would largely eliminate counterfeiting by assuring the provenance of parts.
Optimizing and unlocking liquidity. R3's McDonald says CFOs may find that once they have digitized assets on a blockchain they may open up new sources of liquidity. Consider open account financing, in which companies ship and deliver goods internationally before payment is due. Registering foreign accounts receivable on a distributed ledger would make their place of origin known, trusted, and auditable. Banks and other lenders presumably would be more willing to provide financing against those accounts receivable, and on better terms. "That's something we're working on with banks right now," McDonald says.
Stumbling Blocks
Blockchain evangelists say the biggest challenges to widespread adoption of blockchain technology aren't technical. But that's not entirely true. Transaction speeds, the verification process, and the amounts of storage a blockchain needs are all potential stumbling blocks, according to a Deloitte whitepaper. In addition, blockchain technology represents a complete shift to a decentralized network. But it is also true that blockchain's success hinges on an understanding of the technology and people's willingness to embrace it. If expectations get too high too fast and aren't realized, or if promised timelines prove too aggressive—as some were in 2016, McDonald concedes—potential users could be put off.
Meanwhile, there's a critical mass needed before blockchain technology can work to its full potential. To be sure, large companies may realize some value on their own by figuring out a better way to reconcile data across far-flung business units, which interact in complex ways on transfer pricing and other issues, says attorney Lewis Cohen, a partner with Hogan Lovells. But even large companies won't realize blockchain's full value until their vendors, suppliers, customers, and other partners join their networks.
Says Ballinger: "Early on, nobody is interested except the developers. What you're likely to find are little pockets of opportunity—illiquid security settlements, for example—where people will start using the tools. Then, at some point, like the Internet, it will suddenly take off."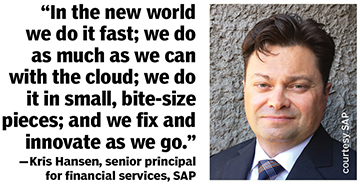 "The biggest challenge will be around collaboration and integration," agrees Nasdaq's Zinder. "A blockchain solution implies a network of participants. Breaking down the infrastructure and information silos between those participants is challenging and has to be justified as a competitive advantage. We have seen a lot of this integration evolution in the digital media, advertising, and retail segments, but it is difficult to replicate in finance, and for good reasons."
Costs can always be an issue when a new technology is introduced. For blockchain, "high initial capital costs could be a deterrent," says Deloitte. But SAPs Hansen says companies can proceed prudently and piggyback on the work being done by industry consortiums. He adds: "The appetite for large, stop-everything transformations is behind us. In the new world we do it fast; we do as much as we can with the cloud; we do it in small, bite-size pieces; and we fix and innovate as we go." When SAP worked on ATB's cash-transfer proof of concept, Hansen says, the project was started and completed within nine days.
First Steps
For CFOs who haven't yet investigated blockchain technology, the obvious first step is to familiarize themselves with it at a conceptual level and understand why it's important and what it can do. An early objective should be to develop a short list of drivers for embracing the technology. "While any large organization would have reasons to care," he says, CFOs and their colleagues should look for the two or three reasons that are most pertinent. Then, they should begin figuring out who they need partner with to bring a blockchain strategy to life.
While business and IT leaders should be involved in this effort, so should legal counsel, Cohen says, noting that a raft of issues will require attorney input. "Once you have commercial arrangements on a common platform like a blockchain, there are potential antitrust and other compliance considerations that become relevant," he notes. "You also may have issues like reliance on third parties that you haven't appreciated before."
Fail to do all of this—to understand how blockchain could impact an industry and its way of doing business—and some CFOs could jeopardize their employer's long-term sustainability.
"It's quite possible that people are working now to disrupt your business model using blockchain technology," Cohen says. "If you don't understand what it is, or how it works, you risk being left behind."
Randy Myers is a freelance writer based in Dover, Pennsylvania.
---
Talent Gaps
Finance executives weigh in on employee skills
47%
Percentage who say current finance function is not equipped to meet future demands
57%
Percentage who say building skills in predictive and prescriptive analytics is critical for the future
Source: Ernst & Young, 2016 survey of 769 finance leaders
66%
Percentage who say industry-skilled talent will be difficult to acquire
67%
Percentage who say wage increases will be necessary to secure/retain highly skilled workers
Source: Deloitte, Q4 2016 CFO Signals survey of 137 CFOs
---
How Smart Are 'Smart Contracts'?
Automating commercial relationships with blockchain sounds great, but it has its limits.
"Smart contracts" could be one of the most practical, successful implementations of blockchain technology. Resource website Blockchain Technologies describes a smart contract as "computer program code that is capable of facilitating, executing, and enforcing the negotiation or performance of an agreement using blockchain technology."
The code defines the rules and consequences in the same way that a traditional legal document would, stating the obligations, benefits, and penalties that may be due to either party in various different circumstances, the company says.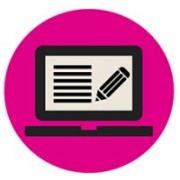 In theory, blockchain-based smart contracts could streamline processes that are spread across multiple databases and ERP systems, according to a June paper by Deloitte University Press, "Upgrading Blockchains." Securities trade clearing and settlement, and trade finance document handling, are two notable use cases. Others include bond coupon payments, electronic medical records, and insurance claims processing.
Music is the industry in which blockchain smart contract technology could prove most beneficial, says Blockchain Technologies. A public blockchain could, in theory, keep track of who owns the music rights to a song and ensure royalties are distributed to the correct performers, songwriters, and producers.
"The money would be automatically split according to the set terms, and each party's account would instantly reflect the additional revenue," the company explains.
A piece of software code can represent a business arrangement, and execute provisions automatically, but what happens when there's a problem?
Last June, a crowdsourced venture capital fund built on Ethereum, a smart contract development platform, was the victim of a hack because of flaws in the contract's code. The hacker made off with about $50 million in digital currency. Under the "smart contract," the funds transfer wasn't a violation of the agreement. After much hand-wringing, the organizations running the fund voted to restore the money to investors.
According to a paper by Larry Wall, an executive director at the Federal Reserve Bank of Atlanta, a contract based on "immutable, unstoppable, and irrefutable computer code" presents some difficulties. "To reach their potential fully, smart contracts are going to have to find a smart way of interfacing with the often complicated and messy real world of business where the initial contract is often not the final word," Wall writes. — Vincent Ryan