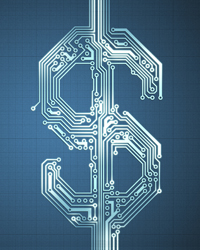 A number of crucial factors will drive CFOs to higher and higher levels of tech spending in the next couple of years, according to experts quoted in this CFO Special Report on information-technology expenditures.  The prime suspects, says one analyst, are social media; mobile devices like smartphones and tablets; the increased ability to analyze scads of information, including big data; and cloud computing.
With workers commonly juggling three or more mobile devices, for instance, companies are rejiggering their networks and server capacity, he says, as well as paying for higher telecom bills. 
Where will the money come from? For many companies, an emerging best practice will be for finance chiefs to use company savings in their non-discretionary information-technology budgets to boost their discretionary IT spending.  By moving to cheaper cloud-based solutions for non-discretionary tech functions, CFOs are already finding ways to invest in new services, delivery methods, analytics and other new IT initiatives, reports CFO contributor Keith Button.
The changeover to cloud-based solutions is also freeing chief information officers to take up a more strategic role – even as they surrender budgetary control to lower units.
Thus, information chiefs will be accountable to upper management (especially CFOs) in new ways – giving up traditional IT budget control to operating units in exchange for the higher-level role of driving the return on corporate level investments.  
Besides their new jobs as mentors to their CIOs, CFOs will be responsible for knowing a great deal more about IT to perform their traditional tasks. "Technology today has a greater impact on revenue maximization, expense management and effective use of internal and external resources than ever before," writes Jennifer McLean, CFO, GFI Capital Resources Group, in a column exploring the increased involvement of finance chiefs in technology. The articles in this special report offer CFOs the chance to start benchmarking and strategizing their IT spend for the rest of 2013, and beyond. 
• IT Outlays Are Poised for Takeoff
Propelled by new technologies and savings on overhead and maintenance, technology spending is on the rise.
• CFOs Holding CIOs' Feet to the Fire
Finance chiefs are expecting their CIOs to show what the rate of return will be for proposed IT budget items.
• IT Budgeting Descends to Business Units
Cloud solutions are changing IT spending decisions from strategic decisions to tactical ones.
• Effective Tech Budgeting: A CFO's View
Your team needs to set financial, operating and marketing goals before assigning dollars to the budget.