Q: Are hidden rows easily detected by others working with your spreadsheet?
A: Hidden rows are more visible than most spreadsheet users realize. For example, anyone receiving your spreadsheet will see column-heading letters jump from F to H, leaving them to wonder what you hid away in column G. If you want to keep the hidden column secret from prying eyes, consider these steps before sending the workbook to others: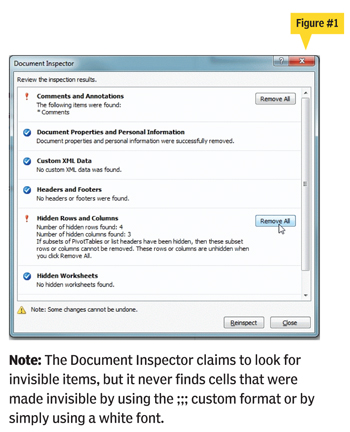 • Send as a PDF. If you have Excel 2007 or later, the software will create PDF files. The steps in Excel 2010 are File, Save and Send, Create PDF/XPS Document (two different icons with identical words but a different graphic). In the Publish as PDF or XPS dialog, choose Options to control whether you are sending the current worksheet or the entire workbook.
• Use the Document Inspector. Excel can look for hidden items in your workbook and then (as an option) blindly remove the items. If you have formulas referring to the hidden cells, you should convert them to values before using the Document Inspector. In Excel 2010, use File, Info, Check for Issues, Inspect Document. Click OK and Excel will report on any hidden rows, columns, or other hidden data. Make sure the workbook is saved before you choose Remove All, as any formulas that were relying on the hidden cells will evaluate as the #REF! error after using Remove All.
If you would like to submit a question to Bill "MrExcel" Jelen, go to CFO's Spreadsheet Community Center at www.cfo.com/spreadsheets.