Q: I have a column in a spreadsheet that mistakenly has whole numbers instead of percentages — for instance, 123 instead of 1.23. How can I shift the decimal point two positions to the left?
A: Follow these steps to turn whole numbers into decimals or percentages:
• Go to any blank cell in the spreadsheet and enter 0.01.
• Copy that cell, which puts 0.01 on the clipboard (Figure 1).
• Select all the cells in your spreadsheet that you want to convert to percentages. Right-click and choose Paste Special. When the dialog box pops up, choose Values and Multiply and OK (Figure 2).
• This will multiply all of the selected cells by 0.01, and 123 will become 1.23.
If you would like to submit a question to Bill "MrExcel" Jelen, go to CFO's Spreadsheet Community Center at www.cfo.com/spreadsheets.
---
Figure 1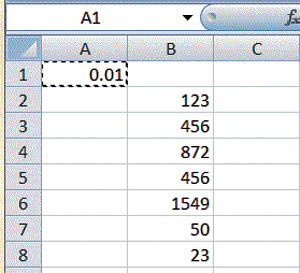 Figure 2