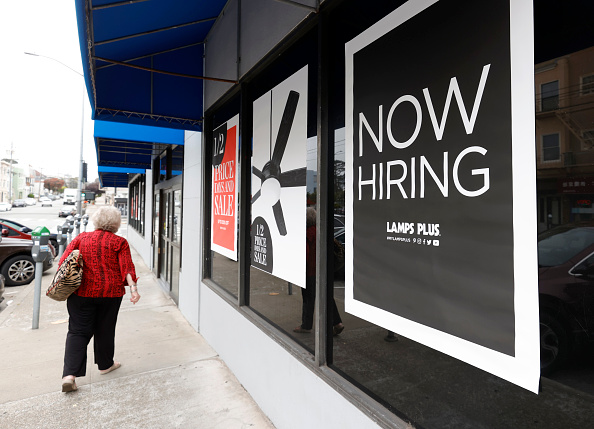 U.S. employers added jobs at the slowest rate of the year in September, dashing hopes of a resurgence as the coronavirus pandemic continued to weigh on the labor market.
The Labor Department reported Friday that the economy added 194,000 jobs last month, the smallest net gain since December 2020 and down from 366,000 jobs added in August. The unemployment rate fell to 4.8% from 5.2% in August, partly a result of people leaving the labor force entirely.
Economists polled by Reuters had forecast payrolls would increase by 500,000 jobs in September, reflecting expectations that it would be a bumper month for job growth as schools and offices reopened and expanded unemployment benefits ended.
But according to The New York Times, the delta variant spike of the pandemic "delayed office reopenings and disrupted the start of the school year, and made some people reluctant to accept jobs requiring face-to-face interaction."
The leisure and hospitality sector, which had been a main driver of job growth before delta emerged, added fewer than 100,000 jobs for the second straight month, while public-sector jobs, mainly at schools, fell by 123,000.
"Employment is slowing when it should be picking up because we're still on the course set by the virus," said Diane Swonk, chief economist for the accounting firm Grant Thornton.
The number of workers who cited the pandemic as the reason they didn't look for jobs rose last month for the first time since January, reaching 1.6 million. With cases and hospitalizations having fallen in much of the country since mid-September, though, economists see job growth picking up this month.
The September report "is a glance in the rearview mirror," said Daniel Zhao, an economist at the career site Glassdoor. "There should be some optimism that there should be a reacceleration in October."
In a positive sign, private-sector employers hired at a decent clip in September, adding 317,000 jobs. Average earnings rose 19 cents an hour, continuing a series of strong monthly gains as employers hike wages to lure applicants.
Last month's employment picture also may have been artificially depressed by statistical adjustments, according to NPR.
Photo by Justin Sullivan/Getty Images