CFO optimism about their firms and the U.S. economy continued to rebound this quarter after the big decline at the onset of the coronavirus pandemic, according to The CFO Survey.
The report, a collaboration of Duke University's Fuqua School of Business and the Federal Reserve Banks of Richmond and Atlanta (formerly known as the Duke/CFO Global Business Outlook Survey), found CFOs' average optimism for the financial prospects of their firms was 71 on a scale of 0 to 100 in the fourth quarter.
When respondents were asked to rate their optimism about the overall U.S. economy, the average rating was 61.6.
Both readings were slightly above the third quarter's 70.4 and 61, respectively, and well above the first quarter's 59.7 and 50.9.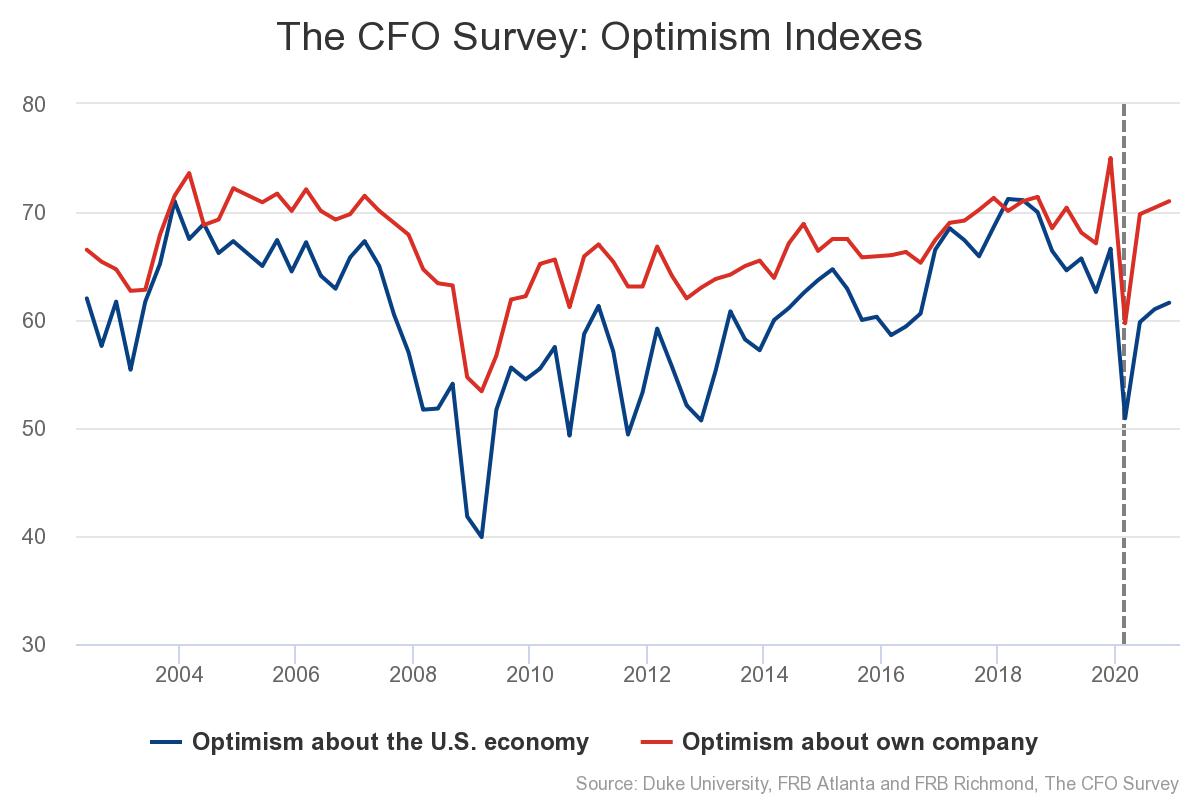 But despite the increased optimism since the spring, respondents expressed considerable uncertainty about revenue expectations, with forecasts for changes in revenue for 2021 ranging from -1.6% to 13.7%. The mean forecast was for a 6.9% increase, down from 8.7% in the third quarter.
"CFOs are seeing over the cloud of the pandemic," John Graham, a professor of finance at Duke University, told The Wall Street Journal, while noting that "Some of the growth that we will see next year will be coming from the low base in 2020."
Downside risks include potential tax rate changes, higher labor costs, and delays in the COVID-19 vaccination effort.
"If there is a snafu with the vaccine, that would be another layer of risk," Graham warned. "They [CFOs] are assuming we will make progress with the vaccine."
The survey indicated increasing concern among CFOs over potential changes in tax policy. President-elect Joe Biden has proposed raising the corporate tax rate to 28% from 21% and imposing an alternative minimum tax of 15% on firms generating profits of $100 million or more.
The CFO Survey results echo those of a recent report by the American Institute of Certified Public Accountants, which found 37% of respondents expect the U.S. economy to improve over the next 12 months and that 49% anticipate their companies' financial performance will rise.
While hiring is expected to rebound in 2021, more than half of large firm CFOs said their companies were shifting away from labor towards automation. Among firms ramping up automation, approximately 80% said automation is reducing the need for low-skill workers, compared with about 45% replacing high-skill employees.