The idea of lean started with Sakichi Toyoda, a Japanese inventor and industrialist who pioneered the idea of "autonomation," otherwise known as "intelligent automation" or "automation with a human touch," according to Wikipedia.
Sakichi applied this idea to looms — weaving devices used to make cloth and tapestries — in a textile factory he owned during Japan's industrial revolution at the turn of the 20th century. Whenever a piece of thread would tear or break, the loom, via autonomation, would come to a complete halt. This design feature allowed for inspection and correction. Sakichi's method of finding the root of a problem and then correcting it is the common thread of all lean strategies today.
From there, the concept blossomed, eventually encompassing techniques like diagramming work processes, digging for root causes, developing standardized procedures, and adopting continuous improvement.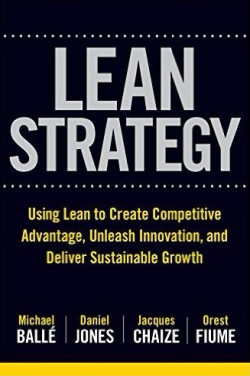 Toyota Motor is the best example of the earliest application of lean on a massive scale. The company's founder, Kiichiro Toyoda (Sakichi's son), noticed numerous problems with Toyota's engine casting system. Instead of repairing those defects after they occurred, Kiichiro decided it would be best to study each step of the casting process to find the root cause of each problem. This process overhaul wasn't a job for any single individual, so Kiichiro established "kaizen teams" (kaizen means "incremental improvements" in Japanese) that would conduct thorough inspections during what have been termed "gemba walks."
Terms like "kaizen" and "gemba," along with a myriad of alliterated acronyms, are used repeatedly throughout The Lean Strategy, a book by a quartet of "lean experts," including Dr. Michael Ballé, cofounder of the French Lean Institute. If you're not familiar with lean lingo, you may find yourself going back to the index.
If you are familiar with lean and its history, then The Lean Strategy may be worth a read. The book is a breakdown of how companies over the last 25 years have applied lean to improve their bottom lines by eliminating wasteful processes.
CFOs wondering how to apply lean to finance should focus their attention on chapter six: "A New Formula for Growth." This chapter touts a method of financial transparency through the use of "Plain English P&L," a simplified method of financial reporting.
One of the book's four authors, Orest Fiume, explains how seeing lean implemented on the shop floor "radically changed" his vision of accounting and finance.
At electronics manufacturer The Wiremold Co., where Fiume was CFO, he sought to improve financial transparency through Plain English P&L: "… To deal with his frustrations of not being able to understand what was happening in the business, [Fiume] began to experiment with alternative presentations of financial information…Each month executive team members would receive both the traditional financial statements and the simplified financial statement, as 'supplemental information,' and they were asked to give their feedback on…what was not clear to them." Fiume says the new statements gave a "clearer picture of how bad" the company's finances were.
The authors do not add anything to the idea of lean itself, but do take a stab at promoting its wide application. A point the authors fail to support — though they often repeat — is how lean can produce better results for "society at large." Plenty of evidence is presented that lean strategy is beneficial to companies in manufacturing, that much is clear. But assuming without any mention of supporting evidence that the application of lean will "make the world a better place," even lead to a "waste-free society," is a stretch.
For finance executives, The Lean Strategy may not be worth its $35 price tag. That's not to say that lean as a strategy isn't an idea worth looking into. Clearly, Sakichi was on to something when he realized that finding the root of a problem and correcting it was a better strategy than repairing defects after the fact. But that is information you can find online, for free.
"The Lean Strategy – Using Lean to Create Competitive Advantage, Unleash Innovation, and Deliver Sustainable Growth"
Authors: Michael Ballé, Daniel Jones, Jacques Chaize, and Orest Fiume
Pages: 273
Price: $35
Publisher: McGraw Hill Education
Kerry Maruna is the digital content manager at Argyle Executive Forum and review editor for CFO Publishing—An Argyle Company. For review inquiries, please email [email protected]