Now that a precedent has been set for a businessperson being elected president, and considering that the U.S. populace remains severely divided over politics, there can be only one logical choice for the next president.
Drum roll please: Amazon.com boss Jeff Bezos.
OK, so Bezos told Billboard on Donald Trump's inauguration day that he has no political ambitions. Still, if there's anything people of polar-opposite political persuasions can agree on, it's that Amazon is a fantastic company.
In Harris Poll's recently released canvass of U.S. public opinion on the reputations of the country's 100 most visible companies, Amazon came out on top — with the highest score any company has achieved in the survey's 18-year history.
It was a bipartisan victory for the mammoth online retailer. Republicans among the 23,000-plus members of the public that Harris polled were only slightly less enthusiastic than Democrats, rating Amazon as the second-most-reputable company in the land.
However, on the off-chance Bezos does run for president, he'd better hope Dan Cathy, CEO of Chick-fil-A, isn't another pony in the race. The fast-food chain — which has loudly proclaimed its conservative, Christian values — was the only company Republican survey participants preferred over Amazon.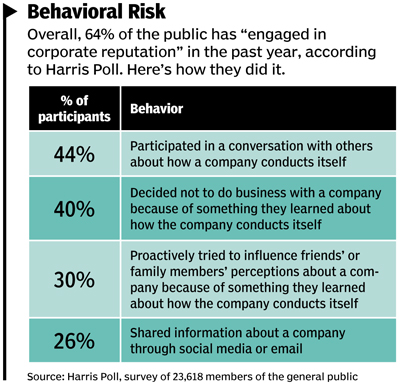 In fact, the gap in the "reputation quotient" (RQ) respectively generated by Republican and Democrat survey participants was the largest for Chick-fil-A among the 100 ranked companies. Second in that category? Hobby Lobby, a retail arts and crafts store that has also invested much of its reputation-setting activity in an appeal to conservatives.
Now, this is more like what we're used to. So much for national unity.
Next on the list of companies perceived differently by the right and left was Wells Fargo, which Republicans disliked but Democrats despised. Overall, the public didn't take kindly to revelations of the bank's policy of setting up accounts for customers without their permission. Wells Fargo plunged from 70th on the list for 2015 to 99th for 2016.
That was the most severe one-year decline for a company in the history of the poll, according to Wendy Salomon, vice president of reputation management for Harris.
But, Salomon says, the harmony between the political parties displayed in their mutual high ranking for Amazon was much more the norm than the discord with regard to a handful of companies like Chick-fil-A and Hobby Lobby.
"We've seen a lot of discussion in the media lately about how fundamentally changed our entire national landscape is since the election," she says. "But the RQ scores are more the same than they are different, year to year. While a number of companies have been vilified for good and prominent reasons, corporate America actually provides a good amount of stability in modeling how to engage [the public]."
No company was more vilified in the new survey than Japan's Takata, the maker of airbags that has been featured in several product recalls by automobile manufacturers. Indeed, in an early phase of Harris' research project, members of the public chose Takata for the first time as one of the 100 most visible companies just so they could later bash the company in the scoring phase of the research.
Takata was ranked 100th among the companies for its reputation, below even Wells Fargo.
Companies should take note of that when considering their reputations, according to Salomon. "Some companies that used to be regarded as obscure, ones that consumers would never interact with, like Takata and Mylan, maker of the EpiPen, are now appearing on the list of most visible companies," she says. "It shows a level of understanding — the public is really leaning into these stories in a way we hadn't seen in the past."
Indeed, some of the companies whose reputations were judged most harshly, like Goldman Sachs (98th) and Halliburton (96th), have almost no direct interaction with consumers. But, Salomon points out, it's not correct to think of the survey participants as merely consumers.
"If you look at the general public, they are not only consumers," she says. "They are also on town councils, where they can vote on a company's plan to expand its store. They are employees of companies. They are investors. When we think about reputation, we think about a broader set of stakeholders."
Still, the vast majority of people are familiar with many of the most visible companies as consumers. Each survey participant is asked to rank each company in six dimensions: social responsibility, products and services, vision and leadership, emotional appeal, financial performance, and workplace environment. Do consumers have the knowledge to judge companies in all those areas?
"That's an excellent question," Salomon says. "And the answer is that they don't have to be educated to have an opinion. That is the challenge for a company when it comes to reputation management. Consumers may not know what's going on behind closed doors at a company's headquarters, but when asked whether the company is good or bad, they will always have an opinion that comes from the gut."
But it may not be easy for a company to decide how vigorously to engage with consumers in a bid to boost its reputation.
"Right now I think almost every company is wondering whether to engage in the current environment," says Salomon. "For example, how much risk does it introduce to participate in discussions on topics like the new presidential administration? Business leaders are wondering how prominent they should be personally. If they have a story to tell but are criticized for something they say, what is the proper response that won't bring still more outside reaction?"
Here are some other results of the survey:
Right behind Amazon, the companies with the second-best and third-best reputations were two regional grocers, Wegmans and Publix Super Markets, respectively. Because of their lack of national distribution, they barely made the list of most-visible companies. But their customers adore them. "These grocers have an intimate kind of relationship with their communities," says Salomon.
Among the six dimensions graded by survey participants, Amazon ranked first in four of them and third in two of them. Wegmans ranked first in two dimensions and second in four dimensions. Clearly, if a company has a good reputation overall, the public will think it does everything well.
Surprisingly, millennials were less likely than generation X-ers and baby boomers to rate today's CEOs as "bad" (scoring a 1, 2, or 3 on a 7-point scale). Not surprisingly, Republicans were less likely than Democrats to make that appraisal.
The company with the most improved reputation quotient was Volkswagen, though it still has a long way to go to recover from its 2015 emissions scandal.