A salesperson is playing a video game at work. He's a lowly squirrel hunter looking to move up the ranks until he reaches his ultimate goal of becoming a top-level whale hunter.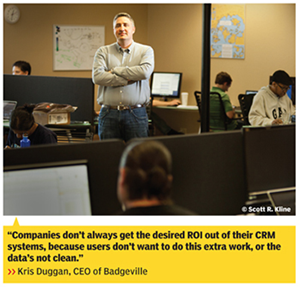 But this game isn't a smartphone download or a time-wasting Facebook application. It's embedded in his company's customer relationship management (CRM) system, and it's not a waste of time at all. In fact, it's supposed to boost his work productivity. Sound crazy? Let's start over.
Customer relationship management systems were designed not only to collect and mine customer data, but also to let CFOs and other executives keep a closer eye on their sometimes enigmatic salespeople. But there's a problem with CRM systems: salespeople often don't take the time to use them.
Indeed, the most significant threat to the success of a CRM project is slow user adoption, with 49% of 556 enterprises reporting it as a concern in a March survey by research group Forrester. "The use of CRM apps is important to the whole sales process, but if salespeople aren't using the technology, the ability to leverage the technology to generate deals is greatly diminished," says Carter Lusher, chief analyst of enterprise applications and solutions at Ovum Consulting.
To encourage participation, some companies are turning to gamification, the use of game mechanics in nonentertainment environments to change user behavior and drive engagement. (See "The Games Businesses Play," April.) While providing salespeople with incentives to drive their performance is nothing new, gamification goes a step further than traditional incentive programs, exploiting sales staffers' natural tendency toward competitiveness to drive CRM engagement.
Proponents say adding a gamification layer to a company's existing CRM system will increase productivity while also providing managers with a more accurate view of what their sales staffers are doing and how their customers are feeling. "CFOs are highly concerned about revenues and how they affect top-line growth, so they want CRM systems to be more effective, and gamification can help salespeople engage in [those systems] more effectively," says Lusher.
Friendly Competition
Kris Duggan, CEO of gamification software provider Badgeville, saw the need for greater employee engagement in CRM systems while working for community-platform software firm Socialtext. "Companies don't always get the desired ROI out of their CRM systems, because users don't want to do this extra work, or the data's not clean, or they're not updating it," he says.
The firm launched Badgeville for Salesforce, its CRM gamification application, in September. In the game, users (salespeople) start out as low-level "squirrel hunters" who gradually rise up the ranks by inputting data, managing leads, and converting those leads to new business, all in a quest to reach the coveted title of "whale hunter." In the process, they use the CRM system the way it was meant to be used.
Gamification relies on the idea that salespeople want to be noticed, not just compensated, for their hard work, says Ron Fior, CFO of cloud-software provider CallidusCloud. "It's all ego," Fior says. "The best salespeople make a lot of money, but there's a point where they're saying, 'Money isn't everything; I want some recognition.'"
Fior says gamification application leader boards, which pit salespeople against their peers in a public setting, could push the sales team to work harder. "If you have a scoreboard, and there are 10 people on it, you know the one on the bottom doesn't want to be there, and he's going to work to get to the top or the middle," Fior says. "Taking those habits and the way people react, if you keep the competition going, it's going to drive more revenue."
Because gamification software can be used through multiple channels (mobile apps, websites, and enterprise applications), most organizations would not have to radically change their existing technologies to accommodate the software. Many gamification apps also have built-in analytics to determine software's effectiveness in changing employee behavior.
Whether companies use Badgeville's application or a similar one like Bunchball or Level 11, administrators can easily customize game mechanics, attaching assignments to the game's achievements, points, levels, and missions, and determining how often they want users to be able to "level up," or collect rewards, in the form of badges.

In the Game
CRM gamification is seemingly perfect for Generation-Y employees, who some believe may have trouble staying off Facebook and on task. Indeed, Duggan says that's who he thought of when developing Badgeville. "If you've got a younger workforce, you can figure they're just going to go off and play on Facebook and Farmville, so why not get them to boost sales productivity by bringing that to them?"
But Ovum Consulting's Lusher warns of thinking too narrow-mindedly about the technology. "I think more and more of us of all ages are being exposed to game mechanics, and we don't necessarily know it. And frankly, because salespeople are so competitive, it's not just about younger members," he says. "The key is finding specific employee behaviors that need to be changed, applying [game] mechanics, and getting everyone in the habit of using the technology."
Between 500 and 1,000 enterprises have begun using gamification methods in some way, Lusher says. The number of companies using it specifically in their CRM systems is much smaller. "We're in the very early stages of adoption," says Lusher. "This isn't something that's easy to explain with words. It's about crossing the chasm. Until somebody experiences it for [himself] or sees someone else benefit from it, [he has] trouble visualizing."
A company may not need to invest in gamification solutions if there is no employee-engagement problem to be solved, Lusher acknowledges. But, he contends, with little up-front cost and minimal risk to employ such products, any enterprise looking to increase the value of its CRMs should consider giving them a shot.
In May, CallidusCloud announced a partnership with Badgeville to produce MySalesGame, which digitizes the traditional incentive-driven culture of sales. Employees earn points by closing deals in MySalesGame, which are displayed on a companywide scoreboard that lets salespeople earn bragging rights while also providing executives with a clear view of each employee's performance. As a bonus, employees can cash in the points to obtain actual rewards like, say, a gold watch.
CallidusCloud began rolling out the game internally in August, so Fior can't yet speak to its effectiveness. But, he says, "any tool that I can get that's going to help me make predictions with more certainty, whether it's revenue or anything, has value — and the ones that draw human actions and take advantage of human nature are going to have a higher probability of success."