If you were looking for a euro-zone recovery in 2013, forget about it, says rating agency Standard & Poor's. Its previous forecast of 0.3% growth in gross domestic product has been cut to exactly zero. Moreover, 2012 is now looking worse, with euro-zone economic activity expected to contract by 0.8%, a slightly bigger reduction than S&P previously estimated.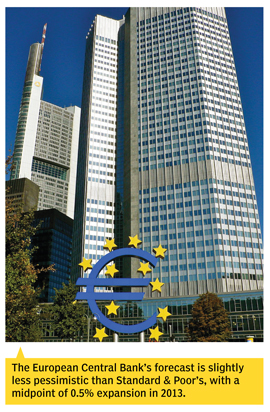 In the wake of the recent European Central Bank (ECB) announcement to prop up the sovereign bond market, the September cuts in S&P's macroeconomic forecasts seem likely to raise concerns that the agency will downgrade the debt of euro-zone member states. But a spokesperson for S&P says that while GDP growth is factored into its ratings, the cuts in the forecast are "not a rating action [and don't] directly lead to any rating actions."
S&P's forecasts are worse than the ECB's. The midpoints in the ECB forecasts, published in September, are a decline of 0.4% this year and an expansion of 0.5% in 2013. S&P's estimates are also more pessimistic than those of rival agency Moody's Investors Service, which has penciled in a decline of 0.3% this year but a small pickup of 1.0% next year.
In its research note, S&P acknowledged that the ECB's new policy of buying the bonds of the region's troubled countries, known as outright monetary transactions (OMT), could "ease financial conditions for the member states concerned," but the euro zone will still face roadblocks to ending the recession.
Other forecasters were not surprised by S&P's lower economic-growth forecast. Marie Diron, director of macro forecasting at Oxford Economics, says her firm has been expecting no euro-zone growth for a while. "We are very much on the same page," she says.
Bank of America Merrill Lynch's most recent 2013 forecast is a gloomy 0.7% decline, compared with analysts' consensus outlook of 0.2% expansion. In a client note, the bank said the expected fall in GDP will cause member states such as France, Spain, Italy, and the Netherlands to tighten their fiscal stance.
Bond Defaults Rise
Whatever the exact GDP numbers turn out to be, it's clear that the economic backdrop has a direct impact on European companies, as default rates have been increasing. A separate S&P report revealed that among a portfolio of speculative-grade companies (rated BB+ or below), the default rate rose to 5.3% at the end of the second quarter, up from 4.7% three months before. S&P blamed economic and political uncertainty, a deteriorating growth outlook spreading through the core European Union countries, and "a raft of highly vulnerable [leveraged buyouts] approaching debt maturity."
S&P expects the default rate to rise to 6.3% by the end of June 2013, even though the ECB's OMT strategy is expected to "support market liquidity and limit the extent of the rise in defaults." There are other, counterbalancing catalysts, however, that could extend and worsen the euro-zone recession and push the default rate above 8%, S&P says.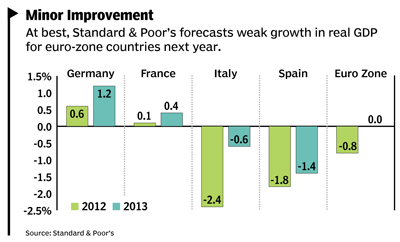 On a positive note, some companies have been able to refinance despite a rising default environment. Since the ECB unveiled its OMT strategy on September 6, "the high-yield market has been very much open for business," says Paul Watters, head of European corporate research at S&P. There was around €6 billion of issuance in this market in September, a "substantial" figure for Europe, Watters says. "The ECB may have taken the tail risk off the table and created greater stability in financial markets, so investors have been more willing to put money to work in the high-yield market," he explains.
However, much of the issuance has been refinancing "legacy" leveraged buyouts, transactions from 2006 to 2008 that were entirely bank-funded. Watters notes that many weaker companies in that bracket "don't have the credit profile to be able to go to the debt capital markets to refinance their bank debts. It remains the case that those companies are still vulnerable to restructuring as their debt falls due over the next year or two."
Andrew Sawers is editor of CFO European Briefing, a CFO online publication.