In the face of the ongoing euro-zone crisis and slowing growth in Asia, and with the Presidential election looming at home, CFOs are becoming more pessimistic about the U.S. economy, according to the latest Duke University/CFO Magazine Global Business Outlook Survey, now in its 66th consecutive quarter. In the global survey of more than 1,400 finance executives, U.S. finance chiefs rated their optimism levels at 52 out of 100, down from 56 last quarter. Their European peers are also less optimistic than they were three months ago, while optimism in Asia has improved slightly.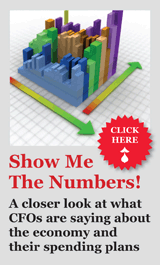 When asked whether a 1% decrease in interest rates would spur them to initiate or expand investment, 91% of responding CFOs said they would not be likely to change their investment plans even with such a dramatic — and unlikely — rate move. Eighty-four percent of CFOs would not initiate or expand investment plans even with a 2% rate decrease, indicating that further quantitative easing by the Federal Reserve does not appear to be a solution to the corporate sector's sluggish spending and the overall tepid recovery, despite its impact on the stock market. "I think the Fed has pretty much pulled all the levers that it can," says Greg Bubp, CFO at Eclipse, a manufacturer of industrial heating products based in Rockford, Illinois.
Global economic uncertainty is weighing heavily on CFOs as they construct their budgets and forecasts for the coming year. Thirty percent say slowing growth in Asia is having a negative impact on their business, while 50% say they are feeling a negative impact from the ongoing European debt crisis. Should the euro zone unravel, 63% say their companies would feel a negative effect.
For Ed Cordell, CFO Americas at Given Imaging, a medical-device maker, the questions still swirling around health-care reform are a major concern, although at the moment the company is doing well. "We're hitting our growth targets. It's hard slogging, but we're making it," he says. With some 40% of the company's sales outside the United States, however, declining growth in Asia and potential budget cutbacks in Europe pose big questions, too.
Finance executives also cite consumer demand, federal government policies, and price pressure as major concerns, along with the cost of health care and their ability to attract and retain qualified employees.
Capex Slows
U.S. finance executives say their companies will continue to spend, however, in the coming 12 months, if at lower levels than they reported last quarter. CFOs say their companies will increase capital spending by nearly 4% on average in the next year, down from nearly 5% last quarter and 7% six months ago. Finance chiefs expect to boost tech spending by 4%, down from 8% last quarter, and will increase spending on both research and development and advertising and marketing by 3% on average, both down from last quarter's numbers.
CFOs also plan to expand their workforces in the coming year, by slightly less than they reported last quarter. Finance chiefs say their companies will increase their full-time staffs by 1.5% on average, while expanding temp staff by less than 1% and offshore staff by 3%. Wages continue to grow slowly, with CFOs saying wages will rise by just under 3% in the next 12 months.
Still, the news isn't all bad. Bubp says Eclipse's sales and profits are up over last year's numbers, and last year marked the return of the company's business to prerecession levels.
Darin Holderness, controller at Woodgrain Millwork, a manufacturer of wood moldings and doors, says business is up 10% over last year, thanks to an improving housing market. "Margin compression has been a bit of a problem," he says. "But it's very clear that the housing market is strengthening, and we're going to benefit from that." Having reduced staff during the recession from about 4,000 people to 1,800 people, Holderness says Woodgrain has been hiring for the past several months.
Latin America More Optimistic
For the first time, the survey polled finance chiefs in Latin America this quarter. CFOs in the region are markedly more optimistic than their U.S. counterparts; they rated their optimism levels about the regional economy at 60 out of 100. Latin America's finance chiefs plan to expand their workforces by about 3% in the coming year and say wages will rise by more than 7%.
In Europe, the picture is dramatically different, with CFOs saying they plan continued layoffs as the region continues to struggle with debt woes, austerity programs, and shrinking budgets. Europe's finance chiefs plan to reduce their full-time workforces by nearly 3%. CFOs will also cut capital spending by 5%. More than half of Europe's finance chiefs surveyed say there is a reasonable chance that Greece will exit the euro zone. In contrast, only 10% of Europe's finance chiefs expect Spain to exit.
In Asia, the outlook is becoming gloomier, as 47% of CFOs say they are more pessimistic about the regional economy than they were last quarter. Still, in line with their peers in Latin America, Asia's finance chiefs rank their optimism at 60 out of 100, and plan to increase hiring by 3% and wages by 7% over the next year. They say capital spending will also jump by nearly 8%.