Even as the global economy continues to send signals ranging from mixed to downright alarming, U.S. finance chiefs say they still plan to hire at a relatively strong pace, according to the latest Duke University/CFO Magazine Global Business Outlook Survey, released in June. U.S. CFOs say they will expand their full-time domestic workforces by 2.5% on average over the next 12 months, a bump that could lower the unemployment rate to 7% by the end of the year.
Of the more than 400 U.S. CFOs surveyed in this 65th consecutive quarterly survey, nearly 30% say their employees are "maxed out," and 60% are looking to add staff. Finance chiefs will also increase their hiring of temporary employees by just under 1% and expand their offshore outsourced workforces by 4%.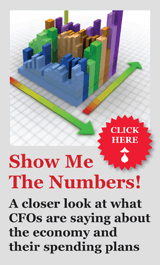 Tom Fitzsimmons, CFO of TMP Worldwide, a New York–based communications firm focusing on recruitment advertising programs, says his company is hiring, mostly on the technology side. Fitzsimmons also has a good window into overall hiring based on clients' plans. While TMP is seeing some growth in its business, "we can attest that we're not seeing rapid expansion in the private sector, especially in larger corporations," he says. "Well-managed companies are continuing to acquire talent and expand slowly. But there's no sense of pressure on corporations to fill their open jobs."
The survey data supports Fitzsimmons's impression: at companies with more than $10 billion in annual revenue, there are no plans to hire in the next 12 months. Midsize companies will be the most active recruiters, with those with $500 million to $999 million in revenue planning to expand their staffs by 6% on average in the next year and those with $100 million to $499 million in revenue planning to add 4%. Technology, software, and biotech companies will add more staff than any other sector, with CFOs at those companies forecasting a 5% increase in full-time workers.
Still, despite generally positive hiring plans, the CFO Optimism Index fell in the second quarter, as the 773 finance chiefs surveyed around the globe grew gloomier. U.S. CFOs rate their optimism about the domestic economy at 56 out of 100, compared with 59 last quarter. The optimism of Asia's CFOs dropped notably, falling from 65 last quarter to 58 in May. That marked the first time in the history of the survey that Asia's CFOs, traditionally more optimistic, fell in line with their U.S. counterparts. They cite consumer demand, government policy, price pressure from competitors, and global financial instability as top concerns. Meanwhile, at 52 out of 100, optimism in Europe lags more than in other regions, not surprisingly given the ongoing debt crisis.
U.S. CFOs cite consumer demand as their top concern, followed by worries about price pressure from competitors and federal government policies. Global financial instability also continues to weigh on finance chiefs.
Fitzsimmons says the continued softness in the housing market is producing "emotional problems" for the economy. "As long as people continue to feel less wealthy, there will be caution in consumer spending," he says, noting that deflated home prices mean that many people have less personal wealth than they did 10 years ago. "We also have a significant number of unemployed or underemployed," he adds.
Still Spending
Finance chiefs in the United States do continue to plan to spend money in critical areas, however. Technology leads the major spending categories, with CFOs reporting a planned increase of 8% on tech spending over the next 12 months, up from 6% last quarter. CFOs also say their companies will increase capital spending by 5% on average in the coming year, down from 7% last quarter. Research-and-development spending and marketing-and-advertising spending will both rise by 3%, in line with last quarter's plans.
As they look for growth, 39% of finance chiefs say their companies are spending money on the pursuit of major innovation — investing in projects that, if successful, would have a significant impact on the business. On average, CFOs say their companies are spending about 15% of their total budget on innovation efforts.
Even with plans to spend, CFOs continue to keep a careful watch on cash, with cash holdings as a percentage of total assets rising from 16% to 17% over the past year. Slightly fewer than half of respondents say they plan to deploy some cash in the next 12 months, with capital spending winning the largest share of the dollars, followed by spending on acquisitions and debt payments. Most of the finance chiefs who plan to continue to hold cash point to economic uncertainty, saying that they need a liquidity buffer.
The Global View
In Europe, finance chiefs say hiring, R&D, and advertising spending will all be relatively flat over the next year, while capital spending and earnings are both expected to decline. European CFOs plan to hold cash, citing liquidity concerns and economic uncertainty in the region, as well as a lack of attractive investment opportunities.
Asia's finance chiefs plan to increase capital spending by 7% on average over the next 12 months, and expect to increase R&D spending by 4%. Forty percent of Asia's CFOs say their companies are spending a portion of their budgets on major innovations, in line with their U.S. counterparts. Competition for workers in the region continues to be fierce, with finance chiefs planning to boost wages by 7% on average over the next year. CFOs also plan to expand their full-time workforces in Asia by 3% over the same time period.