Is the economy finally on firmer footing? Finance executives' optimism levels have returned to normal after falling off dramatically during the recession, according to the latest Duke University/CFO Magazine Global Business Outlook Survey. "CFOs' outlook for the future has finally emerged from the depths of the recession," says John Graham, professor of finance at Duke's Fuqua School of Business and the director of the survey.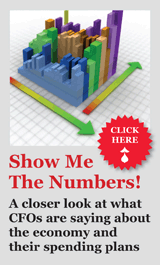 CFOs rate their optimism about the U.S. economy at 59 out of 100, and more than half of the 477 U.S. finance executives surveyed say they are more optimistic than they were last quarter. They rate their optimism about their own companies at 67 out of 100. The improved rating is particularly significant as, in the past, rising CFO optimism has been an early indicator of a strengthening economy, Graham says. Finance chiefs' optimism has not reached the long-run average of 59 since 2007, with the exception of a brief spike to 61 in the first quarter of 2011.
In further good news, finance chiefs say they plan to hire in the coming year. They expect to increase their full-time domestic workforces by 2%, while also increasing their number of temporary hires by 1% and expanding their outsourced workforces by 3%. The planned increase in full-time staff would bring the unemployment rate below 8% by the end of the year. CFOs in the retail/wholesale industry plan to add the most staff, saying they will expand their workforces by 7% in the coming year. They are followed by technology and biotech CFOs, who expect to increase their staff by 6% on average.
Those who are looking to hire are finding the search challenging, despite lingering elevated unemployment. Sixty-eight percent of U.S. CFOs say they are actively trying to fill vacant job positions, and nearly half say they've had difficulty filling an open position in the past year. Many of those who have struggled to fill open jobs say they're planning to recruit more actively. Over a third say they're thinking of hiring a more junior staffer and providing training, while 34% say they'll pay more to attract better candidates.
Eric Winston, CFO at Portland, Oregon-based shoe maker Keen Footwear, says the company is hiring in key areas like product development and sales. "It is difficult to find the right person," Winston says. "There are a lot of B players out there." His CFO peers agree, rating the talent pool average — 3.3 on a 5-point scale.
"If you speak with the staff at one of our offices, they'll tell you there are tons of jobs to be filled, but they can't find the right person or they can't find people willing to take the work," says Shawn Carroll, CFO at Crown Services, a temporary-staffing firm based in Ohio. "If you could find me 10 welders, they are like gold."
Speed Bumps Ahead?
Spending plans overall reflect finance chiefs' improved outlook. CFOs say they expect to increase their capital spending by 7% over the next 12 months, down slightly from last quarter. Technology spending will increase by 6% in the coming year, in line with last quarter's prediction. Estimates for research-and-development spending and marketing and advertising spending rose slightly from last quarter, both at 3% for the next year.
Still, despite improved optimism and solid spending plans for the year ahead, CFOs list numerous worries. Winston cites rising energy prices as a major concern. "The recent supply shock could send us back into a recession," he says. "People have to get to their jobs, and with gas at $4 a gallon that cuts into their discretionary income." He also worries about currency swings as European markets continue to struggle.
Other finance chiefs share Winston's concern about Europe. More than 80% say their businesses would be negatively affected should multiple European banks fail, and 27% say the impact would be significant.
CFOs cite consumer demand, price pressure, and federal-government policies as top macroeconomic concerns, while maintaining margins and attracting and retaining qualified workers are the most pressing internal, company-specific concerns. Crown's Carroll says he worries about health-care costs and the impact of health-care reform on his staffing business. He also has concerns about keeping up with technology.
Elsewhere, Asia's CFOs have regained their enthusiasm, rating their optimism about their regional economy at 65 out of 100. Finance chiefs in the region say they will increase staff by 4% on average in the next 12 months. And they plan to boost wages by 8% on average as they continue to compete to retain fast-churning talent, compared with salary increases of 3% on average in the U.S. and Europe.
Europe's finance chiefs are, not surprisingly, less optimistic than their peers around the world, rating their optimism about the European economy at 54 out of 100. They also plan to continue to shrink their workforces and have modest plans for spending.
In the U.S., it appears CFOs have adjusted their outlook to account for a slower-growth environment. Expectations may be lower, but businesses are moving forward. "Things are chugging along," says Carroll. "We're not back to where we were before the recession, but sales are increasing week over week."