Even as the global economy continues to be volatile, U.S. CFOs are slightly more optimistic than they were three months ago. The latest Duke University/CFO Magazine Global Business Outlook survey finds that the CFO optimism index has moved up to 53 (on a scale of 1-100) from 47 last quarter. However, that level is still below the survey's long-term average of 60. Finance chiefs plan to increase hiring this year but are still cautious, putting the chance of the United States entering a new recession in the next six months at 31%.
These mixed signals reflect the very mixed results across individual businesses. For example, on one hand, says Mark Muskevitsch, finance chief at Wisconsin-based JX Enterprises, a heavy-duty-truck dealer, "Our little corner of the economy is doing very well," thanks in part to customers' increasing need for parts and service as they keep old vehicles on the road.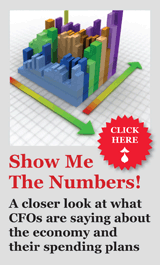 On the other hand, Milton Bulloch, CFO at Alpha Steel, a steel-fabrication company in Texas that has seen its business fall by half over the past few years, reports that "the economy for the year ahead is brutal," citing a lack of demand for the company's products, mainly used in building schools, strip malls, and multistory office buildings. The business has shifted to focus on federal-government contracting in recent years, with good results. "That's what's kept us going," says Bulloch.
Rob Ogilbee, CFO at Wish Farms in Florida, says his business is relatively insulated from the economy, as demand for the company's produce typically outstrips supply. As for the broader economy, he says, "I think we're basically going to have a repeat of 2011. It's a perception issue. We may see growth in some sectors, but the typical American sees a bad economy, and that's what they're reacting to."
At Measurement Inc., an educational testing company in Florida, CFO Alex Avila echoes Ogilbee's view on the year ahead. With his business dependent on state and federal education standards and budgets, Avila says, "everybody's kind of in waiting mode."
Still Spending
On average, CFOs do plan to boost expenditures in key categories such as capital spending, which they say they will increase by 8% over the next 12 months, a marked increase from their plans last quarter, when they said capital expenditure would rise by just 4.5%. Technology spending will grow by 6%, also an increase from last quarter, while research-and-development spending will increase by just under 3% and marketing and advertising spending will grow by about 2%, both in line with the levels forecast three months ago.
On the critical jobs front, finance executives have a somewhat improved outlook compared with last quarter, now saying they plan to increase their full-time domestic workforces by 1.5% on average over the next year, up from just under 1% last quarter. Such an increase would yield enough new jobs to bring the unemployment rate to near 8% by the end of the year.
At JX Enterprises, Muskevitsch says the firm is struggling to fill some 55 open positions. "We'd hire service technicians all day long if we could, at probably every one of our locations," he says. The firm is having trouble finding workers with the appropriate skills, and those with the right training are in demand at a range of different kinds of companies. "It's just a high-demand, low-supply field," says Muskevitsch. "Recruiting is a big challenge."
Muskevitsch's fellow finance executives cite consumer demand, federal-government policies, and price pressure from competitors as top concerns. The ability to maintain margins, the cost of health care, and the ability to forecast results lead the list of internal, company-specific concerns. Just over half of the CFOs surveyed say they have contingency plans in place should another recession occur, including layoffs as well as reductions in capital spending and R&D outlays.
Oceans Apart
CFOs are also worried about global financial instability, with nearly a quarter saying their businesses would experience a significant effect should multiple European banks become insolvent and an additional 59% saying they would feel a minor effect.
Europe's finance chiefs, not surprisingly, are markedly less optimistic this quarter than last, with 66% saying their level of optimism has fallen. Ninety percent say the debt crisis has negatively affected their businesses, with 45% calling the impact "significant." Europe's CFOs put the probability of their countries entering a recession in the next six months at nearly 50%.
In Asia, CFOs are less optimistic than they were last quarter, but remain more positive about their regional economy than their U.S. and European peers. In a dramatic contrast with their counterparts, Asia's finance chiefs plan to expand their workforces by 5% on average in the next year and expect wages to rise by 7%.
Kate O'Sullivan is a deputy editor at CFO.