Although currency exchange volatility jumped onto the list of their most worrisome risks last year, many treasury and finance professionals are only just starting to put together plans to hedge those exposures, according to the Association for Finance Professionals' annual risk survey released earlier this week.
Ranking fourth behind political and regulatory uncertainty, tougher competition, and customer retention, currency volatility appeared in the top five risk factors for the first time in the past four AFP risk surveys. Thirty percent of the 335 corporate finance practitioners responding to the association for the 2016 study rated currency worries as the top risk factor, compared with 16% in the prior year's survey.
Craig Martin, the executive director of the AFP Treasurers Council, attributes the uncertainty about currencies to "their incredible volatility" recently. For years the U.S. dollar has been on a weakening trend, only to have strengthened sharply of late, he noted, adding that on Wednesday the Russian ruble hit a historic low against the dollar.
Martin observed that in the face of such volatility the survey's finding that only 50% of the finance pros' companies had plans in place to mitigate  interest rate, currency, and commodity risks was "not good."  Noting that while bigger companies have greater financial ability to hedge currency risk with options, future and the like, only 60% percent of companies with annual revenues of more that $1 billion and just 63% had hedging plans in place.
Still, Martin said it was a promising sign that 27% of the companies with no hedging program in place said they will "implement a plan to deal with these risks in the next 6-12 months," according to the study. (Besides AFP, Marsh & McLennan, the global risk management and insurance broking firm, provided support for the study.)
But currency movements are only one factor in an economic environment that seems more and more unpredictable. Overall, fears about the global economy have spawned widespread uncertainty about future earnings among the CFOs, treasurers, and controllers at public and private companies who responded to the survey, which was conducted in October 2015.  Fifty-two percent of the respondents believe their companies are exposed to greater earnings uncertainty than they were three years ago, while another 37% said the level of uncertainty is unchanged. (See pie chart, below.)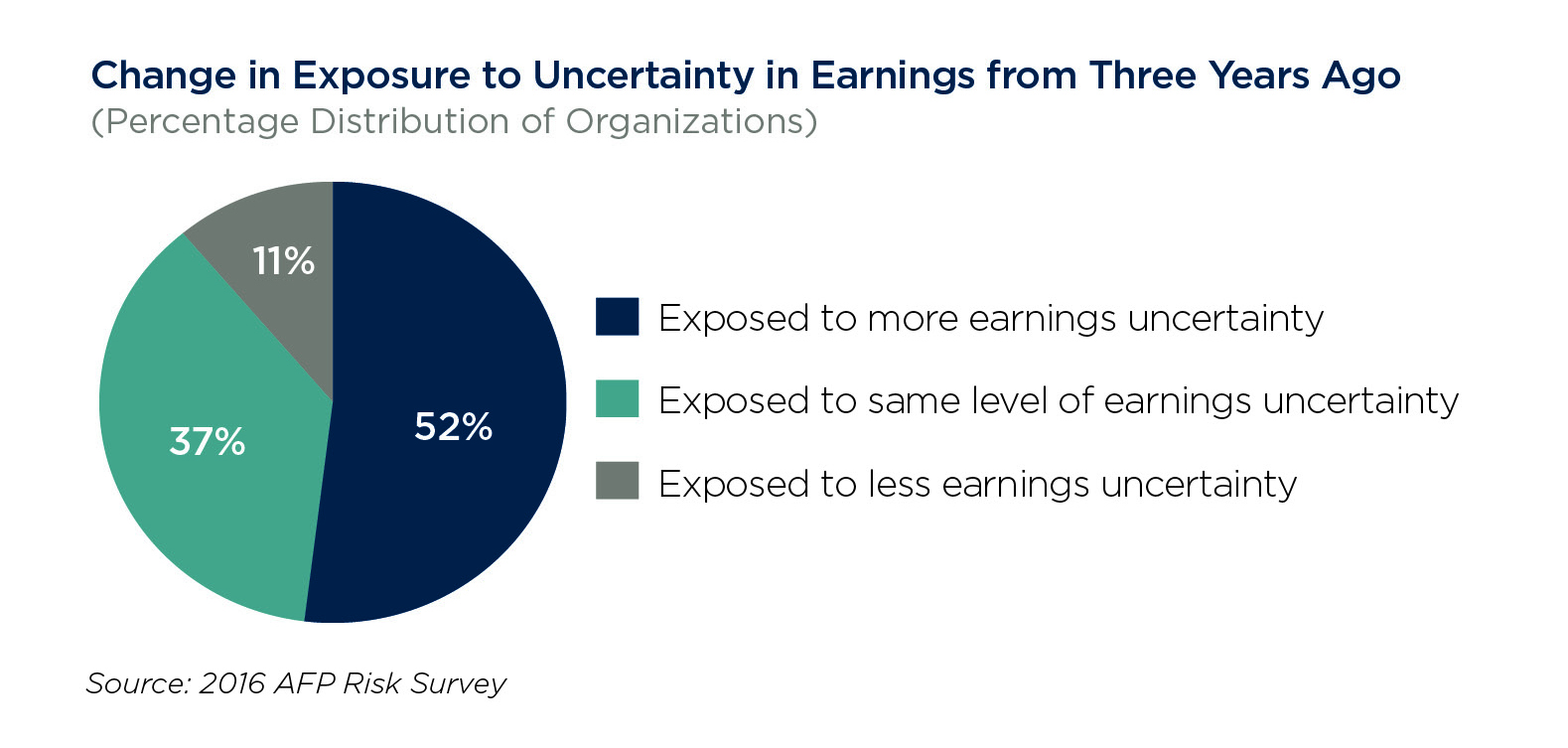 The 52% share of finance professionals reporting increased earnings risk is much bigger compared to the 43% found in last year's (2015) survey, but is much smaller than in 59% reported in 2013. (See graph, below.)

The biggest interest rate, currency, and commodity anxieties for finance executives are the increased cost of financing (cited by
 61%) and currency translation risk (53%), according to the 2016 study.
Finance professionals from smaller companies (with annual revenues less than $1 billion) and privately held ones seem more worried about the increased cost of financing and currency translation risks than are their peers at bigger companies or executives at those that are publicly owned, according to the study's authors.
"One reason for this is that smaller firms are less likely to have an active hedge program and therefore are more exposed to those risks," they write.
To be sure, the framers of this year's study decided to focus on "specifically how companies are addressing interest rate, currency, and commodity risks." Thus, the high ratings finance professionals gave currency volatility on an AFP's "Key Risk Factors which will have the Greatest Impact on Earnings in the Next Three Years" was perhaps to be expected.
The focus of last year's study was cyber risk – a risk factor that has seemingly dropped off finance professionals' risk radar in recent months, according to the AFP. "Perhaps most interestingly, only seven percent of respondents rank cyber risk as a key concern compared with 19 percent in the 2015 survey," according to the survey report.
"This shift in sentiment may likely be due to a growing recognition that cyber risk is now a core business risk requiring active management rather than a rejection of any actual improvement in the cyber risk environment," the authors write.