Late afternoon one Friday in July, Lee Spach, global supply chain security director for biotech firm Biogen, received an alert on his phone. Earlier in the day, a multimillion-dollar shipment of a frozen, highly concentrated biologic substance used for making a new drug had been loaded into a refrigerated truck at Biogen's factory. It was headed for a warehouse 700 miles away. The alert, from a GPS tracking system that Biogen had recently installed, said the truck hadn't moved for 20 minutes. Further investigation showed it was sitting in a church parking lot only a few hours away from its departure location.
This was no rest stop. Spach, along with the company's security and logistics teams, realized the truck was broken down. They called the trucking company, which told them it would take 14 hours to replace the vehicle. That meant the cargo wouldn't get to the warehouse until Saturday morning, when the warehouse would be closed. The dry ice packed in the shipment could keep it cool for 72 hours, but anything longer than that would put the cargo's quality at risk.
"We were able to intervene and send the shipment in the replacement truck back to the plant, where we could keep it cold for the weekend," says Spach. "If we hadn't gotten involved, the truck would have arrived at the warehouse Saturday when no one was there to receive it."
Biogen's experience is just a small example of how the Internet of Things (IoT) is expected to transform supply chain management. The big vision is much grander, and involves joining sensor information with relevant customer, supplier, and vendor data, and then letting computers automatically optimize a company's supply chain. "I don't know of any company that's doing that," says Dave Padmos, global technology sector leader at Ernst & Young.
But organizations across different industries are taking steps in that direction and are already finding value. Advances in sensor and battery technologies, wireless networks, and analytics software are helping companies get real-time information about where their goods are, when they're going to arrive, and what condition they'll be in. "Because the costs of those technologies have plummeted, it's now economically credible that we'll end up connecting pretty much anything you can think of," says Ben Salama, managing director at Accenture Digital.
It's still early days, but 44% of executives polled in 2016 by MHI—the trade association for the materials handling, logistics, and supply chain industries—are already using sensors and automatic identification technologies.
From Latent to Real Time
Sensors and tracking systems are not new to supply chain management. But traditionally, they've divulged their data only at certain points along the supply chain. For example, once a radio-frequency identification (RFID) tag or barcode is scanned, it can tell a manufacturer where a part is in its warehouse or that a shipment has arrived at port. A data logger, in another example, can reveal what the temperature range was inside a refrigerated compartment once the compartment is opened.
Those tools are helpful, but many companies want real-time tracking capabilities for assets and inventory. They tend to be organizations that handle high-value or time-sensitive goods. "The sweet spot is where the cargo is not a commodity: in life sciences; in engineering and manufacturing of sophisticated devices such as engine components; and in capital equipment, such as semiconductors," says Ricardo Bartra, chief information officer of DHL Global Forwarding.
Sometimes the tracking begins at the manufacturing level. GE Transportation is embedding sensors in assets and products, and using software to gather data that helps improve performance and productivity. Its "Brilliant Factory" program puts what GE calls a "digital thread" through operations to see performance and output in real time. "We're connecting everything through the digital thread, from concepts to engineering and design, to manufacturing, sourcing, assembly and through to repairs," says Greg Sbrocco, general manager of global supply chain at GE Transportation.
The company's Grove City, Pa. plant, which makes locomotive engines, is one of seven showcase facilities. Sensor-enabled equipment is visible on screens throughout the plant, so machine operators and managers can see in real time how a machine is performing and head off problems before they cause major shutdowns. Optical recognition systems on the assembly line can detect when components are being assembled too slowly or in the wrong order. Smart tools eliminate assembly mistakes by, for instance, sensing when proper torque values are achieved.
All of these improvements have led to a 10% to 20% reduction in unplanned downtime and have boosted productivity by as much as 15% in certain parts of the factory.
GE Transportation is also automating collection and storage of information about every part made in the plant. "We're creating a 'digital twin' of every component in the factory—recording the genealogy and history about how that part was designed, built, operated, and repaired. It's a replica of everything that went into that part from its creation to how it operates," says Sbrocco. Over time, this information unlocks critical insights to help engineers design and fix parts.
In-Transit Visibility
Logistics managers are turning to IoT solutions to improve in-transit visibility and eliminate blind spots at ports, railroad depots, and airports—wherever goods are transferred between transportation modes or carriers. The Electronic Data Interchange (EDI) system currently used in supply chain communications gives information about goods only at certain chokepoints. It also processes messages in batch mode, meaning there is a lot of latency in the system.
IoT solution providers say it doesn't have to be that way. "We're replacing milestone data points that say, 'Here's where your goods were at this point in time,' with, 'Here's where your goods are right now and here's what's happening to them,'" says Jim Hayden, senior vice president of data science and solutions at Savi Technology, the company that provides the solution Biogen uses.
Brook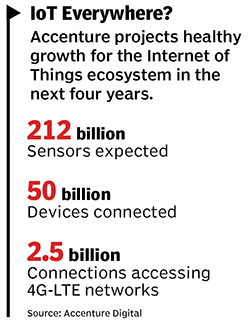 s Running has been dipping its toe into these waters. The shoemaker's problem was that it was receiving just two status updates from its EDI system: once when its products left port in Asia and another when they arrived at the destination port in Seattle. It was relying on the estimated time of arrival the carrier gave it upon departure, and it sometimes wasn't notified the shipment had actually arrived until the cargo had been sitting in port for two days.
Supply chain visibility manager Chase Mueller says he needed better visibility to more effectively plan downstream operations, optimize lead times, and measure carrier performance. "All I really want to know is when the boat is going to be here and when is the earliest point in time that I can have information that is reasonably accurate about the estimated time of arrival" (ETA).
Using an IoT solution from TransVoyant, Brooks now gets accurate ETAs 9 to 10 days in advance. TransVoyant uses a big data approach, taking the information from Brooks' bill of lading and then tracking the cargo vessel using satellite and radar data. It also factors in data it collects on weather, wave heights, unscheduled port stops, and customs clearance times. "We collect more than one trillion big data events around the world every day," says TransVoyant's vice president of marketing, Scott Byrnes.
All of this information is processed with advanced machine learning algorithms to produce precise arrival time estimates for Brooks' shipments, according to Byrnes. The algorithms are recalculating as the shipment progresses, so the company can detect a disruption as it unfolds. For example, a ship may begin to change course during its journey, indicating an unscheduled port stop. "In that instance, we recalculate the ETA to the final destination, factoring in the predicted time it will take the vessel to complete the unscheduled stop," says Byrnes.
Within three months of implementing the TransVoyant solution, Brooks had achieved a return on investment by reducing transit lead times by 14% on shipments from China and by 7% on shipments from Vietnam. Cutting lead times means Brooks has to carry less inventory to meet purchase order deadlines and can respond more quickly to the market.
Mueller plans to expand use of the solution to all of the global transit lanes the company uses. Once he has a solution in play for ETA globally, he hopes to get more value and visibility via various micro-projects focused on other lead times, such as the time it takes to move cargo from individual factories to the various ports of departure, or from the ports of arrival to distribution centers.
Further down the road, Mueller is interested in how he can tap TransVoyant's capabilities in other parts of the supply chain. The vendor got its start helping U.S. agencies detect and avoid national security risks, and says it now knows the location of every air, sea, road, and rail shipment. With all that data, its software can, for example, look at a shipping route a company is considering and, based on the predicted weather, wave heights, and port congestion, suggest an alternate route if warranted.
Security and Integrity of Goods
Beyond getting cargo moved faster and more predictably to its destination, some IoT users are interested in making sure their cargo gets there at all. Biogen's primary motivation in seeking an IoT solution was deterring theft of inventory at airports and on roads around the world. Theft costs shippers and logistics providers billions of dollars each year, including not just the cost of the goods stolen, but the knock-on effects of inventory delays. The Biogen truck that broke down in July was carrying raw materials for a drug that was ultimately destined for a clinical trial. If the shipment had been delayed it could have slowed regulatory approval and eventually the market launch of the drug.
By tracking its shipments and receiving alerts if they go outside a designated geographical "fence," Biogen can work with law enforcement officials to try to recover any stolen goods. "Having eyes on such valuable cargo in unsecure locations in real time is good for us, especially in more high-risk cargo theft areas of the world," says Spach.
Like many life sciences companies, temperature monitoring is also very important to Biogen. In November, it began a pilot using sensors to receive real-time temperature information. If Biogen gets an alert that there's been a temperature spike, for instance, it can notify the carrier and try to have the problem fixed before it's done irreparable damage to the cargo.
Getting Started
Experts suggest that, before launching an IoT initiative, companies first decide what their business problem is and then figure out whether and how an IoT solution can help. "Think through the use cases and benefits associated with what you're trying to achieve before you get involved with the technology," says Accenture's Salama. "Put together a few fast pilots and see what the results are."
He adds that he would always recommend buying versus building solutions, because technologies are changing so quickly. "You don't want to spend a lot of money and time trying to build things when the technology might be superseded," he says.
A proof of concept can be implemented within a couple of weeks and a pilot within a couple of months, according to Ashish Chona, senior vice president of IoT software solutions at Orbcomm.
Measuring the return on an investment in IoT solutions depends largely on the use case and implementation. Savi promises that customers see value within 60 days, much quicker than with an ERP system. For Biogen, saving that single multimillion-dollar shipment that became stranded paid for its Savi cloud subscription and all of the sensors it had purchased for six shipment routes. "For us, it's a no brainer because the value of our products is so high," says Spach.
Not So Fast
Plenty of challenges remain before the vision of automatically optimized supply chains is realized. In the MHI survey, 43% of respondents said the major obstacle to adoption of supply chain innovations was lack of a business case that could justify the investment. As one potential customer told Savi's Hayden, "As long as [shipment data] is accurate within a day or two that's OK. I don't know what we'd do with more accurate data."
A commonly cited obstacle to change raised in the MHI report was a cultural aversion to risk (35%). Even simple solutions require process changes. Another notable challenge surrounds privacy and data security. With so many devices talking to each other, the potential for privacy violations or security breaches is massive. Information about how much a company is shipping and even exactly what it's shipping is valuable to outsiders.
"If anything can dampen this it's security," says Chona. Because "customers are very concerned," it's an issue that will have to be addressed as the industry inches forward.
Yasmin Ghahremani writes about business and technology.
Image: Thinkstock