Most CFOs have experienced the "insurance cycle." It's the movement of property-casualty insurance conditions from "hard" (relatively higher prices) to "soft" (lower prices), and back again.
Cycles are typically observed over a period of years, as insurers ponder annual renewals of the past year's P/C insurance policies are contemplated. A CFO might even observe both increases and decreases in premiums in the same year on different lines of coverage. Figure 1 clearly shows this cycle in commercial insurance, and reveals that, based on the recent decrease in rate increases, we currently seem to be moving toward slightly lower prices. (Click on the figure to magnify it.)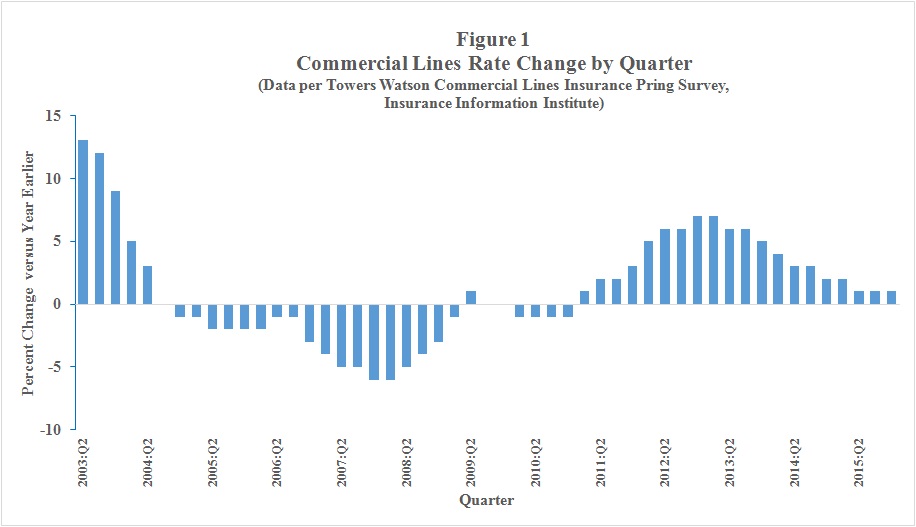 What causes these changes in the insurance marketplace? More importantly, what trends are emerging in P/C insurance that may affect the cost of managing risk? And why are the implications from these trends so complex?
The price of insurance is both directly and indirectly affected by a variety of factors. Certainly, the cost of risk as indicated by historical loss experience is an important one. But, more subtly, numerous economic and financial conditions also move insurance prices. This sensitivity of insurance prices to so many factors reflects an underlying complexity and uncertainty. But why is quantifying the cost of P/C insurance so uncertain?
Consider a fixed-income security. Aside from credit risk, such a security, in its essence, is certain as to the timing and amount of its cash flows. Now consider even a simple insurance policy, such as auto or homeowners coverage. After the up-front premium is paid, further cash flows (losses paid) during the life of the policy are completely uncertain both as to timing and amount. And this uncertainty is a function of many socio-economic factors – any of which may change quickly and unexpectedly.
To better anticipate the future costs of risk management, it's important to understand how the insurance market operates and to gain an appreciation for the complexities and relationships involved. To that end, you need to grasp how three recent megatrends are changing (some say "disrupting") the P/C insurance industry and marketplace: low interest rates and investment yields, high levels of industry capital, and alternative insurance products. Note that the implications of each of these trends can be a complicated, double-edged sword.
Persistently Low Investment Yields
In recent years, yields available for investing new money tend to be less than are currently being earned in existing insurer bond portfolios. This is a problem, since insurers consider expected investment income when setting their premiums. Indeed, insurers need a certain level of investment return for them to achieve a target return on equity (ROE).
In response to lower investment income, insurers have only a few options. They include increasing prices, reducing exposure to risk by tightening underwriting standards, increasing their investment-portfolio risk by striving for higher yields, and reducing ROE targets. All of those options have significant potential downsides, and it's possible that one or more options might not be practically feasible.
For example, lowering ROE targets may result in an insurer not attracting enough capital to operate efficiently. And increasing premiums may be hard or impossible because of regulatory restrictions, market competitiveness, or the desire to achieve market share or meet production or budget targets.
On the other hand insurers benefit from low interest rates because they produce a lower cost of capital and a higher bond portfolio market valuation. But that's double-edged: higher market values of bonds may not be realizable if the insurer's assets are matched to expected future loss payouts. Further, the market value of both assets and liabilities (in terms of GAAP) will generally increase as interest rates fall. It's the relative sensitivities, or "durations," of assets and liabilities that determines the overall impact on insurer surplus.
Accumulated Industry Capital
The Insurance Information Institute (III) estimates that total U.S. P/C industry statutory surplus at the end of 2015 was about $670 billion, which is a very strong aggregate position for the industry historically. (See Figure 2. )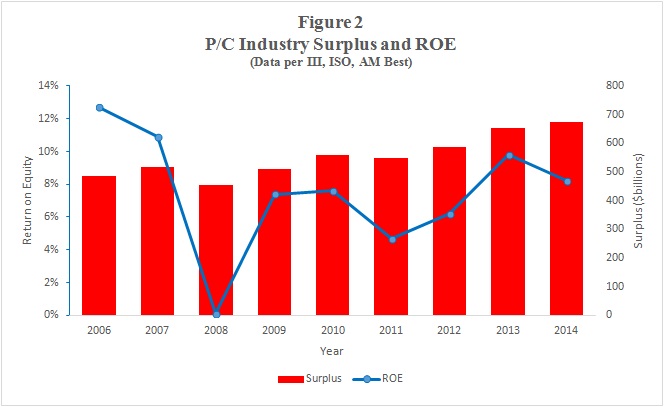 In part, this level of industry capital stems from relatively favorable catastrophe loss experience over the last few years. But high industry surplus can cut two ways. While the industry is in a strong position to pay claims, it's tougher, in a competitive environment, to achieve ROE targets. Indeed, according to III, the P/C industry has achieved about a 7% to 8% ROE over the last ten years. Even in a low-yield environment, that's a fairly low level of return, especially considering the relative riskiness underlying the industry.
Alternative Insurance Products
Another reason for high levels of industry capital is the introduction of alternative sources of insurance and capital. In particular, several non-traditional insurance products – catastrophe bonds, reinsurance sidecars, industry loss warranties, and collateralized reinsurance (reinsurance programs that have been fully collateralized by investors or third-party capital providers) – have been created and are becoming more attractive to the capital markets.
The attraction derives from both their potential yields and the opportunity to take part in insurance and reinsurance businesses which are seen to represent portfolio diversification potential. But, again, there are downsides. Although these products boost the P/C insurance industry's capital and capacity, they also make the P/C market more competitive. And that results in somewhat lower, "softer" prices.
What Can CFOs Do?
These P/C industry trends can have mixed, complex effects on insurance pricing and availability, especially when considered within the context of other financial and economic conditions. The very same future economic or financial scenario that inspires a certain strategic or operational decision in a company may have a direct impact on the cost, availability, and effectiveness of its risk management.
Thus, CFOs and others responsible for managing risk or purchasing insurance need to appreciate the underlying dynamics of the P/C insurance market. Only then can the cost of risk be holistically incorporated into the broader strategic planning and operational decisions of the company.
Rick Gorvett, is staff actuary at the Casualty Actuarial Society (CAS), an international credentialing and professional education organization.