Managed infrastructure services is not a bad business when a U.S. recession and weak global economic growth in the next five years are on the horizon. Companies like IBM spinoff Kyndryl provide IT infrastructure services for large organizations, a product offering that "tends to be inherently sticky," David Wyshner, CFO of Kyndryl, tells me in early March. 
The November 2021 spinoff of IBM's global technology services unit, Kyndryl also migrates companies to the cloud and helps their infrastructure be more cyber resilient — the ability to anticipate, withstand, recover from, and adapt to adverse conditions and attacks. It's an issue occupying the minds of C-suites and boards of directors. 
Inside its $18 billion in revenue, publicly held organization, Kyndryl perhaps has bigger things to accomplish. No longer an IBM captive that primarily sells services and support around IBM hardware and software, it must establish its own identity and culture across 90,000 employees. 
Wyshner, a veteran of spinoffs — joining Wyndham Worldwide on the same day it announced it was breaking up into three companies, for example — gave some perspective on not only Kyndryl's attempts at culture change but also how it's addressing low-margin legacy IBM customer contracts. The company is also adding artificial intelligence and automation capabilities, allowing it to redeploy some of its service delivery professionals to serve new revenue streams.
---
David Wyshner
CFO, Kyndryl
First CFO position: 2006
Notable previous companies:

XPO Logistics
Wyndham Hotels & Resorts
Avis Budget
Cendant
---
This interview has been edited for brevity and clarity.
VINCENT RYAN: Kyndryl has a strategic initiative called the three A's. What is that?
DAVID WYSHNER: The three A's are shorthand for three key initiatives that we expect to deliver significant strategic and financial benefits. Alliances are about expanding the breadth of technology and technology providers we work with and that we make part of our solutions. Advanced delivery is about delivering automation and other technologies that improve [our] quality of service, particularly in terms of [system] resiliency and recovery. Quick identification of issues and ideally, identification of issues even before they become problems, provides better outcomes and incremental benefits for our customers, and actually lowers costs for us.
Rather than a customized solution, can we provide a standardized solution that offers the customer a better way of working?
And the third 'A,' Accounts?
WYSHNER: When we looked at our business [post-spinoff], about 40% of customers generated what we considered to be substandard margins. A key focus is attacking those that don't provide an attractive return or have low or no margins. It's an area where financial analysis and understanding the business helps identify the real challenge in terms of margins but also provides solutions.
Part of [the solution] is adding higher margin content to [existing] accounts, particularly since we can offer a broader range of technologies. We're growing the consult-oriented elements of our business. If there's a piece of a customer relationship where we're underwater, do we fix it? Do we exit in some way? And part of [the solution] can be [the] pricing when the contract comes up for renewal. 
It's also about managing the costs associated with serving customers. Rather than a customized solution, can we provide a standardized solution that offers the customer a better way of working?
Can you give me an example of the use of AI or automation?
WYSHNER: Because we run infrastructures for hundreds of large enterprises, and we run hundreds of mainframes and thousands of servers and hundreds of data centers, we're collecting a lot of data and information about how IT infrastructures work every minute, hour, and day.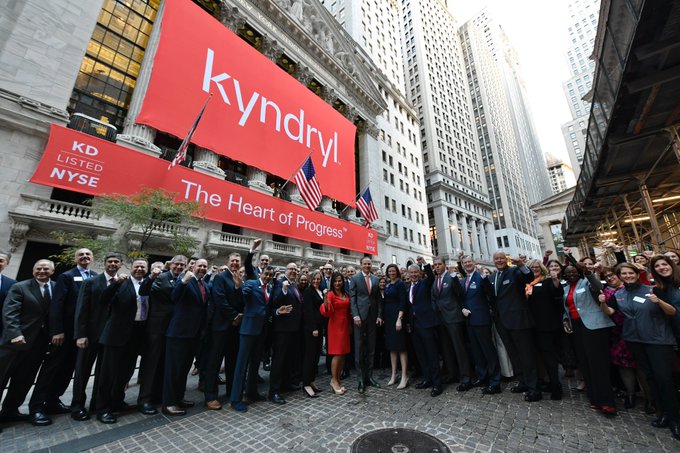 That allows us to apply machine learning and AI techniques to figure out how to optimize: Where are problems likely to develop? How do you make things more efficient? How do you automate functions that were previously done many, many times by some manual process? Automating and figuring out how to identify problems and risks sooner and faster through AI and machine learning increases the opportunities for us to strengthen the quality of the service.
Many companies are talking about how hard it is to hire people, especially those with tech skills. What's the future of the service parts of the business?
WYSHNER: Delivery will become more and more advanced over time. But the value-add associated with delivery professionals and delivery architects continues to be very important. In IT services, [tasks] that are highly manual and should be automated will continue to be automated. The value of understanding how to structure and connect things and how to use technology to solve business problems is going to continue to be an increasingly valuable capability. 
You said your CEO [Martin Schroeter, former CFO of IBM] is focused on the culture element. What's the culture going to be?
WYSHNER: We want the leadership behaviors associated with the 'Kyndryl way' to show up internally and externally as being flat, fast, and focused as an organization. … We view [culture development] as a process that plays out over time and, ideally, in all kinds of different interactions, written or spoken, or in the examples that we set and the stories we tell as an organization. 
We also refer to Kyndryl 'red,' which is being 'restless, empathetic, and devoted.' These attributes give rise to a series of leadership behaviors that we've identified. We also identify when we have situations that aren't living up to those expectations. When, for instance, we're not being as fast as we want to be to achieve [a goal] or in interactions with each other. 
We're trying to take some of the best elements of the IBM culture, including a real focus on delivering excellence and meeting customers' needs, with a little bit of a different ethos — 'flat, fast, and focused' weren't always the first three words that came to mind when people were talking about our former parent.