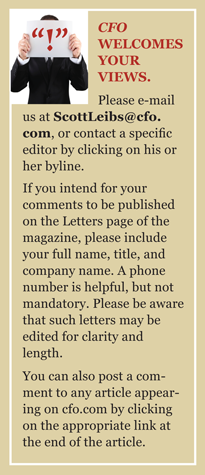 In "Why CFOs Should Police SaaS Deals" (October), you say that ". . .the financial-planning staffers aren't aware of some of these expenditures until they hit a certain dollar level, and by then the investment may be more difficult to corral or change." Isn't the fundamental problem right there — the routine of budgeting using historical financial data alone?
If IT investments were indeed strategic, there would have to be some metrics other than simple cash outlays that would trigger a response by driver-based planning-and-forecasting staff. Certainly, a forward-looking, driver-based dialogue with the business units would surface all sorts of potential misalignment far better than the game of straight-lining historical financial data. SaaS-solution rents, as opposed to capital outlays, may be just another condition where inadequate planning tools and techniques prove to underperform.
Patrick Slattery
Managing Director
Canopach
New York
---
The Cloud and the Law
Your recent coverage of cloud-computing issues has been excellent, but could use some elaboration regarding legal issues. As someone who has practiced extensively in the area of information-technology law, I can say that several key issues presented by the cloud model are often given short shrift both in business discussions and contract negotiations.
For example:
• While your [acknowledgement of] privacy issues is laudable, the key point is that one cannot delegate one's obligations to consumers to a cloud or other provider. If there is a data breach leading to identity theft, the party engaging the cloud vendor will be liable in the first instance, whether or not it has contractual indemnity claims against the vendor. The recent upsurge in data breaches (for instance, Sony) and FTC privacy actions against companies makes this a major practical consideration.
• Technical and financial due diligence is essential before entering into such an arrangement in order to allow the customer to be comfortable that the vendor is willing and able to securely maintain information, and financially able to do so for the duration of the contract, as well as satisfy any claims that arise from failures. Maintenance of error and omission and "cyber-liability" insurance by the cloud vendor is strongly advisable and should be addressed as part of the due-diligence process.
• It is often essential for contracts to specify particular technical measures that will be used to maintain security, in order for the customer to have a good-faith basis that it is fulfilling its own obligations.
• Since many, if not most, software vendors that use the cloud model engage a third-party hosting company to deliver the software from their servers, both due-diligence and contract provisions need to address this situation.
While the cloud model of software delivery is here to stay, its proper use by vendors and customers requires a thorough understanding of the legal and operational differences between it and the more traditional model of software delivery.
Marty Robins, Esq.
Partner
FSB FisherBroyles LLP
Chicago
---
Know Thy Numbers
"Interim CEO Posts: Intense, and Eye-Opening" (Topline, October) is a great article. In my experience, CFOs that seek out the CEO (or COO) role are generally more effective at demonstrating their understanding of the business, because they have proven they understand the numbers that drive the business.
Rene Hart
Via E-mail
---
Of Taxes and Compensation
I'm writing in response to two articles in the October issue of CFO.
Regarding the first, "CFOs Prefer a Simpler Tax Code, Even If They Don't Save" (Topline), I agree that the tax code should be updated to reflect the changes in the way in which domestic companies do business today. U.S. companies now must compete globally, and we need a tax code that reflects the challenges that come with that. Equally as important, it must be simplified. With a simplified code, companies would be better able to plan and execute. The overall efficiency of a simplified tax code would allow companies to make better decisions in a more timely manner. Finally, a simplified tax code would provide more transparency.
Regarding your special report on CFO compensation ("Enjoy the Ride"), we see base salaries (and total compensation) for all levels of accounting, auditing, tax, and finance increasing. We project base-salary gains in the range of 2% to 7%. The more highly sought-after candidate (for instance, a staff-level applicant with one-to-six years of experience at a big company or a Big Four accounting firm) could see even larger increases in base salary when moving to a new employer — up to 10%. This provides for an interesting labor market: high unemployment, but for certain skill-sets and experience, more demand than supply.
James F. Wong
Founder
Clear Focus Financial Search
Chicago
---
What's in a Letter?
When did we actually leave the recession ("A Double Dip? CFOs Are Divided," Topline, September)? It seems like you would have to have a midtrough peak to have a double dip. If you look at unemployment data, this is more of an "L" than a "W."
Name Withheld by Request
Via E-mail