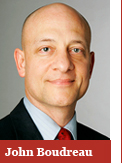 "Ah, but a man's reach should exceed his grasp, Or what's a heaven for?"
The Robert Browning poem that contains those lines, "Andrea del Sarto," makes me think of challenges facing many human-resources departments today. In the poem, Del Sarto, a 16th-century painter, describes his love for his wife but laments that he is limited by the mundane duties of earning money and supporting her, while his more famous (and unmarried) contemporaries da Vinci, Michelangelo and Rafael live for their work with greater passion and spirit.
Similarly, the demands of day-to-day HR may be crowding out the focus, passion and spirit that are necessary if the function is to take a leading role in helping organizations capitalize on opportunities offered by such emerging trends as big data and gamification. CFOs should be concerned about that, because it could hinder their organizations' quests to maximize productivity and be competitive.
In fact, CFOs may be partly at fault. A significant reason why HR tends to fixate on the day-to-day is its belief that the finance function tracks and rewards only things like cost reductions and reliable reporting. But HR's engagement in these trends has been proven to have multimillion-dollar benefits for some large companies.
Research by the Center for Effective Organizations suggests that when it comes to leveraging those and other key trends, HR's "grasp" falls well short of its "reach," or its aspirations. The current role HR leaders play is far less than the role they believe they should play.
We convened a consortium of 11 leading companies, each of which nominated about 20 HR leaders to respond to surveys on the following nine emerging trends:
• Globalization: Integrating world economies through the exchange of goods, services and capital.
• Generational diversity: The presence of many different age groups among workers, citizens and consumers.
• Sustainability: Meeting the needs of the present without compromising the ability of future generations to meet their needs.
• Social media: Online networks and two-way communication channels that connect users in the virtual world, establishing new relationships that expand users' networks and facilitate user participation in interactions and exchanges.
• Personal technology: Mobile platforms such as smart phones, laptops and tablets, future technology such as wrist devices and Google Glass, and the apps that support them, seamlessly and constantly connecting people and web-based content.
• Mass customization: Combining mass production with customization for specific individual consumers or groups, to meet people's needs with the effectiveness and efficiency of mass production.
• Open innovation: The inflow and outflow of knowledge to increase innovation, including user innovation, innovation ecosystems, codevelopment, innovation contests and crowdsourcing.
• Big data: Data that is too big, too unstructured or too diverse to be stored and analyzed by conventional means, processes or tools.
• Gamification: Applying game mechanics to non-game situations to motivate and change behavior.
Our work uncovered isolated examples of ground-breaking HR innovations, but responses from the hundreds of HR leaders painted a picture of a profession with lofty ambitions but a less-elevated reality.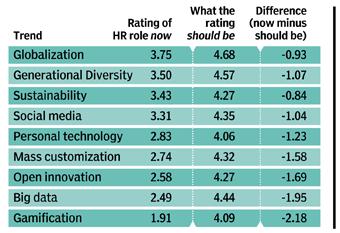 We asked participants to rate HR's current role in addressing these trends and also what they think their role should be. On the five-point rating scale, 1 = no role, 2 = an occasional role, 3 = active support, 4 = primary input, and 5 = leader and key expert. The chart shows the average ratings.
For every trend, HR leaders believe they should be providing primary input or be a key leader. Yet for none of the trends is that the case. Even for gamification, where HR is now playing at best an occasional role, our sample felt it should play a primary-input role.
What are the barriers to closing the gap? They are less that HR is seen as irrelevant or that other functions already take the lead (barriers that were rated 1 or 2 on a scale where 5 was the highest barrier). More important barriers are a lack of time, budget and expertise (all rated between 3 and 4).
Of course, conquering such shortcomings is just the beginning. HR leadership also must span boundaries between HR and other functions, reach out to orchestrate cross-organizational capabilities, and develop the expertise to address these nine trends as well as others that will be vital to organizations' future.
But CFOs can play an important role in freeing up the time and money needed for HR leadership to acquire such expertise. You'll be far better off with an HR function that engages the future with the spirit and passion of da Vinci, Michelangelo and Rafael than one that's shackled by the mundane like the melancholy Andrea Del Sarto.
John Boudreau is professor and research director at the University of Southern California's Marshall School of Business and Center for Effective Organizations, and author of Retooling HR: Using Proven Business Tools to Make Better Decisions About Talent. He can be reached at [email protected].
Ian Ziskin is president, EXec EXcel Group LLC, executive in residence at USC's Center for Effective Organizations, and the former chief human resources officer of Northrop Grumman and Qwest Communications. He can be reached at [email protected]