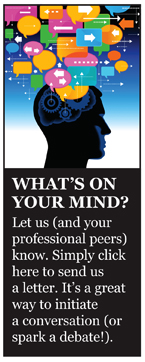 Regarding the article "In the Fast Lane at GM" (January/February): I believe a business failing is a teaching aid to those who caused the failure, and the business community needs to follow those folks in their business endeavors so they don't make the same mistakes again. It used to be that a failure followed you for years. The legal profession, however, has now made bankruptcy a business decision instead of a failure.
Donald F. MacDonald
St. Helena, California
---
Social Media Wins
Thank you for your article "Long Live E-mail" (January/February), which actually helps promote social media. Unfortunately, you are missing a very key ingredient in your story. Social-media posts are driven to e-mail in-boxes, so ultimately, social media is a form of e-mail marketing. Not only do consumers prefer hearing from someone in their social network, they will share their product and service preferences faster to a wider audience than any traditional e-mail marketing campaign.
This type of word-of-mouth publicity is unprecedented in the marketing industry, and is growing exponentially. The days of the "opt-in" requirement to promote a business are over. Social media is here to stay, and is producing more revenue for businesses than e-mail marketing could ever produce. Sorry, but it's true.
Roy Holcombe
Business Development Manager
RevLocal
Lewis Center, Ohio