Your article "Too Much Data, Too Little Judgment" (May) reminds me of the times in my career when I was responsible for hiring people for financial analysis and planning positions.
On the one hand, I found that people, especially those with CPAs and public accounting backgrounds, had a hard time dealing with "imperfect data" and the related ambiguity inherent in such information. While their training and education was good for specific duties such as auditing and taxes, it was not relevant to such areas as financial planning and analysis, where more creative and judgmental decision-making is required.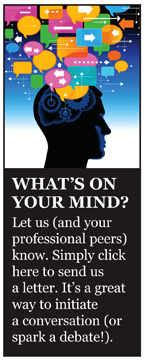 On the other hand, I have found that accountants and financial professionals who have broader-based training and education, such as CMAs, are better at the type of thinking and problem solving that is needed for decision making and the advice that today's CFOs need.
Edward Safran, CMA, CFM
Managing Partner & Chief Risk Officer
Omega Options Trading Group
Chelmsford, Massachusetts
---
Procuring Efficiently
While the procurement function has often been seen as a tactical weapon, we've continually seen procurement get a seat at the strategic table with forward-thinking procurement professionals ("The Rise and Rise of Procurement," May). I think this is dependent on the approach of the procurement group.
The procurement function can become more strategic by moving past compliance and working to understand how the company it's a part of can get its arms around what it is spending on and why. Procurement often suffers from a lack of visibility into what it is spending on as a result of spend deflection or "maverick spend." I recently spoke to an employee of a large financial company who told me about his requisition of a stapler that had to be approved by the CFO. That was the last time he used the company's procurement solution.
With maverick spending, Aberdeen Group estimates that U.S. companies lose nearly 25% of every dollar spent. In order to gain visibility into spend, companies must ensure that the preapproved-spend process is as easy and intuitive as filing an expense report; otherwise, massive opportunity is lost. Creating this "pull" mentality will enable employees to efficiently spend on contact, will call out areas of opportunity for procurement, and will allow spend to be benchmarked. In my view, this is how procurement gets its strategic role.
Mark Verbeck
Chief Financial Officer
Coupa Software
San Mateo, California
---
Don't Hide
"Keep It Secret" (Topline, May) raises a very real concern about the risk in sharing spreadsheets. In addition to the points raised by Bill Jelen, I would add that ideally you should not hide columns within your spreadsheets. It's much better practice to keep all rows and columns visible in working areas and then create output sheets with all of the information that needs to be shared. These pages can then be shared as valued sheets (i.e., formulae saved as values) or, even better, as was suggested, as PDFs.
Myles Arnott
Via E-mail
---
No Woman, No Cry
At the risk of sounding misogynistic, I'm wondering why CFO would devote its cover to a celebration of female CFOs. I have no doubt that the women featured in this article ("Risk Takers, Career Makers," May) are all competent, perhaps even brilliant finance officers, but so what? Even the story's introduction, which begins, "Like their male counterparts, female CFOs have taken many paths to the top spot," argues against the type of exceptionality upon which the concept of the article is premised. I'd be glad to read an analysis of why women are underrepresented in the C-suite and what material problems that causes for business. But a simple series of profiles of CFOs who are notable solely by virtue of their gender seems at best retrograde, at worst a total waste of time.
Frank Rimaldo
Via E-mail
---
Still Opposed to FIN 48
FIN 48 is absurd and meaningless, in terms of disclosure that will assist financial statement users ("FASB Stands Pat on Reviled Tax Rule," May). Its only use, really, is for the IRS.
Think about it: you're assessing whether a tax position is sustainable or not. But you're asking that decision to be made — and audited — by the same people who are filing the tax returns. If they're incompetent in making the tax determination on the tax return, they're going to be incompetent in determining whether there is sufficient basis for the judgment.
There are also literally scores of management decisions that will affect the tax provision and cause radical changes in financial outcomes. Back in 2010, for example, GE reversed a decision to return foreign earnings to the U.S. and decided to "permanently" invest them overseas. The change in the tax provision boosted net income by nearly 7%.
Every good CFO knows that the place to manipulate earnings is the tax provision, because analysts (and most auditors) haven't got a clue of what is happening there. A better — and simpler — reporting would be to treat all income tax as a contingent liability on the balance sheet at the statutory rate and then increase or decrease the liability as the statute of limitations closes and the tax returns are finalized with the authorities. The results would be far more accurate than the "crystal ball" accounting voodoo that means absolutely nothing to financial statement users, creates a road map for the tax authorities for audits, and allows for CFOs to wildly manipulate earnings.
Paul
Via E-mail
---
The Trouble with Absorption Costing
This is exactly the problem we are trying to illuminate in our work on lean accounting ("Lots of Trouble," March). Orest Fiume and I were both CFOs of companies that were adopting the Toyota Production System and realized that our old-fashioned standard cost accounting would drive poor decision making. We jointly wrote Real Numbers: Management Accounting in a Lean Organization to help communicate this problem. Thank you for your article on this important topic!
Jean Cunningham
Via E-mail