The view from CFO Ed Rapp's seventh-floor office at Caterpillar headquarters in Peoria, Illinois, looks pretty sweet these days. The iconic manufacturer of dozers, graders, and other earth-moving equipment is on track to post record profits and revenues this year — sales should hit somewhere around $58 billion — and it expects another 10% to 20% revenue jump in 2012.
A couple of hours northeast, the outlook isn't quite so rosy for Peerless Industries, a privately held maker of audio-video mounting systems. The company, which generates about $100 million a year in sales, suspects its revenues may be flat in 2012, or perhaps tick up 3% to 5% if consumers start buying more flat-screen TVs. Nonetheless, it recently spent about $20 million to open a new, 308,000-square-foot manufacturing facility and headquarters in Aurora, Illinois.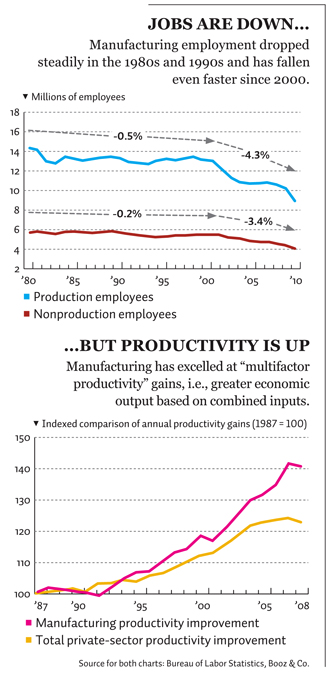 The move not only allowed it to consolidate manufacturing operations previously spread out over multiple locations in Illinois and China, but also gave it room to grow. Peerless, says its vice president of finance, John Logerquist, is "poised and ready for any major upturn in business."
In that sense, Peerless and many other companies are like runners at the starting line: they've responded to "Ready!" and "Set!" but are beginning to cramp up as they wait for the sound of the starter's pistol. The continuing talk of a double-dip recession, fueled by the European debt crisis, persistent high unemployment, weak consumer confidence, and intense debate about debt in the United States, certainly isn't helping.
Yet the economy did pick up steam through the first nine months of this year, expanding at a 2.5% annual rate in the third quarter — about the pace the National Association of Manufacturers (NAM) expects for 2012. And Rapp sees a positive sign in one of his company's internal indicators: Caterpillar sales to end-users typically trend down six to nine months before GDP growth starts to fall, but they aren't slowing right now. Other good news: global interest rates are at historic lows, inflation in most countries remains under control, and emerging-market economies continue to expand vigorously.
If the economy can do its part, manufacturers should gain some lift in 2012, especially in the durable-goods sector, says NAM chief economist Chad Moutray. Dave Rodgers, CFO of $2.1 billion outdoor power products manufacturer Briggs & Stratton, notes that manufacturers generally have plenty of capacity to respond to new demand, aided by healthy balance sheets that were beefed up in the wake of the 2008 credit crisis.
A Reshoring Boom?
Although the bailout of the U.S. auto industry was unprecedented, manufacturing is not as closely linked to the Great Recession as the two sectors (banking and housing) profiled elsewhere in this report. Its problems go back much further, and yet its future may be — at least according to some experts — surprisingly bright.
The United States has lost nearly 8 million manufacturing jobs since 1980, but the sector still accounts for about 12% of GDP, employing nearly 12 million people, or about 9% of the workforce. And thanks to productivity improvements, the U.S. also remains the world's largest value-add manufacturer, at 24%, versus 15.1% for second-place China and 14.8% for third-place Japan.
In a recent and widely disseminated report, Boston Consulting Group argues that with Chinese wage rates continuing to rise, the U.S. will start to see a significant amount of manufacturing activity shifting back to these shores by 2015, as the U.S.-China labor-cost differential narrows. The shift will be especially pronounced, the consulting firm predicts, in seven manufacturing sectors: transportation, electrical equipment and appliances, furniture, plastics and rubber products, machinery, fabricated metal products, and computers/electronics. As companies in those sectors "reshore" manufacturing operations, BCG says, they could create 2 million to 3 million jobs in the U.S.
To be sure, many manufacturers will continue to produce goods globally, too, whether to comply with local-content laws, to enable speedy access to global markets, or, where labor costs remain a big component of total costs, to continue to take advantage of low-wage environments.
"It depends on what goods they're making and what markets they're serving," says BCG senior partner Harold Sirkin. "We don't expect plants to be closing in China, in part because of rising demand in China for local production. But when companies make a new-plant decision, they may put it in the U.S. and repurpose the plant in China to produce goods for the Chinese market."
Two years ago, NCR, a $4.8 billion maker of ATMs, point-of-sale terminals, and airport ticketing kiosks, opened a 350,000-square-foot manufacturing facility in Columbus, Georgia, to produce ATMs for the North American market. In choosing that location, says Peter Dorsman, NCR's executive vice president for the industry solutions group and global operations, the company considered the "total landed cost" to produce its ATMs, including wages, materials, taxes, and transportation. It also factored in where those ATMs were going to be sold, and the ease of access to suppliers, skilled workers, engineers, and other resources, such as universities that could help with training employees.
While locating that facility in Georgia was the right move, Dorsman says, the company still has manufacturing operations in Hungary, India, China, and Brazil that allow it to react quickly to the needs of different markets. And it doesn't plan to abandon them. "There's value in the network we've created," Dorsman says. "ATMs can weigh two tons. Shipping them long distances doesn't make a lot of sense."
Producing globally makes sense for Caterpillar, too, says Rapp, and not just because it's expensive to ship trucks and other vehicles that can weigh nearly 70 tons around the world. "If you want to compete globally, you give no one free rein; you compete in their home market," he says. "The better job we do competing there, the more jobs we generate here in the U.S."
Evidence for, and Against
BCG's thesis is built on the notion that with wage and benefit costs increasing 15% to 20% annually at the average Chinese factory, and the yuan continuing to appreciate against the dollar, the country's labor-cost advantage over low-cost American states will fall from its current 59% to just 39% by 2015. While wages account for only a fraction of the total cost of many goods, that still means the ultimate savings from outsourcing to China will, for many products, fall to the single digits.
That wage trend is just one reason why Peerless Industries rethought its approach to China. It began outsourcing to vendors there in late 2005 when they were able to beat the prices vendors in the U.S. were offering, but quickly ran into problems with quality and intellectual-property controls. "Your vendor could say it was working exclusively for you, and two miles down the road be manufacturing the same product with your designs and selling them somewhere else in the globe," Logerquist says.
Peerless Industries also found itself having to carry more inventory once it started manufacturing in China, just to account for the six weeks it took for new product to reach its warehouses. Now that it has consolidated its production in Illinois, Logerquist says, Peerless can hold as little as two to three days of inventory for many of its products. It also has dramatically pared transportation costs.
NAM's Moutray has heard similar anecdotal evidence supporting BCG's thesis from his organization's members. "They're telling us it used to be cheaper to produce their product in China and ship it here," he says. "Now, with rising costs in China as well as some quality issues and transportations costs, they can produce cheaper in the U.S. One company has told us they're operating at full capacity and need to expand, and they're looking at the U.S."
Some manufacturers remain skeptical. "I believe there will continue to be isolated incidents of jobs returning to the States, but can only imagine a growing trend if currency movements, fuel prices, labor costs, and/or policy shifts all worked in a big way against imports," says David Sylvester, CFO of $2.4 billion office-furniture maker Steelcase. He notes that, for strategic reasons, his own company will continue to pursue a regional approach to manufacturing. "Our customers demand relatively short lead times, with a high level of specification, so we are not a candidate for offshoring significant amounts of finished goods," he explains.
"Some customers want their products produced in the region where they are sold," adds Robert Gold, CFO of privately held United Plastics Group, which operates in the U.S., Mexico, China, and Wales. "Some just want the lowest landed cost. Having the flexibility to do both is valuable to us."
A Wish List for Washington
Many executives and consultants agree that the U.S. can't wait for rising Chinese labor costs and a strengthening yuan to bolster manufacturing in the U.S. A recent study by consulting firm Booz & Co. and the University of Michigan's Tauber Institute for Global Operations concluded that manufacturing in the States is at a crossroads, with more than 50% of its manufacturing jobs at risk if the manufacturing environment doesn't improve.
To prevent that, says Arvind Kaushal, a Booz partner, several things must happen. In addition to tackling the nation's debt problems, Kaushal says, government leaders must make a clear commitment to manufacturing's role in the country. Schools, he says, must attract more students to vocational training programs so that manufacturers can find the skilled workers they need. Government, academia, and industry must work together to encourage manufacturing "clusters" where they can collaborate on training and innovation. The country must find a way to partner more closely with Mexico, given its proximity to U.S. demand. Finally, he says, the government must simplify and improve the nation's tax code and regulatory environment.
"Tax rates definitively have an impact on creating jobs here in the U.S.," says Andrew "A.J." Cederoth, CFO of heavy-truck maker Navistar.
"We just want government to provide a stable platform and a predictable set of rules and regulations, and not be scaring us so much about what our sovereign-debt situation is and are we going to become the next Greece," adds Jonathan Wolk, CFO of American Woodmark, a $453 million maker of kitchen and bathroom cabinets. "Over the summer, there was talk of a grand bargain that was going to be struck on the deficit — a $4 trillion solution that included some tax increases and more cost reductions. That kind of talk was beneficial."
Caterpillar's Rapp also warns against potential policy mistakes by government officials, such as turning too soon to fighting inflation, or applying fiscal restraints too early in a bid to bring down the federal debt. "We absolutely believe we need to control government spending, but it needs to be played out over a longer period of time," he says.
Accomplishing all those goals will be a tall order for a federal government that, over the past year, has found it increasingly hard to reach consensus on any major issue. Even so, many manufacturing executives remain optimistic about the long-term prospects for their sector.
"I absolutely believe U.S. manufacturing has the chance to improve in the area of global competitiveness," says Rapp. "The question is, are we going to make the tough decisions? The U.S. is in a position to compete, but it will require us to provide greater clarity on where we're going."
Randy Myers is a contributing editor of CFO.
---
Manufacturing CFOs Are Optimistic — Up to a Point
Their outlooks for 2012 vary based on what their companies make and where they sell.
"We were feeling really good through June and early July," says Jonathan Wolk, CFO of American Woodmark Corp., a $453 million cabinetmaker. "Then you could just see consumer confidence start to ebb with all the budget discussions that were going on. It really took the wind out of a lot of people's sails, the way the government was so ineffective at working together. Consumer confidence fell to 30-year lows and hasn't recovered. That's the backdrop we're operating in and, frankly, we're not sure what to expect for next year." (For more from Wolk, see "Rebuilding, Slowly.")
In Liberty Lake, Washington, Steve Helmbrecht Sr., CFO of $2.26 billion Itron, a provider of intelligent metering, communications, and utility software solutions, says his company anticipates year-over-year sales are likely to be flat to down in 2012, although growth should be stronger outside the U.S.
Robert Gold, CFO of privately held United Plastics Group, a maker of precision plastic products with a focus on the medical sector, says his firm expects fairly substantial growth in that market niche, but is uncertain about the outlook in other industries more directly influenced by the economic cycle.
At Navistar, a $12.2 billion maker of trucks, buses, and diesel engines, CFO Andrew "A.J." Cederoth says he expects that demand for trucking will expand in 2012 and that, as existing fleets continue to age, Navistar's manufacturing output will expand to meet that demand. Still, he predicts it will be a "below-average" year for truck manufacturing.
David Sylvester, CFO of $2.4 billion office-furniture maker Steelcase, says his company remains "reasonably confident about the short-to-mid-term outlook" as companies seek to modernize their offices, often for the first time in a decade after suffering through two massive recessions. "We expect year-over-year growth rates to moderate as we begin to compare against prior years," Sylvester says. "However, we, along with industry associations, continue to believe we will see growth again in 2012."
In Duluth, Georgia, NCR executive vice president for the industry solutions group and global operations Peter Dorsman says he's "cautiously optimistic" about the outlook for manufacturers in 2012. "We will continue to have challenges, whether it's the European debt crisis or other things," Dorsman says. "But we think you have to pick your head up once in a while and look at the longer term as well. That's what we try to do, and we're very excited about what could be." NCR, which had sales of $4.8 billion in 2010, is focused on self-service products such as ATMs and airport check-in kiosks, and Dorsman says the company is bullish about the opportunities in that area and well positioned to take advantage of any increase in demand.
Briggs & Stratton, a $2.1 billion maker of outdoor power products, expects sales for fiscal-year 2012 to be up about 4% to 6% from the year ended in June 2011. Still, says CFO Dave Rodgers, "we continue to take a cautious approach to the next 12 to 18 months. While we see things continuing to improve, with positive growth here in the U.S., it's going to be tough going for the next several quarters as consumers look to get back on their feet." He says the company continues to look for sales opportunities outside the U.S. — R.M.