At Method, a maker of household cleaning supplies, eco-friendliness is more than a trend — it's a founding principle. Indeed, it was the inspiration for the $100 million company, which was launched with a commitment to "make products that work, for you and for the planet." That was a tall order for a start-up, given that Method sells products that compete with such mainstream chemical-heavy brands as Windex and Clorox. Founded in 2000, Method stresses the importance of sustainability throughout its operations, from the products it sells — perfume-free, concentrated laundry detergent, for example — to the way it distributes them: its truck fleet is now largely powered by biodiesel.
While Method and other well-known eco-oriented brands have been increasing their share of established market categories for more than a decade, the gospel of green is now spreading far beyond this cadre of early adopters to a broad swath of traditional businesses. Suddenly, executives who are far less passionate about environmental issues than Method's founders are discovering that the financial benefits of going green can manifest themselves in numerous and surprising ways.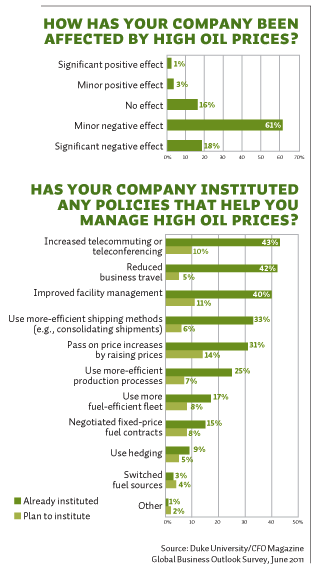 Although there was speculation that the recession and halting recovery would crush many corporate green initiatives as companies looked to cut back on any efforts deemed nonessential, in fact the opposite has happened. A study by MIT's Sloan Management Review and The Boston Consulting Group (BCG) released in February found that sustainability spending has more than survived the downturn, with 59% of companies reporting that their sustainability investments increased in 2010 and nearly 70% saying they expect to spend more in 2011.
Today, CFOs looking to squeeze as much efficiency out of their plants and operations as possible have found that certain cornerstones of the sustainability movement, such as reducing waste and power usage, offer fresh ways to do what they do so well: manage risk and control costs. The environmental benefits are a nice outcome, too, of course, but they are not the main motivation behind many companies' heightened focus on green initiatives.
Finance executives are also realizing that greener practices may be able to help them control volatile energy and input costs, which are a growing concern. In June's Duke University/CFO Magazine Global Business Outlook Survey, nearly 80% of finance chiefs said high oil prices have had a negative impact on their companies. The overall trend for oil and other commodities is up, with staples like cotton and coffee both more than doubling in the past year. Indeed, Aeropostale, the teen-clothing chain, cited cotton's climb to more than double last year's price as one reason for the company's 10% decline in operating margin in the first quarter. (For more on inflation, see "That Rising Feeling.")
Whether the cost of energy and materials will continue to soar as a result of growth in emerging economies, or whether weak demand in the United States and Europe will keep it in check, price volatility in one direction or another seems certain. For CFOs, one way to hedge against price swings and maintain some ability to plan and forecast is to figure out how their companies can reduce their use of such wildly fluctuating commodities. Between the cost-cutting opportunity and the possibility of making materials costs more predictable, finance chiefs are finding that green business has transformed from an idealistic approach to an incredibly pragmatic one.
A New Source of Advantage
The MIT/BCG study broke respondents into categories, including "embracers," who have made sustainability a permanent part of their business agenda, and "cautious adopters," who are focused on measurable investments like resource efficiency and waste reduction. ("Sustainability skeptics" made up just 3.5% of the sample.) Contrary to the stereotype, embracers aren't forgoing profits in favor of environmental goals. Indeed, say the study's authors, "Embracers are confidently making the link between sustainability and profitability…some 66% of embracers say their organization's sustainability-related actions or decisions have increased their profits."
Gene Lynes, CFO of AdvantageIQ, a publicly traded provider of energy-management services, says that for many companies, particularly those with substantial real estate holdings, energy costs are typically one of the top five expense line items. When clients call on AdvantageIQ, "most often, sustainability is an important element, but there's an analysis of cost savings that goes hand in hand with that," Lynes says.
While the business began by helping customers simply process and track their energy spending, "that's shifted over time as customers have become more and more interested and proactive in driving the costs out and moving more toward thinking about sustainability," Lynes says. Clients can expect to see energy savings of two to five times what they pay AdvantageIQ in fees as the company helps them identify billing mistakes, choose the most cost-effective energy providers, and reduce energy usage during the most expensive peak load times, according to Lynes.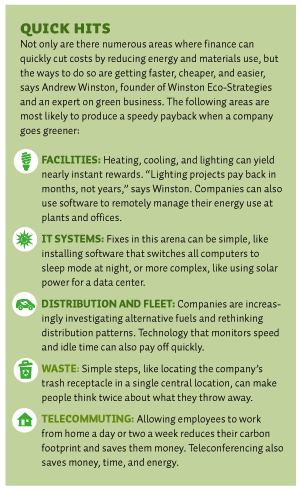 At Method, finance chief Andrea Freedman says that, while some of the company's green efforts do cost more than standard corporate operating procedures would, others save money. "We make choices to drive sustainability in the business. Some will produce short-term cost savings, and some will drive up costs in the short term but result in longer-term benefits," she says. "But we believe that when you do things like reduce your reliance on fossil fuels, over time your sustainability goals and cost goals will align more consistently."
The company has seen 20% to 30% cost increases in many of the chemicals and much of the packaging it uses, while fuel has jumped 17% since the beginning of the year. The result has been a 2% decline in gross margin for 2011 versus the company's goal, says Freedman. Method is not planning to raise prices as a result, however. "We don't think it's fair to ask consumers to pay more," she says.
Instead, Method has focused its efforts on cost savings, many of which nicely dovetail with its environmental goals. Two years ago, the company began working with one of its freight providers to convert some of the vendor's trucks to biodiesel. By the end of 2011, almost 70% of the fleet will have made the transition. While biodiesel is equal in cost to regular gas, the biofueled trucks get 13% more miles per gallon. They are also less subject to fluctuating oil prices. "We can cushion ourselves from rising fuel costs by increasing the percentage of biodiesel in our fleet," says Freedman.
The company has instituted a formal process in which the finance and operations departments examine the most commonly used ingredients in Method's products to determine whether the company is getting the best price possible, what alternatives might be available, and whether it can better bundle its purchasing to achieve a volume discount. In addition, Method's product designers and engineers constantly review the company's packaging and formulations in an effort to improve the products and further reduce their environmental impact.
"All companies do this to an extent when looking to take costs out of the supply chain," says Freedman. "We look at reducing packaging, concentrating formulas, and increasing our use of recycled materials." By producing a concentrated laundry detergent, for example, she says, "on the retailer's shelf, a foot of Method product will drive much more revenue for them than a foot of giant jugs of laundry detergent. We can also move a lot more product around for a given cost," due to the bottles' smaller size and lighter weight.
Shades of Green
Wal-Mart's green conversion has been both widely recognized and hugely influential, as the company has pushed its environmental initiatives through its vast supply chain, requiring suppliers to monitor their own carbon footprints and reduce packaging. But in the vast middle between diehard, albeit small, eco-friendly companies like Method and giants like Wal-Mart, many other companies are adopting sustainable practices to control their costs, too.
In the latest Duke/CFO survey, 43% of finance chiefs said they had increased telecommuting or teleconferencing as a way to manage high fuel costs, while 42% said they had reduced business travel. Forty percent had improved their facilities management, increasing the efficiency of their lighting and heating-and-cooling systems. A third were pursuing more-efficient shipping methods, while a quarter were pursuing more-efficient production processes.
At APC Construction, a small road-builder in Colorado, finance chief Bob Stewart says the company has increased the amount of recycled asphalt it uses in its production process — purely out of necessity. When the cost of standard asphalt cement skyrocketed from $180 per ton in 2003 to $600 per ton in 2008, the company began increasing the amount of recycled ingredients in its product, a move that the federal government and some state governments have recently allowed.
"With a 30% recycled product, you're looking at a savings of almost $8 per ton," says Stewart. "You're reducing the amount of energy you use to crush the rock and you're preserving natural resources. It's also a lot cheaper to break up the recycled product than it is to crush big rocks." APC is also considering natural gas to fuel its fleet, rather than the diesel it currently uses, but "right now the cost for conversion is pretty prohibitive," says the CFO.
Dan Marchetti, finance chief at Urschel Laboratories, a maker of capital equipment for the food processing and chemical industries, says that as the company has wrestled with rising freight costs, he has been personally involved in discussions about shipping at a far more detailed level than in the past. Some of Urschel's carriers have added fuel charges of as much as 12% in the past year.
In the spring, Marchetti and Urschel's chief operating officer met with the company's freight carriers to discuss their increasing costs. "None of the strategies we came up with is really about price concessions. It's more about using less-expensive services," says Marchetti. The company is consolidating shipments — a move that generated a 10% to 15% reduction in freight expense — as well as adopting a tiered pricing model for its shipping methods.
"One of our selling points had been shipping everything as fast as we could," says Marchetti. "That's still part of our strategy, but we're having more discussions with customers about timing." Since much of what the company sells is heavy equipment, customers often have enough lead time to wait four to six weeks for their orders to arrive by sea, a practice that costs the company half what air freight — its former standard — costs. Now, says Marchetti, "we tell [customers], 'Here's the cost, here's the pricing. Here's the difference between premium and deferred.' If they want to pay extra freight, that's really their call."
The Bottom Line
While many CFOs have come to appreciate the cost-reduction potential of sustainability, some companies take it one step further, pursuing green strategies as a path to growth. These "embracers," as identified in the MIT/BCG study, "have recognized the potential for sustainability strategies to deliver new customers for their goods and services as well as to increase their market share and profit margins in existing markets."
Method's suppliers, for example, work with the company to reduce their carbon footprint. In return, the suppliers more closely align themselves with a fast-growing business. "Method is driving growth in the categories we play in, and our manufacturing partners are looking to build their business with growth companies," says CFO Freedman. The public-relations boost that comes from working with a well-regarded company is one more plus.
In another example, AdvantageIQ has broadened the scope of its business by moving from transactional energy tracking and bill paying to higher-margin consulting on energy-cost reduction. And scores of consumer-products companies have extended their offerings to include organic or eco-friendly options, often at premium prices.
Are CFOs really thinking differently about green, or is all this just another way to cut costs and boost margins? Andrew Winston, founder of Winston Eco-Strategies and an expert on green business, says that, at the very least, people no longer think of sustainability efforts as a waste of time. The volatility in commodity prices and the barrage of dramatic weather events over the past few years have caught — and held — the attention of senior executives. "The C-level people that I talk to recognize that the forces driving the green movement are pretty powerful and not going away," he says. "While there is still political wrangling, in the boardroom, in the hallways, and around the water cooler, the debate is over."
Cost savings, increased certainty, and growth opportunities? Whether one cares about environmental and social benefits or not, in today's economy there are few business strategies that sound more practical — and promising — than that.
Kate O'Sullivan is a deputy editor of CFO.