Editor's Note:  The Senate released immigration reform legislation on April 16. The bill raises the limit on H-1B visas to 110,000 in the first year (plus an increased exemption), with an eventual ceiling of 180,000. It would also impose significant fees on heavy corporate users of the visa system, such as IT companies.
Finance chiefs at small and midsize companies are hoping new immigration legislation will help them compete with larger companies for high-skilled talent. In particular, they say Congress should raise the limit on H-1B visas, which allow companies to employ foreign workers with specialized skills, such as scientists and software engineers.
The cap on H-1B visas is currently set at 65,000 people per year with an added exemption for up to 20,000 highly skilled workers with advanced degrees. Impending bills in the Senate and the House of Representatives will likely propose raising the H-1B limit, but it is unclear how high, says Madeleine Sumption, senior policy analyst at the Migration Policy Institute.
Demand for H-1B visas is on the rise. On April 5, for the first time since 2008, the H-1B program hit its cap within five days. As a result, U.S. Citizenship and Immigration Services (USCIS) will use a computerized lottery system of applications to determine which workers get the visas. That means all employers that applied for the visas, regardless of company size, have an equal chance of securing them. But CFOs at small and midsize companies say the overall system favors large companies.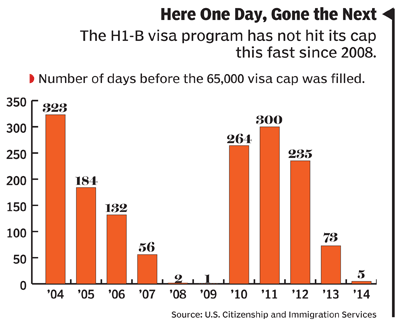 Brent McClure, CFO of service contractor Offshore Inland Marine and Oilfield Services, says his company does not have the staff to complete the visa application paperwork before the program hits its cap. Although larger companies have workers who specialize in visa applications, at Offshore Inland the responsibility would fall on McClure. "The pool is so low that we don't even bother," he says. "There's no point. It would take someone like myself an insurmountable amount of time." The company, which has about 250 employees and $50 million to $75 million in revenue, does not currently sponsor any foreign workers through H-1B visas.
McClure says an increase in the H-1B visa limit would help Offshore Inland compete with larger companies for engineering talent. "We are going up against some of the majors, so the same engineer that we would be looking at bringing on board may also be looking at going to work for Chevron or Shell," he says. "It's difficult for us to compete with those companies, so we end up with the middle-tier engineers," he says. If the visa limit rises, "the talent pool would increase, so we would have a better opportunity of [hiring] some of them," he adds.
Unless Congress raises the H-1B visa cap significantly, small and midsize companies may see little benefit from reform, says Sumption. "If there were so many visas that they were available almost all year, that would mean that the system would be open for the smaller employers year round," she says. "But if you had only a [slight] increase in the visas, it doesn't seem like it would necessarily change things."
Since the visas are only released once a year, in early April, small and midsize companies also have trouble securing H-1B visas when they need them, says Robert Pruger, CFO of Rudolph/Libbe, a construction and real estate development company. "Whatever visas are available get taken very early in the cycle," Pruger says. "We might find [a prospective employee] later on that we'd like. But it's the wrong part of the cycle, and so we'd have to wait until the next year."
The one-time release is less of a concern for larger companies, because they can wait longer to hire a foreign worker, says Sumption. "Because they're so big, they're able to be much more flexible with their staffing," she says. "Smaller companies can't necessarily wait [until the next year] before a person can come aboard." Multinational companies also have the ability to hire a high-skilled worker abroad and then transfer that person to a domestic office, she says.
Some companies and policy groups, including the Migration Policy Institute, are calling for USCIS to release visas periodically rather than once a year. It is unclear whether the impending legislation will include such a reform.
A team of bipartisan lawmakers known as the "Gang of 8" hopes to introduce immigration reform legislation in the Senate this week. The House of Representatives is drafting its own bill.