CFOs looking for a promotion may take heart from the latest annual survey of CEO succession from consultancy Booz & Co. Last year, the percentage of top bosses who departed the world's 2,500 largest companies rose to 14.2% — that's 355 CEOs who moved out — from 11.6% in 2010.
The improved outlook for the economy may be partly responsible for the acceleration in CEO turnover. "Boards are increasingly seeking new leaders to help drive growth in a recovering global economy," the survey authors write. But there's at least a hard bargain, if not a catch: the need to ride the upswing "places a distinct burden on those newly elevated CEOs to prove themselves early in their tenure."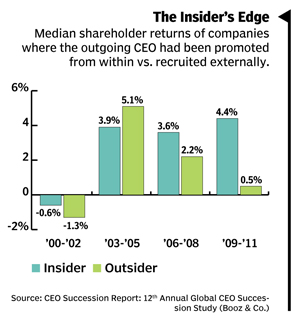 Overall, 2.2% of CEOs lost their jobs because of merger-and-acquisition activity, 2.2% were forced out for other reasons, and the remaining 9.8% planned their departures.
Good news for CFOs with their eye on the CEO role: so-called insider CEOs, those promoted from within the firm rather than appointed from outside, serve longer and, more important, create more value for shareholders. From 2009 to 2011, these CEOs' firms outperformed local market indexes by 4.4%, compared with 0.5% for external CEOs.
The bad news: those insider promotions are harder to get. In 2011, 22% of CEOs were appointed from outside, compared with just 14% back in 2007.
The Booz survey makes no mention of the role of CFOs in succession planning. It does, however, carry advice to newly appointed CEOs from Andre-Michel Ballester, CEO of the Italian company Sorin Group: "The first issue is to create a leadership team very quickly, making decisions on who are the keepers and who are the leavers in the first few weeks."
And therein lies a warning: CFOs who don't get the top job themselves should quickly cement their relationship with the successful CEO candidate. In fact, recent research by recruiting firm Korn/Ferry suggests that 28% of CFOs leave their company within two years of an external CEO's appointment. If another internal candidate gets the CEO role, there is only a 10% chance the CFO will leave for new pastures.