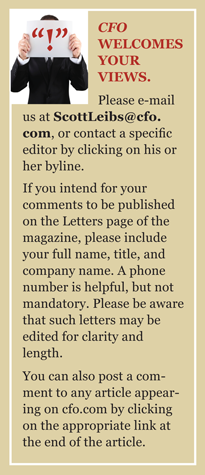 I think David Rosenbaum covers the subject of the CFO-CIO relationship quite well in "CFOs and CIOs: Can We Talk?" (December 2011). History shows the IT function to be far too technology-centric and not business-centric enough. The career path for people in IT is within IT, across enterprises, independent of a career within an employer. IT has also demonstrated that it is "technology fad–oriented," rather than being focused on, or even aware of, the strategy or requirements of the business of one's current employer. The surveys referred to in your article show that the majority (67%) of CIOs do not see themselves as a "trusted partner or business peer" and even more (69%) do not see themselves viewed as a "valued service provider" — for good reason.
A CIO's financial literacy is important, but even more important is literacy in the strategy and requirements of the business. The "tyranny of the technician" is well known and widely experienced in business today. "Cloud computing" is nothing more than another technology fad, and a retreaded one at that. It is not a business strategy, but rather a wasteful opportunity to consume resources converting to another technology platform instead of defining and understanding the business processes supposedly being supported by IT.
Safety-Kleen CIO Mark Stone has it right: ". . . if you're a CFO and your CIO is not on the same wavelength, find a new CIO."
Don Sherwood
Boulder, Colorado
Your article "CFOs and CIOs: Can We Talk?" raises some interesting challenges and paradoxes:
• CIOs who report to CFOs — a frequent occurrence but logically a disconnect
• Businesses struggling to get strategic decision support information out of business systems but chasing buzz technologies like cloud computing before addressing critical issues like precision configuration
• Cost-centric IT management instead of business value management (because most people do not know how to do it) drives business systems further away from where the real value lies.
James Robertson
James A. Robertson and Associates
Via E-mail
---
Wanted: A Voice for Small Business
"FASB as Private-Company Standards-Setter?" (November 2011) misses a major point. The three-decades-old issue of private standards is being addressed, once again, and that's good. The problem is that the solutions being put forth have one major shortcoming: there is no real representation of small business on the Blue Ribbon Panel, the Financial Accounting Standards Board, or the standards-setting groups of the American Institute of Certified Public Accountants.
Specifically, the one organization that represents only practicing CPAs, the National Conference of CPA Practitioners (NCCPAP), is not represented. These are the CPAs who deal with small businesses on a daily basis, who prepare the financial statements for small businesses, who assist small businesses with their banking and credit needs, and who understand the problems and opportunities of small businesses.
Both FASB and the AICPA have had 30 years to come up with standards to help small business. But until the recent recession and downturn of the U.S. economy, neither organization really seemed to recognize that small business was a major part of the nation's financial system. GAAP was the rule that was promulgated primarily to place controls on publicly held companies, and small businesses had to cope with it, in spite of the difficulties it presented.
Now the Blue Ribbon Panel has come up with a plan that is supposed to give relief to small business. The members of the panel are well meaning, but none really represents small business. One would get the impression that a small business, to the panel, FASB, and the AICPA, is any organization that is not a public company.
To have a discussion or plan for standards for small business without representation by the NCCPAP will probably produce a warmed-over model of GAAP, rather than a clear, concise set of new rules, planned and designed for the millions of U.S. small businesses.
Edwin J. Kliegman
Massapequa Park, New York
---
Can We Cure Market Volatility?
I am encouraged that the structural trading weaknesses and faults inherent in the U.S. equity markets are finally garnering some attention. "Follow the Bouncing Stock" (November 2011) touched on many aspects of the problem, but neglected to tell the stories of the genesis of these issues and also the role of supplemental liquidity providers.
It is quite clear that exchanges/participants and regulatory bodies are not eager to effect the changes necessary to reduce volatility and level the playing field.
I challenge the listed companies to speak up and voice their concerns, backed by the threat of removing their listings. Perhaps then we might see substantive change.
Edward Collins
Rye, New York
---
The Myth of Collective Standards
The notion that standards can be set outside of the individual enterprises doing the accounting is pure fallacy ("New Leasing Proposals Continue to Draw Heat," Topline, November 2011). "Collective standards" à la the Financial Accounting Standards Board, the International Accounting Standards Board, and so on are nothing more than an exercise in futility. The individual's existence is independent of the collective. The same cannot be said of the collective, which is but a group of individuals. Without the individual, there is no group.
The take-away here is that for FASB/IASB to legitimately set accounting standards, they must have the consent of all the individuals who would be affected by the standards-setting. Universal consent for accounting standards is absent, so the very existence of collective standards coming from such bodies is illegitimate.
Name Withheld by Request
Via E-mail
---
Calculating People
When I first became a manager, I often thought of staff training and development activities as similar to an asset on the balance sheet, something that would be used through time for productive purposes ("Power from the People," November 2011). For some efforts, where the benefits are identifiable, it is even possible to do rough ROI calculations.
David K. Waltz
Via E-mail
---
Who's More Important?
There is really only one question for companies here ("An Eroding Compact?" From the Editor, October 2011): Who are more important: your employees or the people that gamble on your stock?
John J. Houghton
Via E-mail