By the time business professor Theodore Levitt explained in a 1960s Harvard Business Review article how buggy whips comprised an exemplary industry that failed to adapt to changing markets, the former horse-and-buggy supplier Hermès was well into its twelfth decade of innovation. Founded in 1837 as a saddlery, its ability to meet stakeholder's expectations for quality, integrity and craft hasn't changed in the two centuries since. In fact, it earned Hermès the top spot in the November Consensiv 50 league table of reputational value.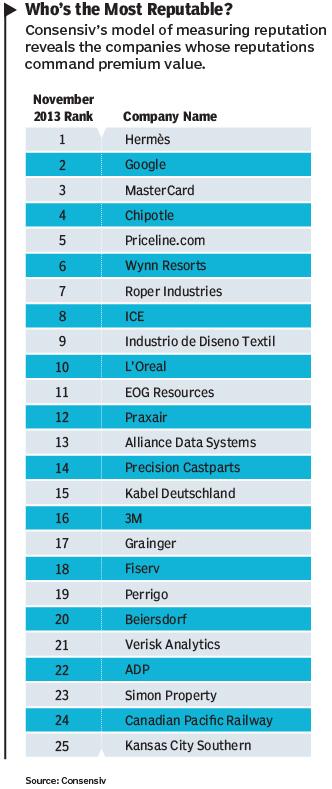 In Consensiv's model, reputation is not based on polls and surveys of sentiment dominated by firms with large advertising budgets. Instead, reputation is the expectation that companies will fulfill their commitments, and reputational value is the measurable economic consequence of how stakeholders behave in light of those expectations.
It's notable that Hermès ranked first on the November 2013 monthly league table. (Read the full chart.) For one thing, unlike many of its competitors, Hermès has direct and tangible controls of its production process (34 of its 45 production units are located in its home country of France). In addition, the company focuses its worldwide distribution through a network of 323 stores. These controls on both the production and customer-facing sides of the business allow Hermès' management to tightly manage both the expectations of its stakeholders and its ability to meet those expectations, and, as a result, the premium its stakeholders put on its reputation. Operations and communications management are so tight, in fact, that in its June 2013 interim report Hermès identified currency fluctuations as the greatest risk its business faced.
There are several things Hermès does not do that might come as a surprise to business professionals who still confuse reputation with brand and likability. In the consumer-products sector it is taken on faith that stakeholders value a company that engages in charitable works or invests in global sustainability initiatives. But Hermès is far less involved than other companies in charitable or social works efforts. It conducts no apparent campaigns on environmental responsibility, and yet operationally, it simply engages in sustainable practices. The company reported zero accrual for environmental liabilities in its 2012 financial statements (and noted that none of the group's companies was ordered by a court to pay any fines related to environmental damages).
The experience of another French company, Dassault Aviation, demonstrates how any failure or shortcoming of controls can be quite damaging to reputation. Ranked on the Consensiv 50 for the past six months, the aircraft-manufacturing company disappeared entirely from the November table. This is partly due its vague warning on Oct. 17 that the U.S. government shutdown "delayed deliveries of a certain amount of planes," forcing the company to assess the situation at the end of the year. Other plane makers acknowledged potential impacts of the shutdown but did so with far more clarity and confidence. An announcement of a 29 percent jump in sales for its third quarter was not enough to compensate for a possible absence of management controls of Dassault's business, and its reputation suffered.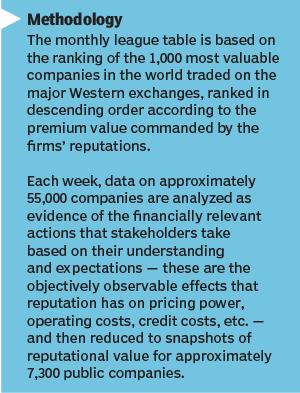 Great Expectations
Another quality of a corporate reputation is the importance of setting and then meeting stakeholder expectations. Canadian National Railway (CN), for example, has been on the league table every month since the ranking's inception. In 2010, a poll conducted by leading U.S. agricultural shippers put CN in last place on almost every quality contributing to customer satisfaction (on-time performance, service and costs). However, a year later, the same poll ranked the company third, noting its vast improvements.
Every stakeholder group has expectations and, according to the Consensiv metrics, CN continues to meet them, moving up 17 spots in November to the 26th place. This increase in reputational value is a measure of customer satisfaction as well as a metric of reputational durability, since the rise came despite allegations of financial improprieties in early October concerning CN's commuter infrastructure projects in Toronto.
Similarly, while Yum Brands left the league table this month (it was 36th in October), the news for its reputation could have been far worse. Yum has been experiencing a crisis stemming from a chicken supply-chain scare in China late last year. Yum publicly disclosed the problem soon after the news broke and admitted that it had underestimated the severity and duration of it. That was key to preserving its reputation. While it suffered spikes courtesy of its equity investors (and the occasional negative news story), the Consensiv measures of Yum's reputation have stayed fairly strong, evidencing that it has been successfully communicating progress to the stakeholder groups involved in its supply chain (including regulators and financial partners).
Even though Yum recently reported earnings short of expectations and lowered annual sales expectations for China, the company is planning to run a public-information campaign to tout its ability to meet expectations of product safety. The campaign is backed by a newly awakened corporate appreciation of reputation risk. In the company's 2013 10-K Item 1A, published after the first hits from the poultry supply situation, it disclosed reputational value risks associated with business processes, intangible assets, sustainable labor practices, ethics and regulatory compliance, and cyber security.
In the next two months, the real question for every public company will be to define and then deliver in 2014 with certainty and consistency. Successfully doing so will yield the highest and most durable reputational values.
Jonathan Salem Baskin is managing director of Consensiv, a reputation controls firm. He is the author of six books, has written a regular column on CMO leadership for Advertising Age since 2008, and is a Senior Fellow Emeritus of the Smithsonian's National Museum of American History. 
Nir Kossovsky is chief executive of Steel City Re, a leader in corporate reputational value measurement and enterprise risk transfer. He is executive secretary of Intangible Asset Finance Society and a trustee of Excela Health Systems, a community-based health care provider. His latest book is Reputation, Stock Price and You: Why the Market Rewards Some Companies and Punishes Others (Apress 2012).