Finance executives are feeling much better now than they did in late 2012, when worries about the fiscal cliff overshadowed the last Duke University/CFO Magazine Global Business Outlook Survey. CFOs are seeing signs of strength in their businesses and seem to be looking forward to the year ahead, rating their level of optimism at 55 out of 100, up from 51 last quarter.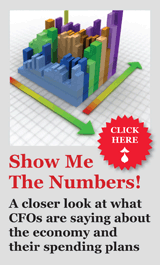 On average, the more than 500 U.S. finance chiefs surveyed expect to increase their capital spending by more than 5% in the next 12 months, more than double last quarter's forecast. CFOs also say their companies will increase spending on technology by nearly 8%, a dramatic jump from late 2012. They will boost marketing and advertising outlays by more than 4% and raise research-and-development spending by 1%.
More jobs may also be on the way. Finance executives say they plan to add staff in the coming year, forecasting just over a 2% increase in their full-time domestic workforces in the next 12 months on average. Should that number hold true, it will have a significant impact on the unemployment rate. Wages, meanwhile, will rise by just over 3%, in an increase from the past several quarters.
Mergers and acquisitions are on the horizon, too. Nearly 40% of CFOs surveyed plan to make an acquisition in the next 12 months; buyers should be particularly active in the manufacturing and finance sectors. A quarter of those acquisitions will involve the purchase of foreign assets, primarily in Europe and Asia, according to John Graham, a professor of finance at Duke's Fuqua School of Business and director of the survey.
Many CFOs are seeing their businesses return to health after several challenging years. Kevin Manion, finance chief at Young's Market Co., a family-owned liquor and wine distributor with approximately $3 billion in revenue, says his business is "feeling pretty comfortable." Manion says the company is investing in growth and is expanding its real estate portfolio. Young's has also increased its staff by 5% over the past two years as customer demand has picked up and consumers have bought more higher-margin items.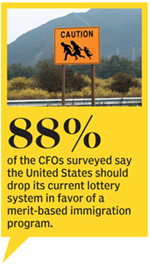 Brent McClure, CFO at Offshore Inland Marine and Oilfield Services, a service contractor to the oil and gas market, says business is improving after a choppy 2012. Now, McClure says, the company is fielding a lot of calls from potential customers and forecasting slight spending and hiring increases. "We're a little gun-shy about saying we're going to have a great year," he says, "but we're holding our own."
Ups and Downs
With his tempered optimism, McClure is right in line with many of his CFO peers. At Vantage Custom Classics, a maker of promotional apparel, finance chief Eric Wukitsch says the company "has been in a holding pattern for the past six years," as its business is dependent on large corporate clients who are "not spending any extra money [on] anything right now." Wukitsch says he's hopeful about the second half of the year, when he anticipates customers will dip into their cash holdings and spend more on marketing and advertising. Should orders pick up at that point, he will plan to add staff.
Along with concerns about demand, CFOs cite federal-government policies and price pressure as top macroeconomic worries, while the cost of health care and attracting and retaining employees also rate as critical concerns.
Rising commodity prices are another worry, putting pressure on margins as finance executives hesitate to raise prices amid a shaky recovery. Marc Friedant, CFO at Clement Pappas, a bottler of private-label juices and cranberry sauce, says commodity costs are one of his biggest concerns, citing apple concentrate, plastic, and corrugated cartons as major inputs. For Manion at Young's Market, the cost of fuel poses a challenge, as the company employs a fleet of 500 drivers. But with the volatility in fuel prices, Manion says he is reluctant to hedge, as prices could move against him.
Calls for Reform
Perhaps reflecting their long-running concern about attracting qualified employees, CFOs issued a resounding call for immigration reform in this quarter's survey, with 88% saying the United States should drop its current lottery system in favor of a merit-based immigration program. More than 80% favor routine granting of H-1B visas for foreign undergraduate students graduating from U.S. universities with degrees in STEM (science, technology, engineering, and math) fields, and 78% favor routine granting of green cards for foreign graduate students receiving U.S. degrees in those fields.
For Wukitsch, immigration reform is less an ideological matter than a practical one. "More people with a way to get citizenship would expand our potential labor pool," he says.
McClure says the addition of science talent would help drive innovation in the technologically advanced oil and gas market. "Foreign students with science backgrounds should have a smoother path to immigration," he says. "For our industry overall, it would definitely help."
Thinking Globally
In Europe, finance chiefs continue to struggle with the region's weak economy. Europe's CFOs are the most pessimistic of those surveyed, rating their optimism at 53 out of 100. They also plan to continue to reduce their workforces.
Asia's CFOs are more enthusiastic than they were last quarter, with an optimism rating of 62, up from 58. Rising Japanese optimism (to 60 from 49 last quarter) and continued high Chinese optimism (69) drove the increase. Unlike the usual trend in most countries, Japan's CFOs are more optimistic about their country overall than about their own firms, a result that most likely reflects their approval of the economic policies of Japan's new prime minister, Shinzo Abe. Nearly 80% believe that monetary easing and fiscal spending will help the economy, but fewer than 40% think that such policies will directly help their own companies.
The most optimistic group in the survey is, again, Latin America's CFOs. Finance chiefs in Latin America plan to increase capital spending by 7% and will expand full-time employment at their companies by 6% on average. Prices and wages will also rise by 5% on average, according to the CFOs surveyed. One potential damper on growth in Latin America is the fate of its neighbors: 60% of finance executives in the region say that economic weakness in the U.S. and Europe is having a negative impact on their companies' results.