Craft beer is often defined by what it's not. It's not mass-produced; a craft brewer typically makes less than 6 million barrels of beer a year. (By contrast, Anheuser-Busch shipped 97.9 million barrels in the United States in 2011.) It's usually not a low-alcohol light lager, like Budweiser or Coors. But it is big business, and it's growing. American consumers spent an estimated $8.7 billion on craft beer in 2011, up from $7.6 billion in 2010.
No craft brewer has made it bigger than Boston Beer Co., whose Sam Adams brand is the country's top-selling craft beer. Ten years after it sold its first barrel in 1985, Boston Beer went public. The company now makes its product entirely in its own breweries, and in Q2 2012, it reported net revenue of $147.5 million.
Most craft brewers, however, operate on a much humbler scale. Many are not far removed from where Boston Beer founder Jim Koch was in 1984, when he brewed his first batch of Samuel Adams in his kitchen. In an increasingly crowded field, craft brewers need an edge to grow.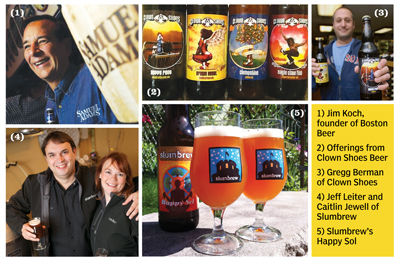 Somerville Brewing: Marketing Experts
A couple of years ago, Jeff Leiter and Caitlin Jewell began scaling down Silverscape, the Boston-based digital marketing agency they owned, so they could spend more time doing what they loved: making craft beer. Leiter had been brewing beer for years in his basement, lubricating regular Friday night parties for grateful friends. The couple also traveled the country as beer tourists, visiting breweries and learning about the products and the business.
Last year, Leiter and Jewell moved Silverscape to smaller offices in neighboring Somerville, cut its full-time staff from 18 to 4, and began applying their marketing expertise to promoting their beer, dubbed Slumbrew. ("Slumerville" is a local nickname for Somerville.) Becoming brewers rather than web designers enabled the couple to "build our own brand instead of someone else's," says Leiter.
The couple's Somerville Brewing Co. produced 205 barrels of Slumbrew at Mercury Brewing in Ipswich, Massachusetts. This year they are aiming to make 2,000. "In the past 10 months we've gone from unknown to solid distribution around the state," says Leiter. Based on revenue for the last three months of 2011 and extrapolating for four full quarters in 2012, Leiter projects revenue growth of 133% this year. He's shooting for 13 to 14 times growth over the next six to seven years, in order to "finance our ongoing growth, pay a return to our investors, and make the business self-sufficient."
When people speak of Slumbrew, they usually mention its handsome label (designed at Silverscape), featuring a silhouette of a flag waving atop the turret of Somerville's armory. And when people chat about Slumbrew, they are usually chatting on Facebook. Accordingly, Jewell buys ads on the social network. "Facebook is critical for our demographic," she says. (People who drink a craft brew at least once a week are often between 21 and 27 years old, according to David Decker, president of Consumer Edge Insight, a market research and consulting firm.)
Leiter and Jewell's marketing expertise was important to Michael Gonnerman, who sits on Somerville Brewing's board and serves as its part-time CFO. "Jeff and Caitlin have high aspirations in a highly competitive space," says Gonnerman. "Sales were up 10 times this year. I don't think they'll be 10 times next year, but they'll be good. And investors will view that as a significant way to get return on investment."
Leiter dreams of building a brewery in Somerville and making it "a destination, a tasting room, where we can sell merchandise — beer, T-shirts, mugs — and make smaller, unique batches without worrying about getting on Mercury Brewing's production schedule."
For now, Leiter simply hopes that he and Jewell can begin drawing a salary from Slumbrew. Maybe next year.
Clown Shoes Beer: A Distribution Edge
When Gregg Berman markets his craft beers, he works the comic angle. No surprise there, given that his Clown Shoes product line includes such beers as Happy Feet, Tramp Stamp, and Vampire Slayer. But there's nothing whimsical about his business strategy.
Indeed, one reason why Clown Shoes produces so many varieties (there are 16 beers listed on its website) is that the craft-beer audience is young and restless. According to a survey by Consumer Edge Insight, 68% cite "new brands/flavors" as their main reason for drinking more craft beer. "Diversity gives us more power to sell more Clown Shoes," says Berman, who will produce between 7,000 and 8,000 barrels this year and hopes to produce 20,000 barrels next year.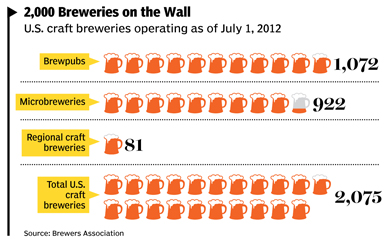 That's pretty good considering that it was only three years ago that Berman went to Mercury Brewing with an idea for a hoppy, California-style beer. At the time, he was running Arborway Imports, his family wine and beer distribution business. The brewmaster at Mercury came up with a recipe, Berman came up with the name Clown Shoes, and he was in business, not only making beer but also distributing it through Pipeline Distribution, which he founded as a branch of Arborway in 2010. Pipeline also distributes Mercury's own Ipswich Ale, Slumbrew, and Three Heads, a New York–based craft brand.
Using Pipeline as Clown Shoes's distributor gives Berman an edge. It helped minimize start-up costs, allowing Clown Shoes to make "money out of the gate," he says. "Our first batch of Clown Shoes at Mercury cost me $9,000, including labels, and we turned it into roughly $14,000."
Controlling his own distribution also helps Berman avoid the wholesaler's 30% margin and ensures that salespeople will push Clown Shoes. This is a problem for craft beers, since distributors are also selling Budweiser and Coors. "There's no question that having a dedicated distribution sales force is the only way to get consistent, undivided attention when [the craft brewer] calls on accounts," says Decker of Consumer Edge Insight. "It's certainly a go-to-market advantage."
Berman says he's not looking to build his own brewery, but he foresees a future where he will need a compliance expert to manage state-by-state licensing requirements, regional representatives in the areas where he hopes to expand, and a data-entry person to keep track of his growing business. For now, he has come out with a new beer for the election season, called Third Party Candidate. He plans to brew 1,000 cases, sell them fast, and move on.
"When you think you have the best of it," says Berman, explaining his business philosophy, "be aggressive and never let up. Push every perceived advantage to the limit and maybe beyond."
In other words, find an edge and leverage it to the hilt.