Uncertainty about the economy rose in the second quarter among leading private companies, according to the latest Private Company Trendsetter Barometer report from PricewaterhouseCoopers. Chief executive officers at 38% of 343 companies surveyed expressed uncertainty, compared with 32% in the first quarter.
Only 50% of private companies were optimistic about the economy, down from 60% in the first quarter. But few companies were pessimistic — 12%, compared with 8% previously. While most private companies still expect to grow revenue over the next 12 months, executives lowered their growth forecast from 9.5% to 8.3%.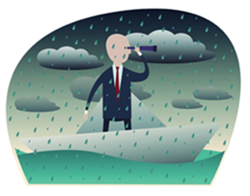 Ken Esch, a partner with PwC's private company services practice, blames the euro crisis for much of the uncertainty, and says it doesn't matter whether the companies voicing their concerns are actually doing business in Europe. "Because the global economy is so intertwined, a lack of demand in Europe is bound to affect a business's customers," he says.
Esch cited another concern contributing to private-company worries: the so-called fiscal cliff, when current federal policies will trigger tax increases piled on top of spending cuts in January. Many economists fear the combination would drive the country into a recession, but Republicans and Democrats are at odds over what to do about it, and it doesn't look as if anything will be settled until after the November elections. "Why would I do anything — invest, hire — until I get a better feel for what I'll be paying the government or what government contracts will be going away?" asks Esch.