When Wayne Lipschitz was controller of Wolfgang Puck Worldwide, the firm grew from 12 units to more than 20. As controller of The Cheesecake Factory, he helped the chain grow from 19 restaurants to over 40. And during his time there as CFO, the Coffee Bean & Tea Leaf chain grew from fewer than 100 stores to more than double that.
Now, Lipschitz is hoping his winning streak will continue at Make Meaning, a start-up "experiential retail" chain where he is finance chief. At Make Meaning stores, customers design, decorate, and make the products they buy, whether candles, jewelry, stationery, soap, or other crafts.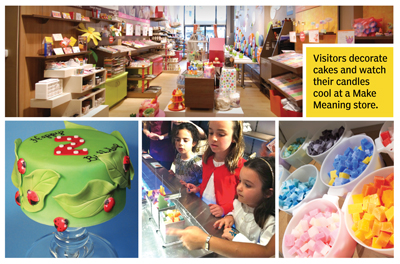 Experiential retail, says Lipschitz, draws customers to stores by providing a hands-on, interactive experience that they can't get elsewhere, including (and especially) the Internet. The idea isn't new; many chains have incorporated experiential retail into their stores for years. Customers at L.L. Bean's flagship store in Freeport, Maine, can take kayaking, archery, and fishing classes. Children marvel at the lifesize toy soldiers and giant floor piano at the FAO Schwarz store on Fifth Avenue in Manhattan. Other chains offering experiential retail include American Girl, Lego, and Apple.
But Make Meaning is taking the idea a step further. Although its stores do sell cards, candy, and other products for children, most of its business comes from customers crafting their way to the cash register — whether putting decorations on cakes, brushing paint onto ceramics, or melting wax into candles. And that's the whole point.
"There is a big difference between doing something for the experience, which really is kind of the pottery-store model, versus doing something with a commerce objective in mind, and basically letting you personalize your product," says Sucharita Mulpuru, retail analyst at Forrester. "It sounds like these guys are about activity first and commerce after."
Crafting a New Business
Since its launch less than two years ago, Make Meaning has opened four stores — in Manhattan; Scottsdale, Arizona; and Dedham, Massachusetts, a Boston suburb. So far it has seen more than 300,000 visitors, and 12,000 people have signed on as members, at an annual cost of $36 for individuals and $149 for families. The firm now has about 200 employees, and though Lipschitz wouldn't disclose sales numbers, he says they have exceeded management's expectations.
Like all growing companies, Make Meaning has had to take risks. One of the biggest: offering so many activities, each requiring niche expertise, under one roof. To keep things operating smoothly, the company has hired top-tier consultants, such as Elisa Strauss of Confetti Cakes, a well-known Manhattan bakery. Make Meaning is also staffing its corporate office with entertainment-industry experts, including vice president of operations Don Watson, who held the same title at the House of Blues chain of music clubs.
Shelling out for top talent was critical, says Lipschitz. "Obviously, we've taken a risk by bringing on the best people, as opposed to growing as a mom-and-pop," he says. "But execution is about bringing in the right people so we can grow the concept as quickly as possible. Where we had a corporate office of a couple of people not very long ago, we now have an infrastructure that's ready, willing, and able to support the growth ahead of us."
For now, the company is outsourcing its accounting function, including bill paying and dealing with vendors, to a firm that specializes in multiunit retail businesses. "We do not have a big team, so we've decided to really focus on what we do best, serving up a customer experience," Lipschitz says. As the company grows larger, it will bring accounting back in-house, he adds.
Fundamental Questions
As with any novel, experience-based concept, keeping traffic and growth steady could be a challenge for the company, says Forrester's Mulpuru. "The fundamental questions of a business like this are: Can it scale, what's the frequency of visitation, and who's going to be their core customer?" she says. "It can't be a place where you do a candle once and never come back. It's got to keep engaging you."
When it comes to customers, children are a big part of Make Meaning's business, but the company also markets to an older crowd, Lipschitz says. "Our challenge is to make sure that we're offering a lot for adults so that it doesn't just become a kid concept," he says. To that end, the company plans to obtain a beer and wine license for each store.
Make Meaning also conducts market research to determine what crafts it should add to its offerings. "We can add and take out experiences all the time," Lipschitz says. Indeed, the company's newest addition, cake decorating, was a result of such research, and it has already driven significant sales since it was introduced this year, he says.
Lipschitz believes Make Meaning's intricate, specialty-based store experience will act as a barrier to entry to other companies. "There are many moving pieces, from the time that you walk in the door and are greeted by our host to the time that the production person pulls your glass or your ceramic out of the kiln," he explains. "For anyone to develop this kind of concept, we're light-years ahead of where they would have to be to be a risk to us."
How far can Make Meaning grow its own concept? Lipschitz says the company is eyeing major markets across the country, particularly those with high-income demographics and a solid base of children. Eventually, he says, it hopes to open at least 800 stores globally. Those are high hopes, given the state of the economy and the reluctance of consumers to spend.
But Lipschitz is building Make Meaning's business to be scalable, something he learned from his previous experience. He says he keeps the big picture in view, constantly reminding his team, "If we're doing this for two units, we're going to have to do it for several hundred, so we need to make it a much easier and more efficient process."
---