Five years ago, everything was looking up for Crocs Inc. The casual-footwear company, which started selling its signature plastic clogs in 2002, had hit $100 million in sales by 2005. Its initial public offering the following year was the largest-ever U.S. footwear IPO, raising $208 million, and its stock peaked at $75 in 2007, when sales reached $847 million.
Then came the recession — and a $200 million revenue stumble over the next two years. Crocs's stock plummeted, hovering near $1 for several months in 2008 and 2009. Things got so bad that auditor Deloitte & Touche issued a going-concern qualification, citing operational losses and the imminent maturity of a revolving credit facility. "That was pretty much a near-death experience," recalls CFO Jeff Lasher.
That was then. Today, Crocs has recovered and is back on a path of rapid growth. Last year it recorded just over $1 billion in revenues, a 27% increase over 2010, and net income of $112.8 million, a 60% increase. (There was a false step last October when the company warned it would miss its third-quarter revenue and earnings targets, causing the stock to fall nearly 40% in one day.)
To Lasher, the $1 billion mark is just another milestone. The Colorado-based company is eyeing organic growth of 15% to 20% over the next few years, he says, which could push sales close to $2 billion.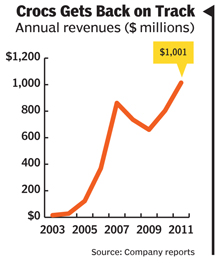 Key Moves
How did Crocs regain its balance? It steadied itself through a restructuring lead first by former CEO John Duerden and then by current CEO John McCarvel. The company downsized, paid off its debt, slashed inventory, and obtained a $30 million secured revolver. (The company replaced the latter in December with a five-year, $70 million facility.)
Then came a jump in demand as the global economy recovered. That dovetailed with some key strategic moves at Crocs, which has a middle-class demographic in the United States. "We've expanded our product line and grown market share to overcome the macroeconomic issues with the middle class," says Lasher. "Most of our price points are between $30 and $50, and the original Crocs are $30 to this day."
While the United States is Crocs's largest single market, most of the company's revenues come from Europe and Asia. "It's Asia's middle class that is growing the fastest," says Lasher. "Asia is a success story for us."
Overall, Crocs has some 400 stores around the world, up from 340 a year ago, and plans to open another 80 to 100 in 2012, says Lasher. "A big growth opportunity is expanding into countries like Brazil, Argentina, India, and South Africa, where we don't have much of a portfolio or distribution network today," he says. "We also have an opportunity to build out our networks in China, Korea, and Japan."
The wholesale channel, consisting of sales to distributors and third-party retailers, is Crocs's bread and butter. "Sixty percent of our business is wholesale, 30% retail, and 10% Internet," says Lasher. "Those numbers have been surprisingly consistent for years." The company recently signed its first-ever distribution deal in Europe, he says.
From Processing to Analytics
Another factor in Crocs's turnaround has been an intense focus on cost control and business analytics. "The big story has been our ability to leverage our [selling, general, and administrative expense] structure," says Lasher, who began at Crocs as corporate controller in 2009 and was appointed finance chief in April 2011. "After the footprint we established a few years ago, we haven't added many employees or costs. We've had 1,500 [full-time, salaried] employees since 2009."
Since 2009, annual spending on finance and accounting has remained constant at $28 million, says Lasher. Offshoring back-office processing, including payables, cash application, and reconciliations, has reduced costs significantly, "which has allowed us to get more into analytics," says the CFO. "So while the dollars are the same, the talent behind those dollars has significantly changed. We have many more analytical resources and business-analysis partners."
The biggest finance issue ahead for Lasher is hedging currency risk. "Only 35% of our sales come from the United States," he points out. "We have $257 million in the bank, and only 9% of it is from here. So we have a lot of balance-sheet exposure and operating-income exposure from currency movement." To hedge the risk, the company uses a variety of approaches, from "a collar strategy and some straight-up hedging" to "natural hedges for intercompany loans that balance things out a bit."
Innovation and the Kill Switch
Still another key to Crocs's growth is the innovation that has spawned a lineup of some 325 products, including boots, sneakers, and flats — as well as some of the most colorful shoes on the planet. "Last year we made a shoe that changes color in the sunlight," says Lasher. "Our senior vice president of product development came up with the idea around Thanksgiving, and it was in our stores by Memorial Day. It stayed just in the retail stores all summer, and it did very well. This year the product is going to the wholesale accounts."
To activate the shoe (dubbed Crocs Chameleons) in the store, the company put an ultraviolet-light generator in each shoebox, says Lasher. "We tried a variety of box designs over the last six months until we got it right."
But Crocs doesn't get every product right, "and if the cost of selling comes in high or the pricing isn't realized, there's a discussion about killing the product," says Lasher. (That discussion is held among the product-line management groups and financial planning and analysis groups that Crocs has in each of its regions — the Americas, Europe, and Asia.) Given the number of products the company already offers, "we have to develop a quicker trigger on our kill switch," says the CFO. "That means developing a better institutional quantitative analysis of how to kill products off."
In the meantime, the plastic clogs that were once regarded as a short-lived fad are still finding new customers. Not everyone likes them, to be sure. There is a subculture of Crocs haters on the Internet who are not shy about expressing their disdain for the shoes' colorful appearance and minimalist construction (one such Facebook page has 2 million "likes"). Lasher, however, is undismayed.
"There are all kinds of hater groups out there," he says. "But there is a lot of demand for casual, comfortable shoes for boating, at the beach, in the snow, or on rainy days. If there are some detractors, then okay."