Two years ago, High Street Partners (HSP), an international business-services firm that helps companies expand globally, was a fast-growing company with about 80 employees and 200 clients. Today it's an even faster growing company, with double the number of customers and double the number of employees, including a robust finance team. What made the difference? An infusion of equity capital, catalyzed by an increasingly global business world.
Started and run by Larry Harding, a former CFO of several high-growth companies and most recently the vice president of international finance for Ciena Corp., HSP has long focused on running the back office for U.S.-based clients in overseas markets. A few years ago, however, Harding says he realized that the market opportunity was much greater than he had initially imagined. Clients stayed longer than he had expected, he says, and a burgeoning number of companies needed help as the pressure to crack overseas markets for growth has become more intense.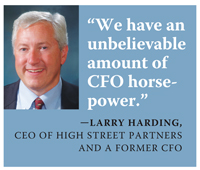 "To really take advantage of the market opportunity and provide our clients with the best type of solution, we knew it would take a big investment across a handful of different areas, so growth equity was the right decision for us," Harding says, a decision that came to fruition in May 2010 with a $6 million investment by Baird Venture Partners, Sigma Partners, and Gold Hill Capital.
Since a $6.3 million C round in August, HSP has launched a new technology portal for customers that it expects will change its business; acquired an accounting-services firm; hired a new CFO and vice president of finance; and expanded its core team of professionals. "Getting VC money is almost like putting your organization on steroids, instead of slowly getting into shape," says Harding. "If you're not careful, you're going to pull muscles."
The following is an edited version of CFO's recent conversation with Harding about how he is managing the capital and the growth that has come with it.
What kind of growth has your business seen, both before and after raising outside capital?
In 2011 we've grown more than 50% on the revenue side, and we just passed 400 clients. For 2012 we expect similar growth. In fact, we've probably grown 50% per year since we started, but the denominator was so much lower originally. It took six years to get our first 200 clients, and one and a half to get the next 200.
HSP has received more than $12 million in new capital in less than two years. What are your priorities for spending it?
We've had three primary areas of investments. One of the first decisions we made was to build out the marketing and business-development operations. We hired a VP of marketing at the time, and we built out our systems and methodology to get the word out there, so we could move beyond our Rolodexes. We could justify investing in this because we essentially have a recurring-revenue model. We sign up customers and they tend to stay for a while, so the net present value of a new customer is high.
The second part was coming up with technology applications to automate what we're doing manually. We hired an R&D team to build out OverseasConnect, a cloud-based system that [aggregates a customer's international finance, human resources, and legal data on a single platform]. It's been a big initiative since we raised the funds in early 2010, and we just released a new, much more robust version in September. With that, we've now become much more of a software-as-a-service company, plus professional services, which is a big change.
The third area of investment has been additional structure to allow for growth. We expanded the finance team and implemented a project accounting system (Deltek's Maconomy). It's like an ERP system for our internal use, which allows people to enter times in different time zones and get invoices out to clients.
How did you know it was time to hire a new CFO?
[Our company] was sort of like the cobbler's child [who had no shoes]. I was very comfortable with a start-up team and having the bare minimum in finance, because as a CFO myself, I could fill in gaps if there were any. Some very helpful feedback I got from our board was that it makes sense to invest in finance ahead of growth, so that you have the infrastructure to support growth. [Editor's note: HSP's board includes Paul Flanagan, former CFO of Vistaprint, StorageNetworks, and Lasertron.]
We identified the fact that our business was becoming very systems-intensive, which requires a whole new world of expertise. Our new VP of finance, Kristi Lanier, has a very deep background in systems and in project accounting, which is important for our company. [Lanier was previously the corporate controller for Decode Genetics, a biotechnology company.]
Scott Preston [former CFO of L-3 Chesapeake Sciences Corp., a technology developer for the Navy] is our CFO; he was almost more of a strategic hire. With him, we can use finance as an offensive tool. It gives us the ability to take an M&A opportunity, and we are gearing up to be an IPO-type company in the next handful of years, so we are getting the right underpinnings for that. We now have a finance organization that can support us as a public company, which will make it that much easier when we get to the S-1.
Your vice president of client operations, Joel Bakal, is also a former CFO.
Yes, we have an unbelievable amount of CFO horsepower. We joke about what Scott and Kristi have to go through. The majority of what we do is sold to finance people, so it makes sense. But one of the things we have to watch out for is that we're balancing some of the metrics-driven stuff with other things, like having a really strong HR team.
What are your top upcoming projects?
Now that we've developed the OverseasConnect application, we want to flood the market and become the salesforce.com of overseas operations management. We want to develop that technology further and add some of the additional features our customers are saying they'd like to have.
Also, we've been very focused on signing up companies with U.S. headquarters. Currently about 10% of our customers are headquartered outside the United States; we think that should be more like 50%. Even with all the trials and tribulations in Europe, we think there are a good number of Europe-based companies that will still expand [in the United States and in other geographies]. 
Will you have to raise money in the near future?
The expectation is this [the C round from August] could carry us through [to an IPO or a sale].  
What advice would you give to other executives at high-growth companies?
Investing in the finance personnel and systems is a smart thing to include in the fund-raising plan. If the business is successful, you'll be really glad you have it. It's a gamble, but it's a gamble you're making anyway by raising the funds, so you may as well plan for success. That aspect seems to get overlooked, even when the CEO is an ex-finance person.