Companies preparing for annual insurance renewals may be facing higher premiums for property coverage. That's not a surprise, given the devastating fall storm season in the Northeast. Insured losses stemming from superstorm Sandy, which struck the East Coast on October 29, 2012, are alone likely to amount to $25 billion, making it the third-costliest storm after Hurricanes Katrina, at $48.75 billion, and Andrew, at $25.66 billion, in 2012 dollars. Companies such as Pinnacle Entertainment, a Las Vegas–based gaming company with big property holdings in locations prone to rough weather, are thus preparing for potentially tough negotiations with underwriters.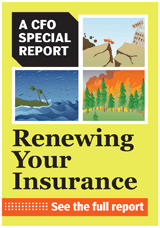 The two key parts of that preparation? One — good risk management to keep losses down — is aimed at providing property insurance underwriters with a reason for keeping premiums low. The other — identification of coverage alternatives — gives corporate insurance buyers added cards to play when they talk pricing with insurance brokers and underwriters.
For its part, Pinnacle takes property-insurance buying seriously, especially with its burgeoning property portfolio. When its previously announced acquisition of Ameristar Casinos is completed as expected in the third quarter, it will have nearly doubled the number of casinos and racetracks it owns to 17 and 2, respectively. Four of the casinos are in Louisiana, a state known for its susceptibility to damaging weather.
Yet Jim Cunningham, vice president of enterprise risk management (ERM) for Pinnacle, feels he has a good story to tell property insurers. Many operators of gambling establishments in Mississippi and Louisiana are located on actual riverboats: navigable vessels with gangplanks from the shore to the boat. As the boat moves up and down, however, it can hinder patrons' access and absorb water damage. By contrast, Pinnacle's properties in Louisiana "are more like floating hotels," says Cunningham. In such structures, the hotel and casino are connected via ramps in a much more seamless way than by means of a gangplank.
In the company's newest property, L'Auberge Casino Hotel, for instance, such a ramp connects a hotel and a gaming facility across a levee. Opened on September 1, 2012, in Baton Rouge, Louisiana, the development was engineered to accommodate the changing levels of the Mississippi River. In the spring, when the water levels rise, the property can accommodate them with no physical damage, notes Cunningham.
Despite the nation's recently grim meteorological picture, Cunningham thus had a solid story to tell underwriters about Pinnacle's risks. In preparation for his April 1 property-insurance renewals — and working closely with CFO Carlos Ruisanchez and chief accounting officer Dan Boudreaux — Cunningham went on the offensive.
He traveled to London to meet with more than 20 underwriters and carefully explained the company's risks, as well as the risk-management programs designed to minimize them. Back in the United States, he also took underwriters on a tour of the L'Auberge property to see the engineering first-hand. "Being able to be up close and see the construction and engineering techniques we used made it much more comprehensible for the underwriters, so they could see exactly how the building works," he says. "This is an actual moving building, so seeing it made a substantial difference to the underwriters: it created the 'aha' moment."
As a result, he says, "We were positioned to be a favorable risk." By April 1, the date of Pinnacle's property renewal, he is looking forward to "no worse than flat" pricing — and hoping for better. "Flat for this year is a pretty strong result," he adds.
Property Rates Firming
Indeed. As of the fourth quarter of 2102, companies with average-to-good risk profiles and moderate catastrophe exposures (organizations with 1% to 30% of the value of their properties in catastrophe zones) were facing property-insurance rate trends ranging from flat to a 10% hike, according to a 2013 Insurance Market Report issued by Marsh, a big insurance broker, in January. Companies with more than 30% of their property value in CAT zones were looking at rate hikes of as much 15%. Even companies not exposed to major catastrophes could be hit with a 5% premium boost.
In an earlier report, Willis, another big broker, estimated rate hikes of 3% to 7.5% in 2013 for primary insurance, which covers losses up to the policy's limit. The firm forecasts similar rises in umbrella liability insurance, a type of coverage that protects companies against claims above the amount covered by their primary policies and against certain claims not currently covered. Willis also predicts significant increases for organizations with poor loss experience, highly severe risks, and expiring programs that had multiyear commitments.
Marsh concludes that the property-casualty insurance industry faces "near-term investment challenges" if ongoing low interest rates persist and produce lower yields on the industry's investments. Because investment income is a major component of profitability for insurers, even more pressure falls on earnings derived from the actual business of writing insurance.
Jon Hall, executive vice president of FM Global, a commercial and industrial property insurer, says that in preparation for commercial property renewals, CFOs should make sure they're part of the conversation with their underwriters about their company's risks and exposures. That can help the insurer understand what the company has done to mitigate its risks. (Along with FM Global, leading commercial property insurance carriers in the United States include Chartis Property Casualty, CNA Insurance Group, Chubb & Son Group, Hartford Fire and Casualty Group, Travelers Group, and Zurich Insurance Group.)
Buyers of commercial property insurance are seeing a firming market "and fairly consistent positioning by insurance companies for rate increases, the majority of which are probably single-digit," Hall says, adding that most organizations are seeing increases in the 3% to 5% range. But they could see higher hikes if their claims history is not favorable or they own significant assets in hurricane, flood, or earthquake zones.
Still, there's a buffer against a sharp upturn in rates. "What's holding it back from becoming a hard market is there is so much capital in the industry," according to the underwriter. "Insurers are ready to do business and capable of doing business: they just want more money for it," he says.
Property Preparation
Besides Pinnacle, another company tuned into its property renewal is Ruby Tuesday, which owns more than 700 restaurants, mostly in the Eastern half of the United States, and with many locations in Florida coastal areas.
The Knoxville, Tennessee-based company is currently preparing to renew its property insurance in June. "Our properties are all built to the code of the area, which can be stringent. That does help with coverage, especially with the newer buildings and the types of sprinkler systems [required]," says Belinda Sharp, vice president, human resources. (Insurers typically discount property insurance for companies with good sprinkler systems, since fire is a major property risk.)
But insuring the company's locations in coastal areas in Florida, Louisiana, and Alabama are the biggest challenge, she says. "In past years, it hasn't been as bad up the East Coast. But with Sandy and damage in New England this year, I expect that to have an impact. There will be a lot of negotiation taking place."
While she has no idea what kinds of pricing she could be facing at renewals, she notes, "it wouldn't surprise me if some buyers were seeing increases of 20% or more in the Northeast."
To cope with possible price hikes, however, commercial insurance buyers can lower their premiums by buying policies with higher deductibles or ceilings on certain coverage. Thus, when Ruby Tuesday renews its property insurance, "we will look at different deductibles for different types of claims (for example, fire, flood, or wind) or caps on wind coverage that may differ from the rest of the program," she notes.
Her company also aggressively uses self-insurance on coastal properties that would just be too expensive to insure. "We use self-insurance or higher deductibles as a cost-containment measure. We set the amount aside," Sharp says.