Under the Dodd-Frank Act, all listed companies will eventually be required to institute a mechanism for recouping executive pay that had been granted under misstated earnings. But such clawback policies have already been on the rise among large companies (see chart below). Just over 84% of Fortune 100 companies now have a clawback policy, according to a report released last week by Equilar, an executive-compensation research firm. Only 17.6% of this group had a clawback policy in 2006.
Being proactive could have its drawbacks, however, notes Joseph Adams, a partner at law firm McDermott Will & Emery. When the Securities and Exchange Commission does formalize its rule, those companies will have to revisit their clawback policies to make sure they match the regulator's demands. "If you don't have a policy, should you put one in next year? People are split on that," says Adams.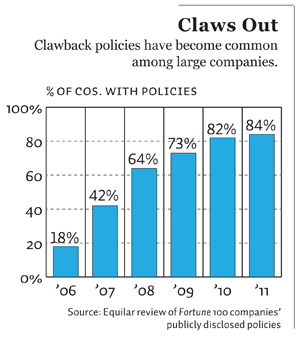 No company has to do it yet. Earlier this month, the SEC announced its rule will not be finalized in time for the next proxy season. The details won't be easy for the regulator, as its proposal will likely be subject to criticism. Indeed, companies that have designed their own clawback policies have struggled. "When we've helped companies put these policies in place — either because they thought it was the right thing to do or because they wanted to hold off a shareholder request — there were all kinds of issues," Adams says. Among the questions that have to be answered: Who will be subject to clawbacks? Should only perpetrators of the error have to give the money back, or should their supervisors have to do so as well?
To be sure, this is a touchy subject. At issue is as much as three years' worth of compensation leading up to the date the company is required to make its restatement. "At some point, executives should know their bonuses are bonuses and feel they can go ahead and remodel their kitchen," Adams says.
CEOs' and CFOs' pay are already subject to the possibility that one year's worth of their compensation could be revoked if a material misstatement occurs because of misconduct, under Section 304 of the Sarbanes-Oxley Act. The misconduct does not have to have occurred at the hands of the person subject to the clawback. The SEC is working on a settlement with Maynard Jenkins, a former CEO of CSK Auto, who is not accused of wrongdoing. Nevertheless, $4 million worth of his bonuses and personal stock profits were propped up because of accounting fraud, according to the SEC.