While the eurozone prepares to feel the effects of the sanctions imposed on Russia, apprehension is growing in the region as the gross domestic product of Germany shrank and France's stagnated in the second quarter, says Reuters.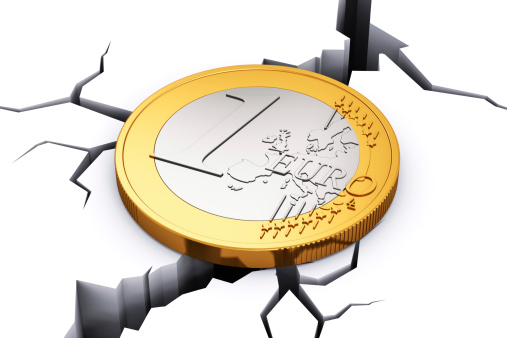 The less-than-stellar report is making the other 16 member states particularly nervous, because (1) Germany and France are Europe's two largest economies and (2) the region anticipates an external economic shock in the coming quarters from the sanctions on Russia.
As a whole, the eurozone's economy did not grow at all last quarter. The German economy "contracted by 0.2% in the quarter, undercutting Bundesbank forecasts that gross domestic product would be unchanged," reports Reuters. And although France had a slightly better performance, "its GDP failed to grow for the second quarter in a row." The poor showing led France to halve its previous 2014 forecast for 1% growth.
Sigmar Gabriel, Germany's Economy Minster listed the ongoing crisis in Russia, the conflict in the Middle East, and a weaker euro as the culprits behind his country's stalled economic growth, according to Reuters. But he underscored that German GDP should rise the rest of the year.
France's Finance Minister Michel Sapin, speaking on Europe 1 radio, was more resolute than Germany in sticking to his country's "pro-growth, anti-austerity" party line.
"We must adapt the pace of deficit reduction to the exceptional situation … of growth that is too weak everywhere in Europe and the exceptional situation of inflation that is too weak across Europe," he said.
Other countries in the eurozone reported only slightly better second quarters. The Netherlands, for instance, "reversed a first-quarter contraction to expand by 0.5%," while Austria posted a 0.2% increase and Finland saw growth of 0.1%, Reuters says.
Ironically, Greece, which was at the center of the euro crisis, is showing a turnaround. Though its economy shrank in the second quarter, it did so at its slowest annual pace since late 2008. This bolsters "expectations that Athens will emerge from its six-year slump this year," according to Reuters. casino sites not blocked by gamstop
Unfortunately, Italy, the region's third largest economy, continued to tank. For the third time since 2008 in the second quarter, the country drifted back into recession territory, contracting by 0.2%.
Source: Euro zone economy grinds to halt even before Russia sanctions bite
Image: Thinkstock