Since Hurricane Katrina devastated New Orleans in 2005, catastrophes like the massive floods in Thailand and Pakistan, a prolonged drought in the Southwestern United States, and the one-two punch of hurricanes Irene and Sandy seem to be occurring with more frequency, with expensive consequences for many companies.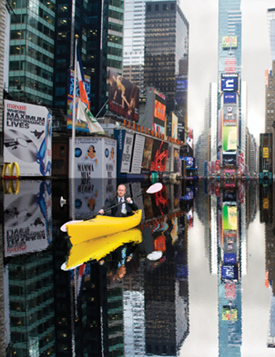 Leaving aside the political rhetoric over climate change and global warming, such extreme-weather events—along with natural disasters like the Japanese earthquake and tsunami—are exposing potentially risky supply chain practices predicated on cost-effectiveness. For more than a generation, companies have pursued lean manufacturing and just-in-time production models, outsourcing much of their manufacturing to trusted sole-source suppliers. Now, these popular practices are increasingly colliding with Mother Nature, who is doing her best to expose the fragility of these models.
In response, companies like ATMI, Kimberly-Clark, Royal Caribbean and Ford Motor have elevated climate change in their enterprise risk management methodologies. Indeed, according to a September 2012 survey by the independent Carbon Disclosure Project, 83% of S&P 500 companies are integrating climate change into ERM processes.
Insisting on these efforts in many companies are CFOs acutely cognizant of the need to balance the efficiencies of the supply chain against the risks posed by severe weather and other business disruptions. "The last thing we want to do is take our customers down," says Tim Carlson, CFO of publicly traded ATMI, a classic B2B intermediary, which sources supplies to provide process solutions to the semiconductor and life-sciences industries.
Other enterprises share this concern. According to an April survey by APQC of senior-level executives at 196 diverse companies, 77% stated that their organizations experienced at least one unexpected supply chain disruption in the past 24 months. "The key word is 'unexpected,'" comments Mary Driscoll, senior research fellow, financial management, at APQC, a nonprofit business process research firm.
More than half (56%) of the respondents said the disruption was "serious enough" to draw their sustained attention and intervention. Ninety-two percent of these expressed levels of concern ranging from somewhat concerned to extremely concerned. "They were more worried about extreme weather than they were about political turmoil," Driscoll says.
Why such worry? "Precious few companies have modeled the impact of extreme-weather risks on their global supply chains," says Brendan LeBlanc, assurance leader in Ernst & Young's U.S. climate change and sustainability services practice. "These threats aren't scored in the risk register, they're not monetized, and they're not acted upon."
Exposing the Problem
Two recent disasters that particularly compelled companies to review their supply chain practices were Japan's earthquake/tsunami/nuclear meltdown and the Thailand floods of 2011. Both caused extraordinary contingent business interruption problems arising from sidelined suppliers unable to provide expected manufacturing capacity.
"CFOs suddenly realized how exposed their supply chains were," says Carlos A. Alvarenga, managing director in operations consulting at Accenture. "The Thai flooding alone created significant shortages in the hard disk drive market, generating hundreds of millions of dollars of losses for many electronics manufacturers. What I hear constantly from clients are questions over how volatile these events may become in the future and their potential economic costs, which for the most part have not been quantified."
They've not been quantified for a simple reason: the availability of insurance to absorb the business-disruption risks. "Companies assumed they could simply insure their way out of the problem, but after Thailand and Japan insurers are more wary about extending coverage," says Robert Muir-Wood, chief research officer at RMS, a disaster-risk modeling company servicing the insurance and reinsurance industries.
"After the events of 2011, there was definitely a tightening of terms and conditions," affirms Paul McNamee, division president, North American property and specialty lines, at insurer ACE USA. "Underwriters excluded contingent business interruption coverages emanating from critical catastrophe perils, particularly internationally. Since then, there has not been any additional tightening. A lot of this depends on the quality of companies' supply chain risk management."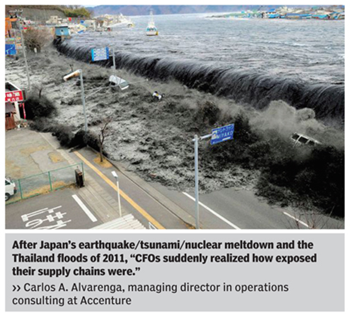 Risk vs. Cost
The increasingly severe weather-related disruptions and greater difficulties acquiring broad insurance coverage are forcing major manufacturers to rethink their sole-sourcing and global supply strategies.
"For years, Toyota depended on its long-term trusted relationships with sole-source suppliers that were responsive, innovative and cost-effective," says Charles Fine, professor of operations management and engineering systems at the MIT Sloan School of Management. The tsunami not only called that strategy into question, it also made Toyota realize that "it needed to be more geographically diversified in its supplier base," says Fine. "Losing one [supplier] factory is a medium-sized disaster. Losing an entire region with multiple suppliers is a major problem."
Alvarenga says that companies may not have fully comprehended the risks of global supply chains. "Many companies switched from local suppliers to distant suppliers on the basis of cost optimization, without considering the total cost of risk," he says. "The extended global supply chain has many additional points of potential failure, encompassing natural disasters, epidemics and political instability. Companies that formerly had backup inventory, manufacturing facilities and proximate multiple suppliers are exposed to additional risks."
Seventy percent of the respondents to the APQC survey say their organizations pruned their lists of suppliers over the past five years, with the intent to reduce costs. Nearly three-quarters (74%) of the companies over the period added suppliers physically distant from their facilities, with 63% acknowledging that their suppliers are located in areas of the world known for high-impact natural disasters, extreme-weather events or political turmoil. "The situation doesn't look great," says Driscoll.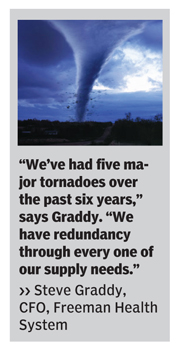 Fortunately, the situation appears to be improving. One promising trend is the return of supply chain localization. "Companies that sourced supplies in China because of the low cost—that position is evaporating in some sense, with Apple now saying it will build more in the U.S. and others saying that as well," Fine says. "When you factor in the risk and benefits of shorter supply chains, you have less inventory and thus less risk of inventory obsolescence. In the event of a weather disruption, shorter supply chains give you more flexibility to quickly change orders in transit."
Also, 69% of respondents to the APQC survey say that in the past 24 months their organizations have taken steps to reach a better balance between sole-source suppliers, which reduce cost, and multisource suppliers, which reduce risk. Most (62%) state that their companies are conducting formal risk assessments of key suppliers on a semiannual or annual basis, and nearly half (44%) are assessing the resiliency of the extended supply chain against disruptions.
These assessments then become part of the ERM process determining total cost of risk. "Companies need to address the impact of extreme weather on a holistic basis," says Alvarenga. "The supply chain is systemic in nature, hence a problem in one area can easily affect the entire enterprise."
Risks must be balanced against the cost-effectiveness of sole-source suppliers and far-flung supply chains. "A company needs to determine how much risk it is taking by working with a single individual supplier, and then compare this to the costs of having alternative redundant suppliers," says Jeff Burchill, CFO at FM Global, a provider of property-loss engineering services and business property insurance.
From Just-in-Time to Just-in-Case
Redundant suppliers are a critical necessity at Freeman Health System, a 517-bed, three-hospital system providing comprehensive health-care services throughout Missouri, Arkansas, Oklahoma, and Kansas. "We've had five major tornadoes over the past six years," explains Steve Graddy, CFO of Joplin, Mo.-based Freeman. "We have redundancy through every one of our supply needs—preestablished orders with suppliers of implantable medical devices, medicines, food and water, in case our customary suppliers are knocked out by a blizzard or a windstorm."
Making matters worse during such events is a sharp increase in patients afterwards. In May 2012, a tornado ripped through Joplin and sent 750 victims to Freeman's Level 2 trauma center within a matter of hours. Within a week, more than 1,700 people were treated by the health system, some dispatched from nearby St. John's Hospital, which had been destroyed. "We had everything we needed, thanks to the redundancies," Graddy says.
Royal Caribbean Cruises also has precontracted with multiple "just-in-case" suppliers. "We have built in a lot of redundancy," says Brian J. Rice, vice chairman and CFO of the cruise-ship operator. "We have about 6,000 containers of goods that meet up with our ships around the world. Last year, fewer than 10 were problematic."
The company attributes the success to its Marine Group, which is responsible for monitoring global weather patterns and analyzing the impact on ships at sea, as well as its Incident Response Group, in charge of alerting redundant suppliers in the event of a disruption. If a hurricane is headed toward the western Caribbean, for instance, the Marine Group will direct a cruise ship in the area to change its itinerary and sail toward the eastern Caribbean instead. The Incident Response Group simultaneously alerts backup suppliers.
"The biggest thing is to expect the unexpected," Rice says. "While we can follow the weather, something like that volcanic-ash cloud [from the 2010 eruption of Iceland's Eyjafjallajökull volcano] that shut down parts of Europe cannot be predicted. We have to have redundancies in place."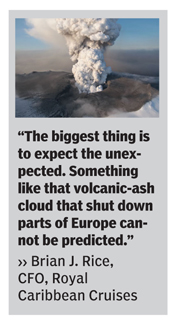 Redundant suppliers ready to fill voids are also contracted at Irving, Texas-based Kimberly-Clark. "We've experienced disruption in our supply chain from severe-weather events, and have taken steps in the last three years to do some things differently," says Scott DeGroot, director of supply chain strategy at the personal care product manufacturer. "We've now ensured that our key suppliers have contingency plans in place in case their suppliers are disrupted. When North Carolina was hit by a hurricane two years ago, one of our key suppliers reliant on capacity in the region informed us that backup components were available from its redundant suppliers."
Kimberly-Clark also has worked with its transportation group to ensure dedicated capacity in the event that extreme-weather events affect shipping patterns. "Just hours after the Japanese tsunami, our transportation Center of Excellence in Knoxville [Tenn.] reported the impact on our incoming demand stream to our crisis response center," DeGroot says. "Within minutes, they were on the phone with our ocean shipping carriers to provide secured, incremental capacity."
ATMI has also identified and qualified alternate sources as backup suppliers and touts a supply chain map and alert system focused on its top revenue-generating products. "We know where everything is coming from—not just the suppliers we buy from but who they buy from, too," says Rick Eklund, ATMI director of supply chain management. "The tool goes very deep, recording the geographic coordinates of each supplier. The system processes data from the National Earthquake Information Center and weather prediction facilities worldwide, so we know when a disruption is occurring."
When the Japanese earthquake and tsunami occurred, ATMI was able to quickly assess the impact on suppliers and subsuppliers in the region. "We knew exactly the ones that were affected," Eklund says. "We were able to burn through some safety stock as we waited for our redundant suppliers to expedite materials."
CFO Carlson says supply chain risk management has become as important to ATMI as supply chain cost efficiency. "The Japanese tsunami had both upstream and downstream implications for us, impacting what we needed from our manufacturing base, as well as what was in the pipeline from a customer standpoint," he explains. "Fortunately, with our map and alert system, we could quickly enact a contingency plan."
Take that, Mother Nature.
Russ Banham is a contributing editor of CFO.
---
Who'll Stop the Rain?
There has been no dearth of unusual weather in recent years. Here is a sampling:
• Since 2000, the world has experienced nine of the 10 warmest years on record since 1880.
• More than 15,000 daily heat records were shattered across the United States in March 2012.
• Texas experienced record drought conditions this year, while the Northeastern United States had record blizzards.
• Two 100-year hurricanes (Irene and Sandy) hit New York in consecutive years, 2011 and 2012.
Whether or not these events were caused by global warming is not material (although the vast majority of scientists believe that climate change is under way). What is material is the risk of these events and their consequent costs. In 2011 alone, droughts, floods, hurricanes and other extreme-weather events combined to cost the U.S. economy roughly $55 billion, according to the National Oceanic and Atmospheric Administration.
Meanwhile, a recent study by insurer FM Global indicates that the impact of natural catastrophes and man-made disasters has almost tripled since the early 1980s, as more people have moved into harm's way. Over this period, insured losses have exploded from less than $10 billion annually to more than $100 billion.
Ninety-one percent of Americans now live in places at a moderate-to-high risk of earthquakes, volcanic eruptions, wildfires, hurricanes, flooding and other disasters, a study by the Hazards and Vulnerability Research Institute indicates. Nearly 60% of the world's population, or about 3.9 billion people, are expected to concentrate in urban areas by 2030, according to the United Nations. Where there are people there are businesses. And most urban areas are near a major body of water at greater risk from storm surge.
James Lawrence Powell, a former president of Franklin and Marshall College who served on the National Science Board for 12 years, is among the many scientists who expect the miserable weather to stay, if not worsen. "The accumulation of these rare events tells you there is a 'new normal,' and it isn't pretty," says Powell.
"The earth is warming, which creates more moisture and evaporation, resulting in more energy in the atmosphere," he adds. "This, in turn, leads to more-ferocious storms. It also contributes to higher sea levels that create greater storm surges and wider inland flooding, as well as higher precipitation in some areas and much less in others. Even if you flipped a magic switch and no more carbon dioxide was emitted, global temperatures would still rise and cause all this havoc." — R.B.