Like many CFOs, Kevin Gordon is preoccupied with risk. The finance chief of Quintiles, a company that provides services to pharmaceutical and medical-device companies, says risk management is on his mind "every minute of the day."
Gordon is particularly concerned about emerging risks — the kind that materialize rapidly, seemingly out of nowhere, and wreak havoc. Accordingly, he monitors economic developments and regulatory activities in the 60 countries where his company does business. When the European debt crisis took shape last year, he pored over the company's cash holdings in overseas financial institutions and examined those banks' stability.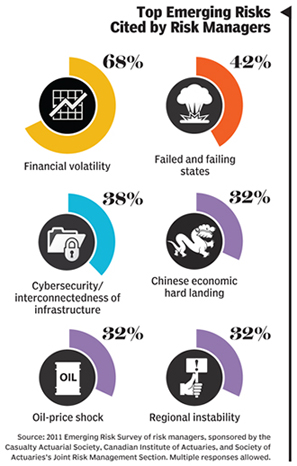 By their nature, emerging risks are difficult to anticipate. "An emerging risk is either something we've never seen before or something we haven't seen for a long time," says Max Rudolph, owner of Rudolph Financial Consulting. They can do extensive damage. The European debt crisis, the Japanese earthquake and tsunami, the Arab Spring uprisings — these once-emerging risks all had a ripple effect in 2011 on supply chains, commodity costs, and liquidity.
Experts say such risks are growing. "The interconnected nature of the global economy is increasing the speed at which emerging risks arise and cascade, as well as the magnitude of their impact," says Alex Wittenberg, partner and head of global risk at management consultancy Oliver Wyman Group.
A new report from Oliver Wyman suggests that executives understand the threat. Seventy-eight percent of more than 200 executives surveyed in the report said they want to increase their capabilities when it comes to managing emerging risks. As it stands, the same executives said they devote just 28% of their risk-management efforts, on average, to emerging risks.
To make maximum use of the time they do spend on emerging risks, CFOs should keep close tabs on market trends, global economic developments, and regulatory activities, and be prepared to jump into action quickly. During the European debt crisis, for example, Quintiles moved some of its cash around to mitigate the risk of changing currency rates. The exercise even made Gordon aware of a new risk: changing overseas banks can take longer than expected.
Learning from Experience
Finance chiefs can also use their past experiences to identify and address emerging risks. New to Coupa Software this year, CFO Mark Verbeck is still smarting from his previous company's last California state-tax audit. Since he joined the spend-management software firm, Verbeck has put new processes in place based on what he learned at his former employer so that Coupa will be better prepared when the tax man comes knocking.
CFOs can also stay abreast of emerging risks by reading about the issues facing other businesses or talking with their colleagues through peer exchanges, board memberships, and networking events. Some senior finance executives in the health-care industry, for example, attend conferences and roundtables to hear how other companies are preparing for impending health-care reform under the Patient Protection and Affordable Care Act.
Some groups publish periodic reports ranking emerging risks from highest to lowest level of concern. A recent report by several professional organizations polled the people who live and breathe risks — risk managers. They cited financial volatility most often as a top-five emerging risk, followed by failing governments and cybersecurity (see chart, above).
Executives may want to compare rankings like these with their own internal risk lists. To be sure, one company's emerging risks may not be another's; they vary depending on business size, strategy, and financial strength. That said, another perspective could help companies see their blind spots. Indeed, as many companies may have learned this past year, "a lot of [risk management] is being aware of what's going on in the world around you," Verbeck says.