Zenprise, a mobile-device management firm, was acquired for a reported $355 million last month by multinational cloud-services provider Citrix. That made Zenprise's investors very happy and enabled its CFO, Steve Valenzuela, to chalk up another success.
Valenzuela has a long history of helping companies either be acquired or go public. In 1998, as CFO of LinkExchange, an Internet advertising cooperative, he negotiated its sale to Microsoft for $265 million. As CFO of PlanetRx, an online pharmacy, he helped the company secure $50 million in venture financing, and led it to an initial public offering in October 1999: just before the dot.com bubble burst.    
The CFO's role differs according to the maturity of the company he or she leads. A start-up CFO needs to derisk the business's business model in order to attract financing and, especially during prerevenue days, keep a gimlet eye on the company's burn rate After all, who knows when (or if) the next round of financing will come through.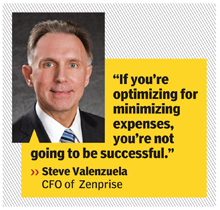 According to a report by CB Insights, which collects information on private companies ranging from early stage to midmarket, about 1,000 start-ups will fail to raise follow-on financing this year, resulting in the loss of more than $1 billion in investment. A little more than a third of seeded companies will progress to the next stage. Therefore, a smidgen under two-thirds will not.
That, concludes the study, is pretty much the same as it ever was. It is reflective of the way the world sifts the wheat of viability from the chaff of good-intentioned but somehow lacking organizations.
It has long been Valenzuela's job to make sure acquirers and investors see the wheat. Valenzuela himself was sold on Zenprise when he took up the CFO reins in April 2011. The explosion in the number and type of mobile devices being used to conduct business, combined with the bring-your-own-device trend, demanded technology that could secure mobile data throughout the mobile device life cycle and allow companies to monitor and administer their use; in other words, the technology Zenprise offered.
This was a must-have, rather than a like-to-have: something investors and acquirers like to see.
To be sure, Zenprise had gone through four rounds of funding when Valenzuela arrived as the company's first CFO, and already had what he calls "very good investors" that only got better when he brought in Greylock to lead a $30 million fifth funding round. Still, he found a company that, like many start-ups, was hyperfocused on engineering, on its product, and didn't have "great financial metrics in place."  
Zenprise didn't know how many salespeople it needed to grow. It didn't know its lead conversion rate. Unlike a start-up CFO, a late-stage, pre-IPO finance chief needs to "think outside finance. He has to be a business partner to the VP of sales, to the marketing team. If a CFO isn't doing that, he's not really doing his job," according to Valenzuela.
Says Matt Fates, a partner at early-state technology-company backer Ascent Venture Partners: "The CFO, or the person leading finance, is adult supervision. The financial story of the companies we invest in is important to us because it shows us how they think: the assumptions that got them to their projections. We want optimism about time to market and customer acquisition, but the key question is how to acquire customers cost-effectively. There, we look for financial skepticism."
Consequently, the CFO of even a mid- or late-stage company still has to be alert to the business's burn rate. But such a finance chief needs to not just make sure the company can pay its bills until the next round of funding is achieved, or until revenue ramps up. He or she also must take these concerns "off the table so the chief executive officer and the other executives can focus on growing the business," says Valenzuela.
In the later stages of a company's movement toward an IPO, "you look at the trade-off between growth and cash burn. If you're optimizing for minimizing expenses," Valenzuela explains, "you're not going to be successful. It's all about growth."
Finance chiefs need to be able to convince the chief executive what the right financial model is. "You have to have the credibility to be able to say we should be spending 'X' on marketing, 'Y' on sales. Here's why we're making this investment, not this one," adds Valenzuela.
He suggests that to derive such benchmarks, CFOs should look at public filings for comparable companies to see what those companies were spending at a similar stage; for example, on customer acquisition as a percentage of revenue. Not only does that help the finance chief present to the executive team and the board but also "having metrics, plans, models, allows you to have discussions with acquirers at a greater level of detail and analysis. And it's the same process whether you're being acquired or you're going public."
This financial granularity, says Valenzuela, was key to acquiring the Greylock financing, which "increased Zenprise's visibility."
The CFO is like the quarterback in these processes. He recalls, for example, that when he was negotiating the LinkExchange deal with Microsoft, he called "an audible." Microsoft was slated to acquire LinkExchange for $250 million, and the board was happy with that. However, Valenzuela asked for $15 million in employee stock options for employees because, in his view, the acquirer always wants to retain key employees. In 1998, Microsoft was under fire for alleged antitrust challenges and didn't have a high profile in Silicon Valley. 
"LinkExchange's engineers were not so eager to sign employment agreements, and the deal wouldn't have closed without them. So we needed some incentive for them to stay with Microsoft after the acquisition," recalls Valenzuela. "And that's how the deal got to $265 million."