Ascending to the top of finance at a consumer giant, trying to revive the shares of a popular social media app, guiding a company through a backdoor listing, allocating capital to development of a leading-edge product, assuming the mantle after an internal controls debacle — our CFOs to Watch will be in the middle of some daunting circumstances in the next 12 months.
But that's exactly why we chose them. Their experiences and those of their companies can provide lessons for many other finance chiefs.
In this fourth annual installment of CFOs to Watch, we mixed things up a bit. We picked some CFOs who were relatively new to their jobs — and some brand new to the CFO position itself. That made choosing them for this list a bit risky — sometimes new jobs don't last long.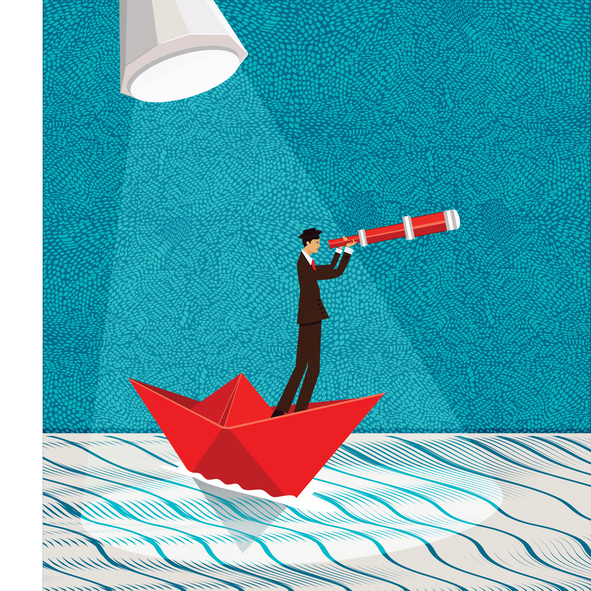 But we didn't feel like we could avoid it. A number of veteran CFOs of large multinationals retired in 2017 and 2018, leaving the next generation to tackle digital disruption, activist investor pressures, global trade upheaval, talent scarcity, and, ultimately, another cyclical downturn in the U.S. economy.
The executives profiled represent some of the brightest lights of this new group. But odds are that not all of them will succeed. They could see enormous successes and spectacular failures. Some of these CFOs' careers could be made in the next couple of years, some derailed.
Either way, observing these executives in their current roles and throughout the arc of their careers should be interesting.
The following profiles  were written by David McCann, deputy editor of CFO; freelancers Russ Banham, David M. Katz, and Bob Violino; and CFO's editor in chief, Vincent Ryan.
Leading an Icon
The new CFO of America's tenth-largest company was not yet born when the man she replaced as of Sept. 1, Chuck Stevens, began working for General Motors.
Another interesting demographic fact: as of spring 2019, the new finance chief, Dhivya Suryadevara, and her boss, chief executive Mary Barra, may be the only such female tandem among Fortune 500 companies once CFO Patricia Little retires from The Hershey Co.
From a human-interest and corporate culture standpoint, then, there will be plenty of reason to keep tabs on Suryadevara. But those elements aside, she faces abundant opportunities and challenges, given the colossal transformation enveloping the automotive sector. No company is more in the thick of it than GM, the industry's leading player.
Among the ground-shaking shifts that will test Suryadevara's financial and operational mettle, GM last October announced a long-term vision of an all-electric path to zero emissions and crashes. The company is gearing up to introduce two new all-electric vehicles in 2019, based on learnings from the Chevrolet Bolt EV. GM expects by 2023 to have no fewer than 20 all-electric vehicles for sale.
Even more revolutionary is the ongoing march toward a future of autonomous vehicles. The company took a leadership position in that arena with its 2016 acquisition of startup Cruise Automation. In 2019, GM Cruise is scheduled to debut its first self-driving vehicles manufactured at scale.
How Suryadevara influences GM's efforts to keep pace with its top competitor in autonomous vehicles, Alphabet subsidiary Waymo, may have a big impact on the company's financial fortunes.
"There will be a significant first-mover advantage in this space," Motley Fool analyst Daniel Miller recently wrote. "The first company to produce these vehicles will gain a lead in gathering real-world data from them, which could allow it to uncover issues and make crucial improvements."
Suryadevara must decide how to deploy a $2.25 billion investment in GM Cruise that the company landed in May from SoftBank Vision Fund. GM also expects to invest $1.1 billion of its own funds in the development project.
Farther down the road, the financing, plus GM's plan to report GM Cruise's results as a separate segment, sets the stage for a possible spinoff of the driverless-vehicle operation. That would be another weighty task for the new CFO.
Truck Overhaul
Meanwhile, big changes are under way, with more to come, in GM's traditional auto-manufacturing business. With profit margins on trucks, sport-utility vehicles, and crossovers significantly surpassing those for sedans, auto-industry forecasting firm LMC Automotive predicts that by 2022 about 73% of U.S. consumer vehicle sales will be in those product categories.
In announcing its first-quarter results this year, GM said profits were down, even though revenue was up, because of heavy spending to overhaul factories to produce more trucks.
Although relatively young and now a corporate CFO for the first time, Suryadevara is no novice when it comes to high-stakes financial maneuvering. Since joining GM in 2004, she has helped win upgraded credit ratings, issued $2 billion in notes to fund discretionary pension contributions, and expanded and renewed the company's $14.5 billion revolving credit facility.
Her most recent roles have included, successively, chief investment officer of GM Asset Management, where she led the company's $85 billion pension operations; corporate treasurer; and vice president of finance.
While the number of women CEOs at Fortune 500 companies has dropped sharply (by 25%) in the past year, the opposite is true for the CFO role. Suryadevara becomes the 64th woman finance chief in the group, doubling the number 10 years ago. | David McCann
Smelling Like a Rose
In charge of new business development at The Estée Lauder Companies, CFO Tracey Travis must be feeling pretty good. The company's "Leading Beauty Forward" initiative, designed to reallocate its cost structure to invest in future growth, is reaping dividends.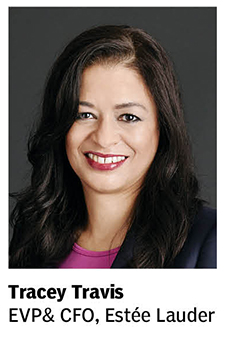 Announced in 2016, the program is the force behind Estée Lauder's exceptionally strong 2017 net sales and earnings, up 5% ($11.8 billion) and 12% ($1.25 billion), respectively, from the prior year. That momentum continues in 2018, as second-quarter
profits surged 25% on robust sales.
"This year has been a monster for them — in a good way," says Olivia Tong, senior U.S. cosmetics, household and personal care products analyst at Bank of America Merrill Lynch. "And a good part of it is due to Tracey."
Travis brings an impressive résumé to her role leading finance at the multinational manufacturer and marketer. Prior to hiring on in 2012, Travis was the CFO at Ralph Lauren, guiding its successful capital restructuring and acquisitions of licensed brands — work she would repeat at Lauder.
Interestingly, she began her career at General Motors as an engineer. After being awarded a GM fellowship to pursue an MBA, she returned to the automaker as a finance executive. "Tracey brings a more industrial, sciencey background to running finance, which sets her apart," says Tong. "She's quite serious, polished, and very measured in her approach, and a very 'tough cookie.'"
Over the past two years, Estée Lauder's capital has been allocated to such high-growth opportunities as building its presence in key international markets China and Italy. Money also has been directed toward sprucing up online direct-to-consumer and retailer e-commerce sites, as well as enhancing its digital and social media marketing.
"[Travis is] quite serious, polished, and very measured in her approach, and a very 'tough cookie.'"

–Olivia Tong, Bank of America Merrill Lynch
Major investments have included a minority investment in Deciem, a five-year-old beauty business with 10 brands, including the popular skincare treatment The Ordinary. Major acquisitions include Too Faced Cosmetics (Lauder's largest acquisition at $1.4 billion); and Becca Cosmetics, a premium brand noted for its diverse color offerings for all skin tones. The latter two acquisitions alone added 2 percentage points to Lauder's 2017 sales growth.
"Tracey has done a pretty decent job in terms of acquisitions, identifying brands that will help the company improve performance in growing markets and channels," says Tong. "Too Faced, for example, is very profitable at Sephora retail stores. Meanwhile, other longstanding brands like Clinique compete very favorably at higher-end department stores."
Holding the Line
The compelling narrative is one of a company that has pulled together an enviable compendium of beauty products to sell to diverse consumers according to their buying preferences. Online, some buyers may prefer buying directly from Lauder's website, others from direct-to-consumer channels, and some from partnering e-commerce websites like Macys.com or Nordstroms.com. At brick-and-mortar department stores consumers can experience (and buy) Lauder's wide-ranging brands. "Channel diversification has been very important to their recent success," says Tong.
Not that everything is smelling like a rose. The China market is a case in point, with tariffs possibly fomenting retaliatory measures against beauty products.
"If China retaliates or its economy slows down, the question is whether or not this will slow the company's growth," said Tong. "There's also the possibility of an anti-American backlash against U.S. companies in general, although Estée is really a global brand and not as American as, say, Coca-Cola."
Nevertheless, CFO Travis will be expected to maintain profit margins. For instance, the capital expense for a portion of the Leading Beauty Forward initiative has been offset by a selective workforce reduction that continues. "Tracey's task will be to continue to find cost savings in a year when Estée might not have such stellar growth," says Tong. "She can be depended upon to keep everything in check." | Russ Banham
A Fresh Face
Erik Bass, who's known John McCallion since MetLife's new CFO was head of investor relations at the company from 2011 to 2012, thinks that experience has served McCallion well in his early days as finance chief.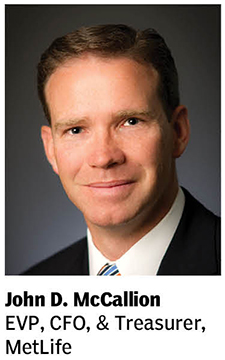 McCallion "knows the investors and analysts and how they think, which is helpful," Bass, a stock analyst at independent research provider Autonomous Research, tells CFO.
But without missing a beat, the analyst adds that "it's also been helpful to him that MetLife has reported two good quarters since he's been CFO."
When McCallion was named MetLife's finance chief on May 1, however, the company was just starting to extract itself from an accounting scandal related to missing pension beneficiaries. In its December 2017 annual report, it disclosed that chief executive officer Steven Kandarian and CFO John Hele had identified material weaknesses in MetLife's internal controls over financial reporting.
The company had failed to find 600,000 annuitants who "have moved jobs, relocated, or otherwise can no longer be reached via the information provided for them." In its defense, MetLife estimated that the most-affected beneficiaries represented less than 5% of all its group annuitants and tended to be owed less than $150 per month.
In the fallout from its system failures, MetLife's auditor, Deloitte and Touche, expressed an adverse opinion on the company's internal controls. The Securities and Exchange Commission and the New York State Department of Financial Services launched investigations of the company's annuity payments. MetLife mentioned the controls problems in its proxy statement, reporting that Kandarian cut Hele's annuity incentive compensation by 25% (or $500,000).
The glitches CFO Hele had helped find went a long way toward sealing his fate with the company. That was the "final straw of a few events over the past few years," says Bass. "I know they were getting a lot of pressure from shareholders to make a change at the CFO level."
Stepping In
Just two days after the company's announcement of Hele's dismissal and McCallion's appointment as finance chief, the new CFO was tasked with reporting MetLife's results during its second-quarter earnings call. He offered investors a fresh face, since, as Bass observes, McCallion was treasurer (a title he still holds) when the controls mishap and a subsequent controls weakness in a Japanese annuities joint venture surfaced.
Those were "line-of-business issues" not related to corporate treasury, the analyst notes.
"I know they were getting a lot of pressure from shareholders to make a change at the CFO level."

–Erik Bass, Autonomous Research
McCallion's debut was no doubt smoothed by MetLife's positive first half of 2018. In the first quarter, its net income was $1.2 billion compared to $867 million in the year-ago period. While net income for the second quarter was $845 million compared to $865 million in the same quarter of 2017, CEO Kandarian and McCallion were able to explain the difference as stemming from costs associated with the Brighthouse Financial spinoff. They were also able to report solid insurance underwriting and growth in investment income.
Even better, perhaps, was McCallion's indication that the company was putting its internal controls woes largely behind it. "While an observation period is required, we continue to work towards clearing the material weaknesses during 2018," McCallion said.
Acknowledging that investors and analysts have only a few months on which to assess McCallion's performance, Bass observes that the CFO "has come across as confident and well prepared."
The next big challenge for McCallion will be to provide the company's financial outlook in December, according to Bass. "They have a history of not doing a good job of setting investor expectations," the analyst says.
"How do you deliver an outlook that is appropriately conservative, but at the same time deliver a constructive message to investors as to why they'd want to own MetLife?" he adds. | David M. Katz
Mastering Media
To say that Hulu has gone through an eventful phase of its 10-plus-year history in the last few months would be an understatement.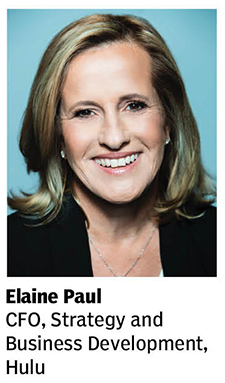 The premium streaming service, which offers access to live and on-demand channels, original series, and films, as well as a library of TV shows, has experienced a whirlwind of activity.
Hulu began 2018 by announcing it had closed its fiscal year 2017 with more than 17 million total subscribers across its subscription video on demand (SVOD) and live TV plans in the U.S., an increase of more than 40% from the last publicly reported total in 2016.
Hulu's total audience grew to 54 million total unique viewers in 2017, and the company expanded its on-demand library to more than 75,000 episodes of television across 1,700 titles—more than twice the number of episodes available on other streaming services. And the company's advertising revenue reached $1 billion for the first time.
As CEO Randy Freer noted, 2017 was a momentous year, as Hulu took several major steps toward becoming a "21st century direct-to-consumer media company."
In the midst of all this activity is Elaine Paul, who serves as Hulu's CFO and leads strategy and business development.
"Hulu is at the white-hot nexus of media and entertainment," says Paul.
"Hulu is at the white-hot nexus of media and entertainment," Paul tells CFO. "It is a really exciting time for over-the-top [OTT] video players. Consumers are rapidly shifting their viewing and dollars to OTT. And marketers are rapidly moving their dollars to digital video, where there is an opportunity to do very specific targeting."
Hulu is well-positioned to take advantage of all these trends, Paul says. "We have a dual revenue model of advertising and subscription, which gives us a business model advantage over competitors."
Prior to joining Hulu in 2013, Paul served as senior vice president of corporate strategy, business development, and technology at Walt Disney. In that role, she led various acquisitions, new business initiatives, and strategic investments, including Disney's original investment in Hulu in 2009. Prior to her positions at Walt Disney, Paul worked as an associate at McKinsey and a financial analyst at Morgan Stanley.
At Hulu, Paul has emphasized the strategic role of the CFO, acting as a partner to the CEO and fellow operating executives. That will be important, as a strategic reorganization in June brought in a new chief technology officer and Hulu's first chief data officer. The reorg is intended to align executive management around several strategic priorities: the "subscriber journey"; technology and products; content; and advertising. The new structure is designed to bring more agility, technical stability, and "alignment on the customer throughout Hulu."
It's no wonder, then, that Paul is focused on how Hulu can drive subscribers and top-line revenue as rapidly as possible. "And with subscribers on our ad-supported products comes the opportunity to monetize through advertising, which can be increased through personalization, targeting, and capitalizing on ad tech such as programmatic buying," she says.
For 2018, Hulu announced in May that it is investing more in content as well as in technology and data. That includes new measurement technology that the company's leaders say will bring the future of television to the advertising business. In addition, the company is adding the capability to dynamically insert advertising within its Hulu With Live TV product, which allows brands to reach the audience that's streaming live sports, news, and entertainment shows.
Paul's role? A relentless focus on "maximizing the efficiency" of all of those investments, she says. | Bob Violino
Following a Big Name
What would be more difficult for a first-time CFO, heading finance at a well-funded startup still running on QuickBooks or securing the mantle at a 132-year-old consumer giant that is at a crossroads? It's a tough call.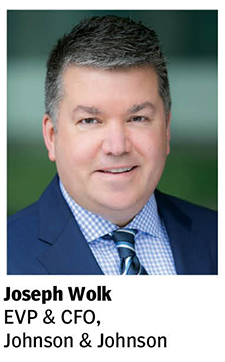 Joseph Wolk, new finance chief of Johnson & Johnson, is in the latter position. And if his new job isn't tough enough, he's also trying to fill the shoes of Dominic Caruso, the company's longest-serving CFO and one who presided over three of J&J's largest acquisitions.
Wolk is no tenderfoot, though, having headed up an award-winning investor relations team at J&J. He has also been CFO of the company's North America pharmaceuticals group, a critical growth engine. And he has served in J&J's medical devices unit.
As head of investor relations, Wolk has had to explain to investors why J&J has lagged the S&P 500 the last six months. In an interview on the J&J website, Wolk attributed the lagging stock to a decline in the price-to-earnings ratio of pharmaceutical stocks (half of the company is valued through the high-performing pharmaceutical business); higher interest rates that make dividend stocks less attractive; and the strong U.S. dollar, which is shaving some points off the multinational's results.
Now it will be up to Wolk to get the stock going in the right direction. There's no panic at J&J. It has substantial cash flows and regularly plows capital into research and development. It also sports a "AAA" credit rating.
And the high-growth pharmaceuticals business continues to bang away, scoring 11% operational revenue growth in the second quarter, with its immunology and oncology drugs performing above market.  As Wolk pointed out in his interview, J&J also has some notable pipeline drugs: a medication targeting treatment-resistant depression, for example, and a drug for bladder cancer.
Split Ahead?
The larger question confronting Wolk and the rest of the C-suite is J&J's other divisions, especially its consumer unit. J&J products like Band-Aids and Tylenol are icons of drugstore shelves, but their stature is waning.
On the second-quarter earnings call, Wolk said the company plans to accelerate consumer growth in the back half of 2018 with a relaunch of its baby brands and "many new product introductions."
"The nice thing about the transition between [Caruso] and I is that there doesn't need to be an upheaval of policies or company protocol," says Wolk.
But analysts are wondering whether it's time to bid goodbye to consumer or one of J&J's other units. On the earnings call, an analyst asked if there was "an appetite internally, with the recent underperformance of the stock [and a new CFO], to rethink [the] conglomerate structure."
Don't expect Wolk or J&J to make a hasty call on a potential spinoff or divestiture. The sense is that it suits J&J to have diverse business units that can cushion each other when one or two go through a downcycle.
As Wolk has said, when the company's pharmaceuticals outfit hit a patent cliff at the end of the last decade, the unit lost almost $3 billion in revenue in 15 months. But J&J's medical devices unit came to the rescue, allowing the company to continue to invest in pharmaceutical R&D.
In addition, for the past few years, J&J has been hiring more finance people from outside the organization, to get some perspectives from companies that are more subject to economic cycles, Caruso told CFO in May 2017.
Since Wall Street is rewarding simplification, a spinoff is not totally off the table. But, for now, Wolk is emphasizing stability. "The nice thing about the transition between [Caruso] and I is that there doesn't need to be an upheaval of policies or company protocol," he told analysts.
At the same time, Wolk recognizes the stock needs a catalyst. "An organization the size of J&J should be financing efficiencies to enable better bottom-line performance, which is what investors value," he said. | Vincent Ryan
Shaping the Story
"Bitcoin — really?"
When Jim Cramer, the host of CNBC's "Mad Money" asked Square CFO Sarah Friar that question last November, he was referring to Friar's own background as well as the news that the mobile payments company was testing cryptocurrency transactions on its payments platform.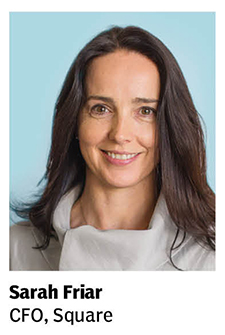 Before leaving Salesforce.com to become Square's finance chief in 2012, Friar spent 11 years as a Goldman Sachs managing director. To Cramer's point, Goldman CEO Lloyd Blankfein had recently expressed discomfort with bitcoin, not to mention the widely reported dismissal of the cryptocurrency by JPMorgan's Jamie Dimon as a "fraud."
Friar responded, however, that working within a company was a whole lot different than "sitting on the other side, watching." There's no time to do academic papers at companies, she noted. "The only way to get people invested in figuring out what is the 'what' about something new is to actually create a product."
Fast forward seven months, and the experiment has become a minor financial success. Taking a small profit on each transaction, Square made $37 million in bitcoin revenue through the three months ending June 30. True, the bitcoin sales figure ran only $420,000 ahead of the program's costs, and bitcoin revenues represented a very small part of Square's $815 million in sales. But because cryptocurrency has been such a hot story this year, the company's bitcoin efforts have become closely associated with Square's overall success, which includes five straight quarters of accelerating revenue growth.
Friar and Square chief executive Jack Dorsey have thus been struggling to portray support for bitcoin in what they see as the proper context within the company's broader strategy — and, maybe, to lower the market's expectations of Square's future cryptocurrency earnings.
In that light, another question Cramer asked Friar last year sounds prophetic: "Are you … afraid that bitcoin will become the narrative of Square?"
The CFO replied in the negative. "The narrative of our company will be economic empowerment," she said, noting that Square has enabled small businesses to get paid in digital currencies in a way they were never able to do before. Via Cash App, the company has also empowered small banks to make mobile payments and "to make use of bitcoin if they want to," Friar added.
Doubling Down
Square and Friar are about more than bitcoin, though. The company now lends to small businesses through Square Capital. And Friar's performance has put her in the upper echelon of tech CFOs. She sits on the board of directors of Walmart and Slack, and is a headliner at conferences.
"The narrative of our company will be economic empowerment," says Friar.
Her focus for the remainder of 2018, though, is likely to be internal. A priority is maintaining the company's profit margins. Square's leaders want to achieve that largely by investing in three major areas: the ability to operate on all major communication channels (i.e., "omnichannel"); financial services; and international growth.
In terms of omnichannel, the company plans to invest in the  integration of acquisition Weebly, a platform for e-commerce and integrated marketing. On the financial services side, the company plans outlays aimed at developing Cash Boost, a rewards program that lets customers earn cash back instantly when they make purchases from Square merchants. And the company wants to continue to expand internationally, with Canada, Japan, Australia, and the United Kingdom its priority markets.
"The right balance" for Square involves "really doubling down on our investment, but making sure that we're doing it while staying mindful of operating leverage in the business," Friar has told analysts. How she will manage to pull that off at the ultra-hot company will be something to watch in coming months. | D.M.K.
Return to the Fishbowl
For Tom Sweet, everything old is new again.
In 2014, a year after Sweet helped take Dell private, he told CFO that the new experience of "trying some different things without having to worry about public perception or impact per quarter" was "liberating."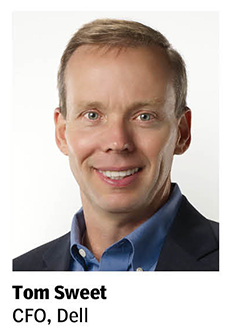 Well, if CEO Michael Dell and CFO Sweet have their way, they'll be back in the chains of public ownership soon.
Michael Dell is unquestionably and firmly in control of all things Dell. But when an enterprise is engaged in the sort of financial machinations that the 34-year-old computer company is betting on, its CFO is squarely in the eye of a storm, even if it's behind the scenes.
The company is taking a complex path. Rather than do a traditional initial public offering, Dell aims to back into publicly held status.
For those who haven't been following the company's saga, in 2016 Dell took a giant step toward realizing its strategy to become a more modern computing company by buying data storage and information security software firm EMC (renaming the combined company Dell Technologies).
Dell thereby also acquired the 82% stake in VMware, the publicly held cloud computing and platform virtualization provider, that privately held EMC owned. It was a massive deal, worth $67 billion.
To help finance it, Dell EMC issued a tracking stock — a specialized equity offering that tracks the performance of a subsidiary or unit. The Class V stock is also called Dell Technologies (ticker symbol DVMT), although it merely tracks the performance of VMware and confers no voting rights.
In July of this year, after long and tense negotiations between Dell financial adviser Goldman Sachs and VMware financial adviser Lazard over the value of the Dell equity, Dell announced its plan for going public.
For each share of the Dell Technologies stock—which on the afternoon of Aug. 13 was trading around $94 — its holders can choose to be paid $109 in cash or get 1.3655 shares of Class C common stock to be listed on the New York Stock Exchange.
Getting Reacquainted
The deal requires shareholder approval, and Dell is working to convince investors to back it. Toward that end, in early August the company rolled out a glowing financial forecast, projecting that from 2018 to 2022 revenue would jump by 23%, to $89 billion from $72 billion, and operating profit by 69%, to $9 billion from $5 billion.
Rather than do a traditional initial public offering, Dell aims to back into publicly held status.
Some were skeptical of the projections, pointing to discrepancies in the financial analyses that had been respectively performed by Goldman and Lazard and the fact that the tracking stock has consistently traded at a large discount to the publicly listed VMware shares.
With Michael Dell and his equity partner Silver Lake opting to retain their majority stake, the sense is that investors will view the move as credible and approve it. Regardless how many investors take the stock deal, Dell and Silver Lake will still own 70% to 80% of Dell Technologies.
Inside the finance department, CFO Sweet will undoubtedly be rethinking the financial metrics he's been tracking since Dell went private. As he told CFO, when out of the public's eye, Dell's finance team was focused on cash flow and cash management down to the business-unit level, and the company was pursuing "profitable growth, not empty-calorie growth."
But as a listed company, Dell is going to have to return to hitting revenue targets. And Sweet may be grilled about the timeframe for chipping away at the company's substantial long-term debt.
How investors receive Dell's performance, and how deftly the C-suite handles its message to Wall Street, will be big determinants in the future of this longtime computing industry giant. | D.M.
A Cloudy Forecast
The digital world has seen an enormous amount of change over the decades, and IBM has lived through all of the transitions, transformations, and turmoil. The same company that was predominantly selling mainframe computers in the 1960s is now leveraging fast-growing areas such as artificial intelligence (AI), blockchain, and the internet of things (IoT).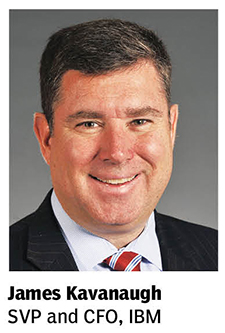 And like many other technology companies, IBM has faced—and continues to face — its share of challenges in doing so. Inconsistent revenue growth, a slow move to the cloud, and rising competition all have dented its financial performance.
IBM is also struggling to gain a dominant position in the market for cloud services such as infrastructure as a service and platform as a service. Amazon Web Services, Microsoft, and Google are cleaning its clock in those areas. However, not all is doom and gloom: the company has seen a 20% or more quarterly increase in IBM Cloud revenue this year.
A key player in IBM's attempts to sustain and build on that growth is James Kavanaugh. The CFO, just appointed to the position in January 2018, is definitely one to keep an eye on this year and beyond. He has a solid finance background, serving as IBM's controller for seven years.
But he also previously served as senior vice president, transformation and operations. In that post he was responsible for enabling IBM's transformation to a data-driven, cognitive enterprise, redesigning the company's operating model to align with fundamental market shifts.
These shifts continue to affect the company's product strategy and show no signs of letting up as more companies move their IT infrastructures and applications to cloud-based services.
"IBM continues to see headwinds in its legacy hardware and services business, with more [enterprise] budget dollars heading to the cloud," says Daniel Ives, chief strategy officer and head of technology research at GBH Insights. Cloud computing remains front and center as opportunity, given the company's massive customer base, analytics stronghold, and potential cross-selling opportunities, Ives says.
"The challenge is that IBM faces massive competition, and fast-growing cloud competitors are a major force in the market [and are] difficult to combat."
Reclaiming the Enterprise
The market will be a tough one for IBM's management team to navigate. Part of IBM's go-forward strategy is to capitalize on emerging technologies that are catching the eyes of enterprise customers. Blockchain is one example. Early in 2018 IBM announced it was teaming with shipping company Maersk to establish a blockchain joint venture to provide more efficient and secure methods of conducting global trade.
"The challenge is that IBM faces massive competition, and fast-
growing cloud competitors are a major force in the market [and are] difficult to combat."

–Daniel Ives, GBH Insights
AI is another area where IBM hopes to secure a leadership spot. In March, the company unveiled a new data science and machine-learning platform and an "elite consulting team" to help organizations accelerate their AI strategies.
What should Kavanaugh and his fellow C-level executives be doing to restore IBM's luster?
"It's about the balance of looking for acquisitions versus organic growth opportunities in the cloud market," Ives says. "Also cutting costs and restructuring the legacy businesses while growing the faster areas such as cloud computing, security, analytics, AI, and Watson."
IBM's unparalleled distribution, customer base, and product footprint places it in a position to convert legacy customers to its next-generation cloud offerings in 2019 and beyond, Ives says. So far, however, overwhelming successes like the ones in IBM's past have been elusive | B.V.
Taking a Shot
If you were finance chief of Snap, the developer of Snapchat, it would be probably impress your teenage daughter, but what about your peers? In the company's current state, they might be far from envious.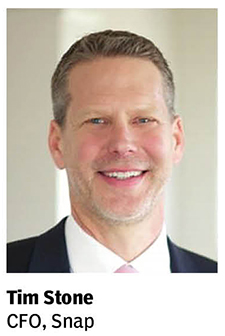 However, Timothy R. Stone, Snap's new CFO, appears to be right where he wants to be. Replacing Drew Vollero, a former Mattel executive, in May, Stone sees opportunities to drive growth initiatives and operational excellence at the seven-year-old tech company, and views Snapchat's global audience as a big asset.
Analysts greeted Stone's arrival positively. After all, he is a 20-year veteran of Amazon, overseeing financial planning and analysis and investor relations, but also heading up business units. Those included Amazon Web Services & Digital Content and the company's physical stores.
Snap's operational efficiency and communication with Wall Street should benefit from Stone's experience, say analysts. And it is indeed Wall Street that has been the thorn in Snap's side since the company's IPO, considered a notable 2017 flop. The company's shares breached $20 earlier this year, but by mid-August were back down below $12.
Not that Snap hasn't earned the beating. Massive user growth the past few years disappeared the last two quarters. The second quarter saw Snapchat daily active users shrink 1.5%, to 188 million. The company's previous worst quarter, the opening one of 2018, saw DAUs rise 2.9%. Snapchat is fighting other social media outlets for eyeballs and attention, but meanwhile it's dealing with industry-wide price declines in the advertising business.
From a finance perspective, Snap had a good second-quarter story, beating expectations for revenue (48% year-on-year growth) and posting a slightly lower net loss than analysts projected. How long can Snap keep losing money, though, especially now that its all-important DAU metric is headed south?
Stone clearly has his head down working on that problem. He's particularly focused on driving operating and engineering efficiencies in infrastructure as well as operating cost structure. In the second quarter, the company saw a 26% year-over-year increase in cost of revenue, but sequentially that cost dropped 4%. Infrastructure costs experienced a similar dynamic.
Stone is also taking a microscope to operating expenses, as the company's headcount is down by about 200 this year.
The miscommunication with Wall Street requires some quick fixes. For the first time, Snap shared quarterly revenue and adjusted EBITDA projections on its August earnings call. It's expecting revenue to climb between 27% and 39% year-over-year in the third quarter, and adjusted EBITA losses to fall. But Stone also reminded analysts that historical DAU growth rates for the third quarter "have trended down."
The continuing EBITDA losses worry, but the company had $1.5 billion in cash and short-term investments on its balance sheet at second-quarter's end, helped by a $250 million investment from Saudi Prince Al-Waleed Talal.
That gives Stone some runway to optimize the company's operations. Although other CFOs may not envy the challenges he faces, they may covet his compensation. He's drawing a salary of $500,000 and he received restricted stock units of $20 million when he joined in May. It will be hard for investors to complain. If Stone gets Snap headed in the right direction and revives its share price, it will be an astounding achievement. | V.R.
Good Things in Storage?
It was Dropbox's first earnings call last May, and CFO Ajay Vashee had good news. The CFO of the subscription-based, cloud storage provider, which had made a splashy debut on the Nasdaq two months earlier, provided guidance that the company would record $328 million to $331 million in second-quarter revenue. He underestimated.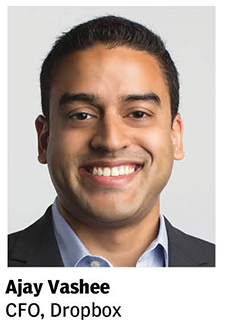 In fact, Dropbox's revenue hit $339.2 million last quarter, marking a tidy 27% increase from the same period in 2017. Adjusted profits increased to $48 million (11 cents per share). Both figures were better than analysts had expected, yet the value of the company's shares plunged nearly 10% the next two days.
In fairness, shares had risen 9% before and during the earnings call, so the pullback wasn't earth shattering. And longtime chief operating officer Dennis Woodside had stepped aside. Still, no investor — or CFO — likes volatile stock swings. Fortunately for Dropbox and Vashee, the company's share price has traded in a tighter range of late.
Vashee stepped into the CFO seat in September 2016, appointed to succeed Vanessa Wittman, herself a former CFO to Watch in 2015. (Wittman left the job for health reasons.) The circumstances put Vashee in the driver's seat alongside co-founder and CEO Drew Houston in gearing up for the company's 2018 initial public offering. Vashee's background was well-suited. Earlier in his career he was an investment banking analyst at Morgan Stanley and, later, a senior associate at venture firm New Enterprise Associates. The Dropbox IPO did well, producing a 35% pop on a day when the Nasdaq index fell 2.4%.
While its share performance has been up and down since, Dropbox is seen as having a better future than other startups of its generation.  Started 11 years ago as a free service for sharing and storing photos, music, and other large files, Dropbox competes against Google, Microsoft, and Amazon. But even against such heavy hitters it has done well.
The company has about 500 million registered users for its online storage and sharing services, giving it significant "word of mouth" clout. And Dropbox hews to a "freemium" business model: users are given a free account with a set storage size, with paid subscriptions available for more capacity and additional features. By providing value to these nonpaying members, Dropbox turns them into paying members, as well as de facto salespeople telling good tales, helping to expand the company's 11.9 million paid user base.
"We're focused on continuing to drive growth by converting more users to our paid plans, and increasing average revenue per paying user," Vashee tells CFO. 
A Rising Tide
Fortunately, the cloud, Dropbox's domain, is hotter than hot. Worldwide spending on cloud services and infrastructure is expected to grow at a 22% average annual clip, IDC estimates, reaching $277 billion in 2021. Assuming Dropbox gets a decent piece of this pie, its long-term growth could be astonishing.
"In the next five years, you'll see us continue to build and integrate products that streamline team workflow and collaboration," says Vashee.
"Only a few years ago, we were a team of just over 100 people, generating less than $50 million in revenue," Vashee says. "Today, we have a robust and scalable business with more than $1 billion in annual revenue and 12 offices worldwide."
Optimism runs high at the company, which announced last year that it had signed a lease for its future home in San Francisco's Mission Bay neighborhood. The LEED-platinum four-building complex is under construction to provide 736,000 square feet of office space for Dropboxers.
Vashee says Dropbox is on a mission to "unleash the world's creative energy by designing a more enlightened way of working." More practically, he aims to keep Dropbox innovating and growing.
"In the next five years, you'll see us continuing to build and integrate products that streamline team workflow and collaboration," Vashee says. "Ultimately, we believe these products will deliver even more value to our users, and we're excited about the road ahead." | R.B.
---
Ten More to Keep an Eye On
Even in a robust U.S. economy, these CFOs will have their hands full.
l  Tim Bensley,
Blue Apron Holdings
An early success, the still-youthful meal-kit delivery firm may be in an existential crisis. Hit by new competition from within and outside its niche, Blue Apron saw revenue plunge this year (along with its share price), with fewer customers placing fewer orders. New CFO Bensley is challenged not just to plug the holes, but perhaps to create a radically different business model.
l  Andrew Bonfield,
Caterpillar
Presumably, Bonfield, whose tenure began Sept. 1, knew what he was getting into. Caterpillar's tax strategies have been under scrutiny for years, and the company is fighting an IRS demand for $2.3 billion in taxes and penalties over an alleged tax-avoidance scheme. It's not a terribly material sum for the $45 billion company, but can Bonfield ably deal with the distraction?
l  Michael Cavanagh,
Comcast
Might Cavanagh still have to justify his $40 million pay package upon joining Comcast in 2016? The conglomerate pulled out of the bidding war for 21st Century Fox assets. The winner, Disney, is now neck and neck with Comcast for second-biggest media company behind the merged AT&T-Time Warner (assuming it holds up). How will Cavanagh and Comcast respond?
l  Ryan Cameron Courson,
Seaspan
At 29, Courson is among the youngest CFOs at a global, non-technology company. His employer has slowly started turning around, thanks to a better container shipping market. A looming oversupply of ships could quell demand for Hong Kong-based Seaspan's fleet of 55 for-lease container vessels. In the meantime, Courson is focused on deleveraging and finding capital allocation opportunities.
l  Sara Furber,
IEX
It's a hot CFO seat Furber was promoted to in May. The new stock exchange, approved last year to begin listing companies, said it would do so in early 2018. As of August, it was still on the sidelines. The former Morgan Stanley executive is trying to convince already-listed companies to ditch the NYSE and Nasdaq, and grappling with a Nasdaq lawsuit alleging patent infringement.
l  John Hartung,
Chipotle Mexican Grill
An 18-year company veteran, Hartung has worked since February under just the second CEO in Chipotle's history. The finance chief, who had toiled in crisis mode for a few years following a high-profile E. coli outbreak, is happily presiding over much-improved financials. But there's no room for complacency. Chipotle remains highly vulnerable to food-quality scares, the latest occurring in July.
l  Jamere Jackson,
Hertz Global Holdings
Jackson might put to the test the notion that finance skills are easily transferable across industries. Slated to join rental car company Hertz on Sept. 10, he spent the last four years running finance at audience measurement giant Nielsen Holdings. Still, he may feel at home, as he's jumping from one troubled company to another. Hertz's revenue and profits have been sinking, and it's vastly underperforming its peers.
l  David Knopf,
Kraft Heinz
It's a confusing picture for the food conglomerate at present: Its stock price has tanked by 50% over the past year, even though operating margins are expanding for the food sector. Much may ride on what Knopf, a year into his CFO tenure, does to trim a high debt-to-EBITDA ratio of 4.2. On the other hand, a higher priority may be finding some tasty, reasonably priced acquisitions.
l  Teri List-Stoll,
Gap
How much is riding on Gap's pricing decisions? Amid heat over what many regarded as a confusing discount policy, the company fared poorly in its April-ended first quarter, reporting a 4% dip in same-store sales. What will List-Stoll have to say about continuing to offer large discounts—an often-deadly mistake for retailers—when most of the ailing sector is heading the other way?
l  Jamie Miller,
General Electric
Has a week gone by in 2018 without big news from GE? While most finance chiefs strive to grow their companies, Miller is presiding over finance at a steadily downsizing enterprise. Among businesses the company has retained, GE Power is a notable sore spot. But with GE's troubles seemingly having resulted from decades of bad decisions, a steely focus on overall strategy is paramount. | D.M.
Image: Getty