In the finance world, on-the-job learning never ends. Giving your team hands-on training and stretch assignments are excellent ways to help them grow in their careers, but they don't take the place of formal learning programs that give them the tools they need to take the finance organization to the next level. You want your team to get the same or better training than your competitors, but how much formal learning is really happening at other organizations?
For this month's metric, we focus on the number of learning days that organizations provide to each employee, as reported to APQC's Open Standards Benchmarking® database by 1,992 organizations. The data reflects employee development time for all levels of employees organization-wide, including senior management and executives, operational workers and office staff, and middle managers and specialists. This metric reflects all formal learning and professional development time, such as training and onboarding, attending conferences, or taking classes or certification courses.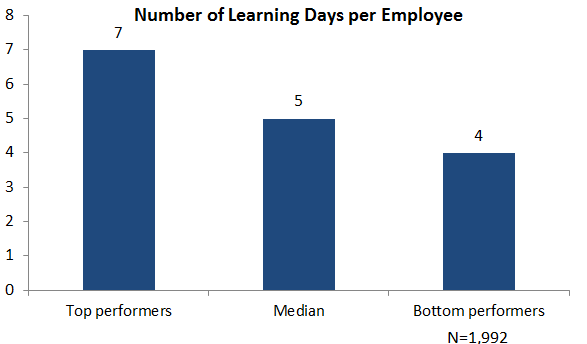 The top-performing 25% of organizations provide their employees with seven or more learning days each year. On the lower end of the range are the bottom 25% of organizations, which give employees four or fewer learning days annually. At the median are the organizations that give their employees five days to pursue formal professional development.
Sharpen the Saw
A focus on learning at all levels of the organization builds the bench strength of future generations of leaders — a key facet of successful succession planning to prepare an organization for whatever the future may bring.
Formal learning is a necessary part of maintaining an organization's collective skills and qualifications, especially when it comes to a team's certifications. To maintain my CPA certificate, for example, I need to take 120 hours of continuing professional education, or CPE, every three years. That's about 15 days of formal learning in total, or about five days a year.
But, I don't just seek out those learning opportunities because I have to. I do it because continuously sharpening the saw is an important part of my own career development, and because it helps me continue to do the best work that I can for the organization that I help to lead.
Similarly, CFOs need to grow the skills of their high-potential talent pipelines, so that they can perform better in their current jobs and prepare to take on future challenges. Targeted learning programs can build future leaders' skillsets to encompass more than traditional finance and accounting knowledge, adding new skills such as data-driven decision-making and predictive analytics to support organizational strategic planning and execution. Training in interpersonal "soft skills," such as communication, strategic planning, project management, and listening also helps develop today's finance employees into future strategic leaders.
APQC research has identified several best practices used by organizations that excel at managing formal learning and development of their employees.
Executive champions. Successful learning programs are backed by the commitment of organizational leaders. By championing talent development for the finance team, the CFO can grow team members' skills as well as their job satisfaction.
Technology. Online, self-service learning portals and learning management systems empower employees to take control of their own career paths and access learning resources at their own pace.
Alignment. For maximum impact, all learning opportunities and performance development plans should align with organizational strategic objectives.
Onboarding. Training, mentoring, networking, knowledge-sharing tools, and new-hire information portals can bring new employees up to speed faster.
Mix it up. It's more effective to offer a mix of formal and informal learning opportunities, such as blending in-person and online classes with special assignments, knowledge management repositories, and communities of practice.
Transitional training. Organizations can prepare employees for success in new roles by providing targeted training, mentoring, and learning opportunities that get them up to speed.
Investing in formal learning for a finance team not only helps them acquire new skills that make them more valuable to the organization, but makes people more likely to stay with the organization longer because they've found a place where they can grow. An investment in finance team members' careers and knowledge pays off in employee loyalty, lower turnover, and a strong pipeline of well-trained talent that will serve the organization well into the future.
Perry D. Wiggins, CPA, is CFO, secretary, and treasurer for APQC, a nonprofit benchmarking and best practices research organization based in Houston.
Photo: Getty Images