Publisher Scholastic reported earnings for its fiscal fourth quarter of $50.8 million, or $1.43 a share, up 29% year-over-year, but its revenue fell 0.7% to $496.2 million. Analysts polled by Thomson Reuters had expected earnings of $1.37 per share.
"Strong fourth quarter results helped us reach the higher end of full-year guidance for earnings per share, excluding one-time items," Chief Executive Richard Robinson said. "We continued to invest in new publishing and productivity-focused technologies under our Scholastic 2020 plan."
For fiscal 2018, the children's publishing and education company said that, by GAAP measures, revenues decreased 6% to $1.63 billion and operating income, compared with the prior year, decreased 38% to $55.6 million.
In the 12-month period, Scholastic recorded a loss per diluted share from continuing operations of $0.14 per share, which included a $57.3 million non-cash charge from discontinuing the company's domestic defined benefit pension plan, as well as $11.2 million in non-cash impairment charges primarily associated with the renovation of the company's New York headquarters building.
CEO Robinson said fiscal 2018 saw "strong trade sales bolstered by top-selling titles across all genres – early years, graphic novels, series publishing, and young adult – including Dav Pilkey's Dog Man, I Survived, Five Nights at Freddy's, Wings of Fire, and Peppa Pig."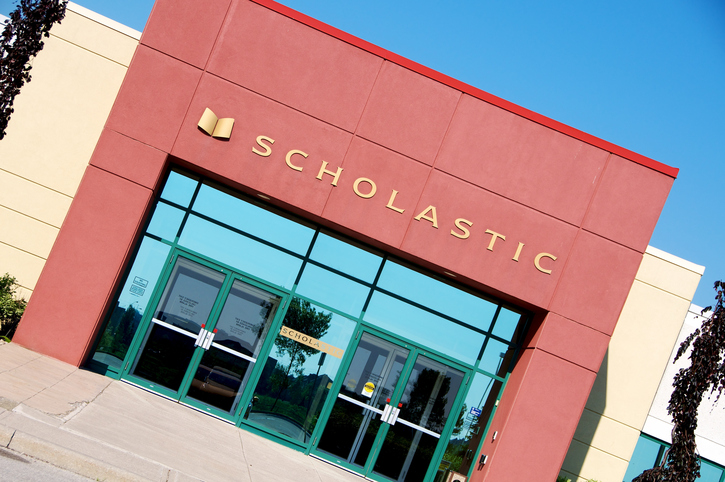 Scholastic recorded net cash from operating activities of $141.5 million, versus $141.4 million from the year before. But the company had negative free cash flow of $16.1 million for the 12-month period ending May 31, compared with positive free cash flow of $48.8 million in the prior period.
The company expects to return to "modest positive free cash flow" in fiscal 2019, as it expects to have lower capital expenditures.
This year, it allocated funds to renovating its headquarters as well as significant technology investments, including "updated ERP back-end systems" and a new customer relationship management system.
"The implementation of new finance and operating systems will bring us information much more quickly, enabling improved inventory and cost management, and is expected to provide cost savings of $10 million in fiscal 2019," Robinson said.
Scholastic pointed out that it has retired more than half of its legacy systems and migrated 95% of its customer-facing applications to the cloud.
In fiscal 2019 it also plans to continue the transformation of its supply chain processes, targeting a significant reduction in operating costs across distribution, fulfillment, customer service, and procurement.
At fiscal year-end, the company had debt of $7.9 million and cash and cash equivalents of $391.9 million.
Scholastic distributed $21.1 million in dividends and reacquired $27.3 million of its common stock in open market transactions over the course of the fiscal year.
For fiscal 2019, it expects revenue of $1.65 billion to $1.7 billion and earnings per share between $1.60 and $1.70.
Shares have risen 17% year-to-date and were up 9% in the last 12 months. However, Scholastic's stock fell 8% on Thursday after the earnings report.
Photo: Getty Images