CFOs to Watch 2017
Choosing the top finance chiefs for the third annual installment of CFOs to Watch was tricky. We wanted to honor a CFO's past performance but, like stock-pickers, also wanted to select candidates with an eye toward what they might do in the next 12 months.
Consequently, the 20 finance chiefs named on the list really satisfy two requirements: they've made sizable contributions to their companies' past successes, and, at the same time, the current disruptive forces buffeting their organizations may vault these CFOs into even greater prominence.
These days, every industry is under the gun, if not from digital startups looting their customer bases then from investors (sometimes activist ones) who see companies' shares priced to perfection and, when it comes to financial performance, expect just that.
The CFOs we chose don't shrink from a challenge. The finance chiefs profiled on the following pages have a combined 100-plus years in their current jobs. They are responsible for billions of dollars in profits and for steering the capital structures of companies that are vital to the U.S. economy. In addition, as it turns out, the list includes CFOs of some giant consumer-facing organizations that can ill afford financial, operational, or strategic mishaps.
Given the demand for sales growth and profit margins from Wall Street and beyond, these finance chiefs won't be resting on their laurels. The next 12 months may be some of the toughest of their tenures. Can they live up to the high expectations? We'll be watching.
David M. Katz and David McCann, deputy editors of CFO, and Vincent Ryan, editor-in-chief, wrote the profiles that appear below.
JOHN STEPHENS


Senior EVP & CFO, AT&T
Transformation on Steroids
These days, finding a big company that's not in transformation mode is tough. But what's going on at AT&T just might be "the mother of all transformations" — and that's without taking into account the company's proposed $85 billion acquisition of Time Warner.
Multiple reports in July suggested that the Federal Trade Commission and the Justice Department were leaning toward approving the transaction by year-end. That alone would make John Stephens a lock as a CFO to watch, given the complexity inherent in integrating two massive companies.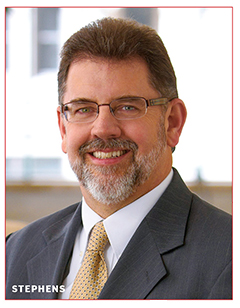 At the same time, if the Time Warner deal were not on the table, Stephens would still be under omnipresent appraisal. A large part of AT&T's $22 billion of capex last year and this year is for developing a breathtaking array of futuristic technologies. The attendant need for high-octane financial planning, ROI analyses, and capital-allocation choices means that Stephens and his finance team could literally make or break the company.
AT&T is making a fundamental shift from being primarily an infrastructure company to one that also provides customers with entertainment content and access to Internet of Things (IoT) applications. In fact, AT&T's focus today is almost wholly on technology and media, with comparatively little attention paid to legacy telecom.
The content portion of the equation largely rests on strategic acquisitions, driven in large part by Stephens. The effort kicked off in earnest two years ago with the company's $49 billion purchase of DirecTV, which vaulted it into the lead position among U.S. pay-television distributors. The deal also has allowed AT&T to make a large assortment of streaming content available to its approximately 150 million wireless-device users. The Time Warner deal, if approved, would represent an even bigger slice of the content pie.
But perhaps the most interesting aspect of AT&T's transformation is its ongoing development of the wireless network that enables its services. It's a 4G "LTE-advanced" network now and the company says there's further room for improvement, but testing is in full swing on a 5G network that will dramatically improve Internet connection speed and capacity.
5G will power much more than content delivery. AT&T is testing IoT applications that enable network connections for everything from driverless cars to everyday household items like refrigerators, washing machines, and even trash cans. Widespread consumer usage of such technologies is still some way off, but AT&T already has deals with several cities for connected "smart city" capabilities like energy-efficient, intelligent LED lighting; environmental sensors that measure various forms of pollution; and kiosks that help residents and visitors find their way around the city.
Another AT&T innovation currently being tested, called AirGig, delivers low-cost, high-speed wireless Internet connectivity by affixing to existing power lines small plastic devices that send a signal through the electromagnetic field that surrounds the wires. AT&T has more than 100 patents supporting the technology, which has the potential to greatly expand the availability of Internet service around the world.
Stephens' job is a big one by nature, considering there are 16,000 employees in the functions that report to him. But making sure that as much of the above-described activity as possible works for AT&T from a financial standpoint will be a mind-bending feat. —David McCann
CATHY SMITH


EVP & CFO, Target

A Silver Lining
One of the biggest personal challenges Target CFO Cathy Smith finds herself dealing with is striking a balance between her naturally upbeat nature and a certain wariness stemming from retail industry turbulence. "Every day I try to provide enough optimism but also enough realistic pessimism," she tells CFO. "I wouldn't say I have it nailed."
Smith, however, seemed to nail an appropriate note of caution on Target's first-quarter earnings call in May. It was a realism that might have been tinged by a subpar 2016, a year in which her total compensation dropped by more than 40% (to about $4.4 million) on the heels of the company's failure to reach sales goals, according to a Target proxy statement. (Her boss, CEO Brian Cornell, saw his total compensation fall by a third, to about $11 million.)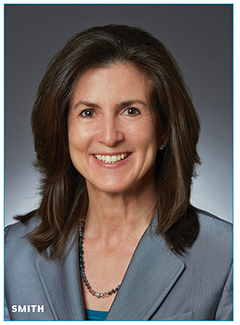 Another source of the CFO's cautiousness seemed to stem from a 1.3% first-quarter decline in the crucial metric of same-store sales, which she attributed to decreased store traffic and smaller average purchases.
Smith's brighter side emerges when she talks about the retailer's huge investment in improving its operations. In February, Target announced that over the next three years it will spend more than $7 billion for store remodeling, building new small-format stores, and improving its digital and supply chain capabilities. This year, the company will invest about $1 billion of its annual operating profits in related efforts.
It was "a pretty big ask" of the shareholders, the CFO says. "But we did it because … we'd like to be really well positioned to win" in the rapidly changing world of retail.
"We've been in a very significant transformation for the last two years," she explains. "But in the latter part of 2016 it was clear that the consumer was changing faster" than the company had anticipated. "It was very clear that we needed to accelerate some of the stuff [we had] been testing."
Much of the effort is aimed at boosting the efficiency of Target's supply chain. Before, when most customers of big-box retail stores drove to malls to do their shopping, Target's supply chain moved pallets of identical goods to identical-size stores, according to Smith.
Responding to what it sees as a population shift — customers from the suburbs moving to the cities — Target is building smaller stores in densely populated areas like New York and Chicago. To accommodate those smaller stores efficiently, the company is working on a system to limit the delivery of items to their expected rate of sale, rather than merely sending a set amount of items to fit the floor space. Also on tap are plans to use the bigger mall stores as distribution "nodes," from which excess goods can be shipped faster to the small stores (rather than shipped from more-distant warehouses).
While the transformation will cost the company a great deal, a revamped supply chain is also likely to offset some of the expense by cutting down on inventory. Such an improvement is a happy financial byproduct of the transformation, according to Smith. "There are all kinds of side benefits [to the supply chain efforts] that, as a finance person, I get excited about," she adds. Can Target keep up with consumer habits and reap similar financial gains from other operational investments? Smith will be key to whether that happens. —David M. Katz
DAVID WELLS
CFO, Netflix

House of Cards?
Being a disruptive force in any industry can be both a blessing and a curse. David Wells, finance chief of Netflix, knows this all too well. Since Wells became CFO in 2010, Netflix's shares have soared, giving it a $78 billion market capitalization. The company's video streaming service hit 103.9 million subscribers at the end of the second quarter, up 5.2 million from the previous quarter, the largest jump in six years. And Netflix made its first acquisition in August, buying a comic-book publisher that will provide a source of superhero storylines. But those achievements have set up some pretty large expectations for this media and entertainment business highflyer.
It takes a lot of content to satisfy 100 million subscribers and attract new ones across the globe: in 2017's second quarter, Netflix premiered 14 new seasons of original series, 13 original comedy specials, six original documentaries, and nine original feature films. With half of Netflix's subscriber base now international, the company will also have to generate more local content for a non-U.S. audience. That means more programming costs. (And in 2019, Disney plans to pull out of a deal to stream newly released movies on Netflix, leaving another content hole.)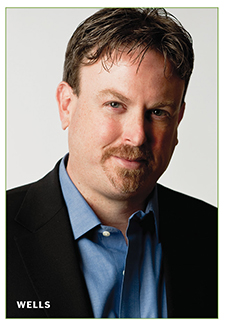 As with any company, funding is not an infinite resource. While Netflix turns a profit, it projects negative free cash flow of more than $2 billion for 2017, a trend that it expects to continue.
"We're still being very disciplined about the efficiency of our content cohort investments," CFO Wells told analysts on the latest earnings call. But founder Reed Hastings was unapologetic, saying, "… the faster that we grow and the faster we grow the owned originals, the more drawn on free cash flow that we'll be. So in some senses, negative free cash flow will be an indicator of enormous success."
Most Wall Street analysts are a bit more skeptical, attempting to figure out when, exactly, Netflix will generate positive free cash flow from its investments. Theoretically, as the streaming service's subscriber base grows, the company's EBITDA margin should expand, as costs are spread over more customers. But the equation rarely works that neatly. Some analysts are questioning, for example, whether the money Netflix makes back from feature films is enough to justify the expense.
Analysts are also generally concerned about the quality of Netflix's disclosures. After the company's second-quarter earnings call, Laura Martin, an analyst at Needham, said what struck her was "how many things we don't know about ROI, earnings, or subscriber-growth drivers. … We see extra risks because Wall Street doesn't have enough information to calculate the bottom if the shares fall out of favor."
Much of this will fall on Wells' plate as he returns from Amsterdam after a two-year stint during which he set up a European customer service hub.
There's no doubt that Wells has the operations aspect of the business down cold; now, however, he will have to explore ways to stem the cash burn. He could try to develop and license content more inexpensively, cancel programming flops faster, or raise prices for subscribers by offering differentiated tiers of service. Investors are pricing Netflix like it can do no wrong, giving shares a price-to-earnings ratio of 220. University of Chicago graduate Wells will need every ounce of his finance acumen to keep serving up the performance numbers and content that investors and subscribers want to see. —Vincent Ryan
BRIAN OLSAVSKY
Senior VP & CFO, Amazon.com
Maestro of Operations
On Amazon.com's first-quarter earnings call last April, RBC Capital Markets managing director Mark Mahaney, like any good sell-side analyst, was following the money. His question: Were families that use Amazon's Echo speakers and Alexa voice services likely to spend more on the products the retail giant delivers?
Characteristically, Amazon finance chief Brian Olsavsky didn't want to talk about finance. Acknowledging that Mahaney's question was about "monetization," the CFO answered, "That's not our primary issue right now."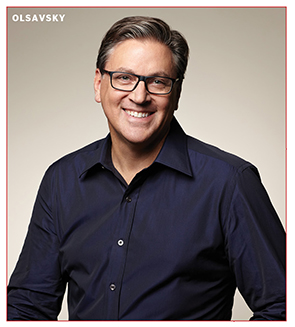 What the CFO, who has been with the company since 2002, wanted to discuss was customer engagement. "[As] we pick up engagement with the devices, it helps the engagement with Amazon as a whole," Olsavsky said. "[T]he things customers love can grow to be large" and produce strong financial returns that can "last for decades."
As the face the company presents to the investment community (CEO and founder Jeff Bezos rarely shows up at earnings calls or investor days), Olsavsky epitomizes the operational CFO, a finance chief who seems less concerned with quarterly earnings and cost control than with the business itself. "He's probably more operational than most of the CFOs I interact with," Mahaney, who covers information technology companies, tells CFO. "He's probably more deep in the weeds of the unit economics of each of the different elements of his business."
Before becoming Amazon's CFO in 2015, Olsavsky spent thirteen years in a variety of executive posts, including work in its worldwide operations and consumer and retail units. In fact, the finance chief's lengthy tenure with the company is a key strength, providing him with a wealth of contacts within its various businesses, analysts say. His long and varied tenure also means he has a detailed understanding of the business as a whole, giving him an advantage over CFOs who change companies and industries more frequently.
Long service and promotions from within are "a very Amazon way of doing things" that's produced a tight circle of executives who are intimate with Bezos' long-term vision for the company, says Daniel Salmon, an equity research analyst at BMO Capital Markets.
Consistent with Amazon's culture is its tendency to be skimpy about interpreting its financial results for public consumption. Yet because of the hefty returns the company provides to shareholders, the market is more than willing to provide it with ample capital "without seeing the cash flow and the margin expansion flow through in the way that one would normally expect from a company," says Salmon.
Similarly, the market has been remarkably patient about Amazon's ability to turn a profit. Instead, investors and analysts have been more than satisfied with its aggressive investment in far-flung areas like groceries (its recently announced acquisition of Whole Foods Market) and home appliances (through an arrangement with Sears) as well as in its existing public cloud services.
For that reason, Olsavsky is likely to continue to enjoy earnings calls with little pushback from analysts. Looking ahead, "the real question is not what Brian says, but what the business of the company is," says Salmon.
"The way I look at him, ultimately, is as the maestro of managing where [the] numbers go." —D.M.K.
ROBERT SHANKS
EVP and CFO, Ford Motor
Under a Microscope
Ford's new chief executive, James Hackett, has been shaking things up at the automaker, taking a fresh look at everything from using data modeling to maximize revenue opportunities, to improving investment ROI, to ensuring the company's overall fitness to compete. "We're transforming the culture and creating an environment to win," Hackett said during Ford's second-quarter earnings call in July.
In a recent interview with Bloomberg Daybreak, CFO Robert Shanks called the reassessment "exciting" and said there has been "better clarity around decision-making and less bureaucracy" since Hackett took the helm. Still, the examination, and the implication that an environment to win did not already exist, may not be wholly comforting to Shanks.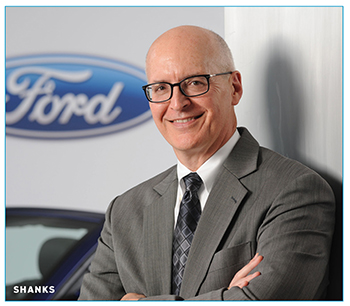 But he's unlikely to be fazed much after 40 years with the company (the last 5 as its CFO), even though he'll be the point person for implementing most major changes and will be expected to thrive in the altered environment. How he goes about shaping it should make for interesting viewing.
Right now Shanks is navigating through a period of steeply higher costs for steel and other commodities, which through the first half of the year were up $600 million compared with the first half of 2016. Ford also faces currency-exchange weaknesses in Europe and Asia. And the CFO is also watching over Ford's investment — which is expected to total $1 billion by 2021 — in self–driving–vehicle startup Argo AI.
Still, compared with the dark time in November 2008 when some automakers (not Ford) required a financial bailout from Congress, the recent past has been a smash. A record 88 million autos were sold worldwide in 2016, up 4.8% from a year earlier, and profit margins were at a 10-year high. Ford, as it happened, saw its bottom line sink by 38% in 2016. But the company has been beating revenue and earnings estimates this year.
Unfortunately, some trends augur trouble for the auto industry. Over the last five years, when the average annual total shareholder return among companies in the S&P 500 and Dow Jones Industrial Average was 14.8% and 10%, respectively, average annual TSR for automakers was only 5.5%, notes Strategy& in its "2017 Automotive Trends" report.
Perhaps worse was the industry's 4% return on invested capital in 2016, a performance that Strategy& labeled "anemic." "[The] numbers … paint a picture of a sector that is a less-attractive or less-lucrative place to invest than other industries [and suggest] that there will be relatively few winners in the auto industry during the next five years and beyond. Those that do stand out will be those that harness their limited capital resources in creative ways."
Which brings us back to the particular financial environment Shanks finds himself in. Ford is seen as a more valuable property than its main competitors. One-year-forward enterprise value-to-EBITDA is used widely to compare auto companies; following the first quarter of this year, Ford's multiple was 13.0x, compared with 5.5x for GM and 1.6x for Fiat Chrysler. Historically, Ford's stock has traded at a premium to stalwart GM's, a result of stronger brand equity.
Shanks, at age 64, may not care to be at Ford's finance helm for many more years. But he's built a strong foundation and will be an important presence at an inflection point for the 10th-largest U.S. company. —D.M.
CAROL TOMÉ
EVP & CFO, The Home Depot

Heart and Soul
It's not unusual for incoming CEOs, as they get comfortable in their shoes, to eventually replace their finance chiefs or other top officers with people of their own choosing.
It hasn't been that way for Carol Tomé, though: she's served under all five chief executives in The Home Depot's history since she arrived in 1995. The CFO since 2001, she notably survived several years later when then-CEO Robert Nardelli resigned amid complaints about his heavy-handed management style and outsized compensation.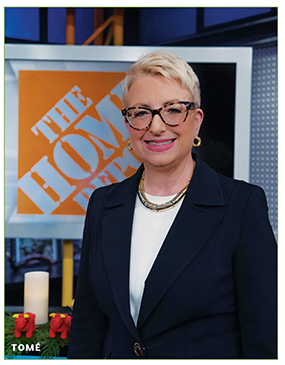 Why is Tomé worth watching? Because she's always doing something big, whether within or outside of Home Depot. As for the latter, she's been a director of United Parcel Service since 2003. A banker before she joined Home Depot, she was a board member of the Federal Reserve Bank of Atlanta for five years, from 2008 through 2013, including stints as both chair and vice chair. She's also chaired Atlanta's chamber of commerce as well as the policy advisory board of the Harvard Joint Center for Housing Studies.
At her day job she is, in the words of stock-picking TV personality Jim Cramer, the "heart and soul of Home Depot."
In addition to being finance chief, she has served since 2007 as executive vice president of corporate services, which puts her in charge of the company's strategic planning. "It's critically important for any CFO to be at the strategy table," she tells CFO. "It [makes for] such an important combination of capital allocation and investment strategy. Trying to separate those can be very problematic for companies."
Tomé also plays a leadership role in the real estate area. It's a huge operational challenge for Home Depot, which has about 2,300 stores — 90% of them company-owned — comprising 212 million square feet.
Mentorship is another of her passions. "I personally view that my legacy will be defined by the quality of my team," she says. In fact, at least 10 people who worked for her are currently finance chiefs of other companies. "I'm so proud of that," she adds, "and I'm super invested in them."
Recognition has been plentiful. Tomé at various times has been ranked No. 16 on Forbes' list of the World's 100 Most Powerful Women, ranked No. 2 on The Wall Street Journal's list of best finance chiefs in corporate America, and named CFO of the year by the CFO Roundtable.
Home Depot's strong performance doesn't hurt her chances for continuing acclaim. She's helping to run a company that seems relatively immune to the ills plaguing the retail sector. Over the first six months of the current fiscal year, the stock outperformed the overall sector by 10.5%, according to Zacks.
For its most recent completed fiscal year, which ended on Jan. 29, Home Depot's sales grew by 6.9% to a record $94.6 billion, including a 5.6% bump for comparable store sales. Net profits rose by about $1 billion. Return on invested capital grew 330 basis points, reaching 31.4%, and diluted earnings per share grew to $6.45, up from $5.46 in the prior fiscal year.
All of this for someone who never set out to be a CFO. Tomé counsels young businesspeople to do what she did: "Dream big but don't be too planful. [Just] take every opportunity to put tools in your personal toolkit." —D.M.
DAVID M. WEHNER
CFO, Facebook

Preparing to Pivot
When the former CFO of Facebook, David Ebersman, left the social media giant in 2014 to return to the health care industry, Mark Zuckerberg made a wise choice in David Wehner, the company's current CFO. Wehner was promoted from vice president of corporate finance and business planning and had been CFO of gaming company Zynga. In three years, Wehner has proved himself a deft finance pilot of a company whose debut on the public markets was inauspicious. The market has rewarded Facebook in that time by doubling the share price.
Wehner lacks flash, but he is detail-oriented, straight-forward, and seems to have all of Facebook's important metrics at his fingertips. Despite two dynamic leaders above him on the corporate ladder (Mark Zuckerberg and Sheryl Sandberg), he also stays highly visible.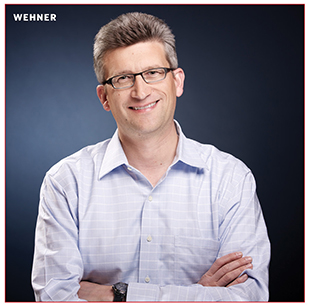 Since Wehner became CFO, Facebook has hummed along. The company delivered 45% revenue growth in the second quarter but it kept its operating margin high, at 47.2%. That's no mean feat in a quarter when Facebook had its largest-ever number of net hires, as it recruits engineers to drive the company's 3-, 5-, and 10-year priorities, according to Wehner. Facebook also doubled its allocation for capital expenditures in 2017, to $7 billion, for infrastructure investments (like data centers) and other areas supporting growth.
The focus on growth is evidence that Facebook knows it has no time to gloat over the large audience it commands. The company pivoted nicely to mobile advertising when desktop revenue slowed, and mobile now makes up 87% of the firm's total ad revenue. But as Wehner has been warning anyone within earshot for at least two quarters, Facebook is running out of space to load ads into users' news feeds, so it expects "ad revenue growth rates to come down meaningfully" in the near future.
What will fuel future growth? That's a key question for Wehner and his colleagues. Presumably, there is some optionality value in Facebook's chat apps, Messenger and Whatsapp, but there's no plug-and-play business model for messaging. In the shorter term it's video that will be the bigger driver of the business over the next two years.
The company is looking to seed video content on its platform to "get the ecosystem going," Wehner said on the July earnings call. While Wehner says investing in video will not be about "doing big deals" with content providers or building a massive studio, Facebook will have to devise an effective revenue-share model for video content providers. In August, it announced its "Watch" tab offerings, which include short-form video from about 30 partners.
Thankfully, Facebook had $34 billion in cash and short-term investments on hand at the end of the second quarter, and quarterly free cash flow was $3.9 billion. As absurd as it sounds, that could get spent pretty quickly, given all the competition in streaming video services. (Hello, Disney.) Wehner will have his hands full running scenarios on Facebook's financial future. Capital structure could be an area of focus: Facebook has no long-term debt. For a company with a CFO who was an investment banker for 10 years, that may be a future financing source as Facebook prepares to shift gears once again. —V.R.
CATHIE LESJAK
CFO, HP

Constant Questioning
On November 1, 2015, when Hewlett Packard split into HP and HP Enterprise, it seemed as if the two companies could be easily typecast. HP Enterprise, the newly formed services and software business, would be the go-go, growth-oriented player. For its part, HP, although still a valuable corporate cash generator, would trudge along, flying the flag of the precursor company's personal computing and printing operations.
Outside observers could be forgiven if they jumped to the conclusion that Cathie Lesjak had gotten a raw deal. Pre-split, Lesjak had a stellar career as the CFO of Hewlett Packard. In 2011, for example, she was one of the few voices who spoke out in opposition to the company's acquisition of Autonomy, a British software maker. (Legacy HP subsequently took an $8.8 billion writedown as a result of accounting improprieties at the target.)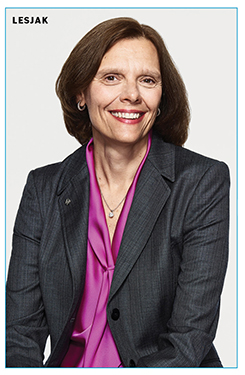 At the time, Lesjak could speak with the forthrightness of an executive who had enough backing within the company to have served as its interim CEO from August 2010 until November 2010. When the split occurred, she'd been with legacy HP for nearly 30 years, serving as its finance chief for eight of them.
Less than two years after the split, however, the idea that Lesjak ended up as the CFO of the less lustrous, slower-growing company turns out to have been a false assumption. In the face of a five-year worldwide slump in shipments of personal computers, HP has stood out as a star performer.
With the PC industry suffering 11 straight quarters of declines, "HP has achieved 5 consecutive quarters of year-over-year growth," according to Gartner. What's more, the company's printing revenue grew 2% year-over-year in the second quarter, and it has high hopes for the 3-D and multifunction printers it recently began to ship.
Contrary to analysts' expectations, HP's share price has surged more than 30%, while HPE shares fell about 13% over the 12 months ending in July.
Not that Lesjak compares her company to HPE. "I never really thought about [us] being the stodgy cash cow," she tells CFO. "We took the benefits of being separate and we focused on the two businesses that are part of our company: printing and personal systems."
On the revenue side, Lesjak attributes the company's successes to "really rigorous segmentation of the market," finding "pockets of growth" in different parts of the world "where we can bring an incremental value proposition, drive revenue, and get costs down." Indeed, she believes that what she has uniquely brought to the table is "a constant questioning and poking at the ideas that come up to make sure we have a really strong business case."
In itself, it's perfectly fine for a CFO to pursue cost reduction for its own sake. "If you save a dollar, you'll drop a dollar to the bottom line," grants Lesjak. "But if you save a dollar and you reinvest that back into the business in a disciplined way, a returns-based way, that dollar is actually worth a lot more in the future. And that's really what running a business is all about." —D.M.K.
JON MOELLER
Vice Chair & CFO, Procter & Gamble

Handling the Activists
After 29 years with Procter & Gamble including 8 as its CFO, Jon Moeller has perfected a light touch in answering tough questions. His deftness in steering clear of the controversy that activist investor Nelson Peltz was triggering at P&G, for instance, was on full display during a July 27 appearance on CNBC's "Squawk Box."
That was the morning of the day that Moeller, who had added the vice chairman title earlier that month, and CEO David Taylor told analysts attending P&G's fiscal fourth quarter earnings call that the company had beat its net income of a year ago, posting $2.22 billion in profits compared with $1.95 billion a year earlier.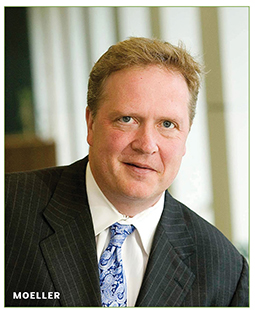 Moeller said P&G wanted to confine the conversation to the company's financial results and progress toward its goals. It wasn't hard to figure out that the executives weren't keen about discussing Peltz.
Earlier, a CNBC reporter asked Moeller about the activists descending on the company. "We have lots of activism," Moeller answered adroitly, "inside the company." For a moment, he'd steered the conversation away from Peltz to what he called "the biggest transformation in the history of the company," a multi-year effort to streamline its product portfolio, cut costs, and boost productivity.
At this stage, Peltz's bid for a seat on the board and his criticisms of what he sees as P&G's weak shareholder returns, deteriorating market share, and "slow moving and insular culture," seem much less threatening than those of William Ackman. In 2013, Ackman's criticisms of P&G CEO Robert A. McDonald reportedly helped prompt the board to force McDonald out and reinstate Alan Lafley as chief executive.
Moeller's good standing with the investment community, though, should help P&G in the run-up to what's likely to be a fierce proxy fight at its upcoming shareholders meeting. "The consensus view, shared by buy-side and sell-side analysts, is that he's generally well-liked," Kevin Grundy, a senior vice president with Jefferies, tells CFO.
Moeller's grasp of the entire company's businesses may be part of what stands him in good stead with analysts. Before he became CFO in 2009, he assumed roles at an array of the company's business units, including global beauty, health care, and food and beverages.
Grundy praises Moeller's role in cleaning up the company's products portfolio, an effort that cut 16 categories down to 10 and 170 brands to 65. Also praiseworthy are Moeller's work in "securing sensible structures" for deals last year with Coty (providing a discount for P&G shareholders for shares in a new beauty products company) and a transfer of the Duracell business to Berkshire Hathaway.
Challenging as Peltz's actions might seem, they offer Moeller and the other P&G leaders the chance to up their game, says Grundy. He acknowledges, however, that any time shareholder activists get involved with a company's governance it can produce a major distraction.
"Is that a risk? Yes. But my more prevailing thought is that it raises the execution bar," says Grundy. —D.M.K.
ALAN B. GRAF, JR.
EVP & CFO, FedEx

Below the Radar
For nearly 10 years, Alan Graf been in charge of FedEx's global finance functions, from treasury to tax and from internal audit to investor relations. He is also a member of the company's five-person executive committee, which plans and executes FedEx's strategic business activities. Graf has seen FedEx grow from a $16 billion U.S.–centric outfit to a $60 billion, global corporation. And he is on the board of directors of Nike and two other public companies.
Graf is, in part, responsible for what analysts have called "intelligent capital allocation" at FedEx over the past few years, as the company has ramped up investments in new aircraft and distribution. For fiscal year 2018, which began in June, the delivery and logistics company projects capex of $5.9 billion. The money will cover an increase in planned aircraft deliveries for FedEx Express and investments in FedEx Ground automation and expansion of handling capacity.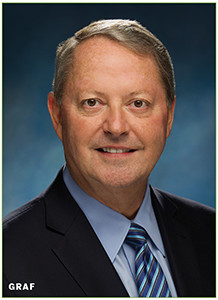 Graf explained in the company's June conference call that FedEx has "an extremely rigorous process that's designed to ensure that all of our capital expense and acquisition investments will provide strong positive cash flows and increase returns over time. We use very conservative assumptions, and senior management is involved in all capital spending."
Graf was also involved with FedEx's clever move to issue debt to fund its pension obligations. In January 2017 it floated $450 million in 10-year debt and $750 million in 30-year debt. About $1 billion of the proceeds will go to help fund FedEx's $23 billion U.S. pension obligations.
Things at FedEx don't always run so smoothly, however. In June the global cyber attack known as NotPetya struck. The ransomware infiltrated the systems of TNT Express, a $4.8 billion acquisition of FedEx's that operates in the Ukraine and has delivery operations in the Middle East, Africa, Asia-Pacific, Europe, and South America.
A month-and-a-half after the attack, customers were still experiencing service and invoicing delays, and TNT was still using manual processes in operations and customer service. FedEx said at the time that it was reasonably possible TNT wouldn't be able to fully restore all of the affected systems and recover all of the critical business data that was encrypted by the virus. In August, FedEx disclosed that the cyber attack would have a material financial impact on its earnings. It also said it did not have cyber insurance that covered any portion of the losses from the attack.
While Graf and the other members of FedEx's executive team put their heads together to figure out how to fireproof the company's global operations, they also need to decide whether FedEx is going to continue its torrid pace of share buybacks given the recent price of FedEx stock.
At 63, Graf may be nearing retirement. But given that the company just announced a nearly $600,000 cash award for him based on fiscal 2020 EPS, he's likely to be piloting finance for at least a couple of more years, providing the stability and predictability the company's investors crave. —V.R.
---
10 More Worth Watching
Though they may be less visible than our top 10, these finance chiefs epitomize finance excellence in a large-company setting.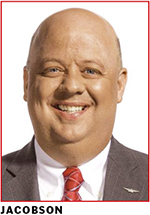 Paul Jacobson
EVP & CFO, Delta Air Lines
Hardly anyone loves air travel these days. But there is a clear industry winner, financially speaking. In 2016 Jacobson guided Delta to substantially higher operating and net margins than the other major U.S. carriers, American and United, despite lagging way behind in gross margin. It's been the same for years and is again so in 2017. Industry costs are up, but expect continued high-flying efficiency from Jacobson and Delta.
Tara Comonte
CFO, Shake Shack
There are a multitude of downward dips in Shake Shack's stock chart, but the shares are still trading at a price-to-earnings ratio of more than 50. Enter new CFO Comonte, who cut her milkteeth in the advertising world. The Scotland native must find a way to burnish the Shake Shack brand in a tough restaurant environment. Her first mission, though, is more prosaic: bolster the company's inventory, invoicing, and other financial systems.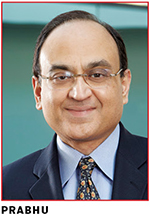 Vasant Prabhu
EVP & CFO, Visa
China UnionPay surpassed Visa as the world's largest payment-card company in 2015, the year Prabhu arrived from NBC-Universal. Now, with Visa enjoying dominant market share outside China after buying one-time subsidiary Visa Europe last year, Prabhu is preparing to submit a license application to Chinese officials. The CFO's eyes will likely stay trained overseas now that international business accounts for 52% of revenue.
Kevin Wampler
CFO, Dollar Tree
For retailer Dollar Tree, job one is generating value for shareholders from its fiscal 2015, $9 billion acquisition of Family Dollar. While Wampler says the company is on track to achieve $300 million in run-rate synergies, lagging same-store sales at Family Dollar sites present a hurdle. Wampler has boldly said that Dollar Tree is "insulated" from online competition. It will be interesting to see if the company's performance proves him correct.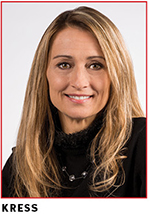 Colette Kress
EVP & CFO, Nvidia
Kress, CFO of chip firm Nvidia since 2013, has a premium tech pedigree, having been a divisional CFO at both Cisco Systems and Microsoft. Some experts have downplayed her role in this stock market darling's rise, but Kress has earned respect with her absolute command of Nvidia's markets and technology when addressing investors. Two challenges lie ahead: dealing with slowing sales in the data-center segment and deciding what to do with Nvidia's expanding cash hoard.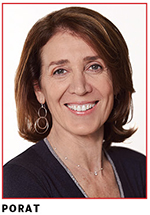 Ruth Porat
SVP and CFO, Alphabet
Perennially on the list of top U.S. finance chiefs, Porat has brought new financial discipline to Google/Alphabet. She's worked to assign costs to the company's different research and product development units and to alter the company's treatment of stock-based compensation. The company has also already adopted new revenue recognition accounting rules. Google's biggest risk is "complacency, not innovating, not investing," Porat has said. As CFO, that's something she can definitely prevent.
Marc Hamburg
SVP & CFO, Berkshire Hathaway
Berkshire Hathaway's CFO since 1992, Hamburg slipstreams behind superstar investor Warren Buffett and vice chair Charlie Munger. He may not be the first person Buffett asks advice from on an investment, but he has been a key part of keeping Berkshire's varied acquisitions operating profitably. He sits on the boards of Burlington Northern Santa Fe, Lubrizol, Star Furniture, and Precision Castparts, keeping operating income flowing even when Berkshire's investment and derivative gains lag.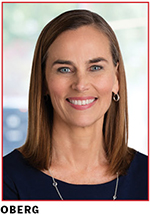 Leeny Oberg
Sr. EVP & CFO, Marriott International
For Oberg it was a wild first year as Marriott's finance chief in 2016, with the company buying Starwood Hotels & Resorts last September for $13 billion. Integrating the two big chains, which combined to form the world's largest hotel company, will remain a top priority for Oberg in the coming months. Meanwhile, she's challenged by an environment in which financing for new hotel construction is tight amid growing equity requirements by investors.
Richard Galanti
EVP & CFO, Costco Wholesale
Experts say Costco is shielded from the problems plaguing other bricks-and-mortar retailers; Galanti knows better. Only 9% of Costco's sales come from e-commerce; its strength is a membership model that caters to people who enjoy shopping for bulk goods (at low prices) in its warehouses. But Amazon's acquisition of Whole Foods means a whole new level of competition. Shareholders are hoping Galanti and his colleagues can at least keep Costco "Amazon-resistant."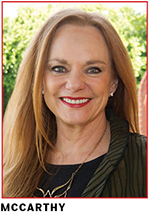 Christine McCarthy
EVP & CFO, Walt Disney
"If you succeed at everything you do, you're probably not trying hard enough," McCarthy told students in April at the UCLA Anderson School of Management. It's an apt perspective, as few companies try as many things as Disney, which certainly has tasted failure amid its many successes. A 17-year company veteran who became CFO in 2015, McCarthy's priorities include resuscitating ESPN and squeezing more profits out of Disney's international theme parks.