During the first few years after the Affordable Care Act's 2010 passage, most companies were none too happy about new costs for taxes mandated by the law and for complying with its many requirements.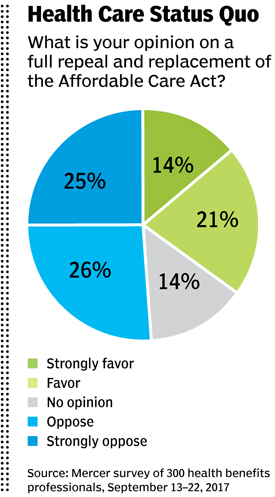 Now, a group that's inherently interested in managing health-care costs — the people companies pay to run their benefits programs — are fine, on the whole, with keeping the seven-year-old law. Only about one-third of 300 health benefits professionals surveyed by Mercer in mid-September said they favor a full repeal and replacement (see chart).
The fate of the ACA remains on the table, despite the recent failure of Republicans' latest repeal-and-replace gambit, the Graham-Cassidy bill. Work to find an alternative, or at least push through significant amendments to the law, will continue in the new Congress in 2018.
However, prospects for an outright repeal and full replacement will be even shakier. Sixty votes in the Senate will be required, rather than the 51 that were needed, but failed to materialize, for multiple recent, unsuccessful attempts to pass health-care legislation as part of the federal budget reconciliation process.
While the surveyed benefits managers were cool toward the idea of dumping the ACA altogether, they did remain steadfast in their opposition to aspects of the law. For example, 95% of participants said they favored simplifying the required shared-responsibility reporting.
Additionally, concern over the 40% excise tax on high-cost health plans, currently slated to take effect in 2020, remains rampant. Virtually every respondent has already taken actions designed to minimize their exposure to the tax. However, such efforts are doomed to be only temporarily effective unless the provision is amended or repealed.
Because the cost thresholds above which the tax will kick in are scheduled to escalate every year by only the consumer price index growth rate plus 1%, while medical-cost inflation has exceeded that pace for many years and is expected to continue doing so, most or all companies would likely end up being on the hook for the tax within a few years.
But, despite employers' worries over the looming tax crush, the proportion of them that plan to continue combating health-cost inflation by shifting more of the cost burden to employees is dwindling. While 43% of survey respondents said they have taken that step in the past, only 31% of them said they expect to do it in the future.
"The gap between those two numbers may signal that many employers feel like they have given as much financial responsibility to employees as they feel the employees can handle," wrote the author of the survey report, Beth Umland, director of research for Mercer's health and benefits business.
Meanwhile, companies expect to continue influencing a broad-based evolution toward value-based health care and away from the traditional fee-for-service payment model.
While that trend's earliest roots were planted before the ACA, the law hastened it with programs for sharing savings with medical provider groups that lowered costs for Medicare patients while hitting quality-of-care targets.
As providers have adjusted their practices in order to qualify for the programs, the prevalence of value-based care has increased for all patient populations. Further, some companies are now proactively negotiating value-based-care arrangements directly with providers.
The Centers for Medicare & Medicaid Services recently announced its intention to delay or cancel certain value-based-care programs. However, only 22% of respondents to the Mercer survey believe such actions will dampen employers' enthusiasm for moving toward value-based care. In fact, 25% of the participants said they believe employers will actually step up their efforts in this arena.
But at the same time, health benefits managers are wary that other changes to the ACA and government health programs that have been proposed over the past few months could result in more people without insurance. The concern is that insurers, as a consequence, might raise costs for group plans to make up for the revenue losses.
Survey participants were asked to rate their level of concern over that potential scenario on a scale of 1-5, with 1 being "very concerned" and 5 being "not at all concerned." Exactly three-quarters of the respondents rated their level of concern at a 1 or 2.
"Employers have learned, the hard way, that what happens in one sector of the U.S. health-care system affects all the rest," Umland wrote.