Not long ago, advances in digital technology threatened to make face-to-face meetings obsolete. They were supposed to replace high-mileage business travel with high-definition videoconferences in which geographically dispersed attendees mingled as 3-D holograms. While that scenario may not have materialized, technology has dramatically reshaped the strategy of even veteran business travelers, who can now customize just about every conceivable — and otherwise — aspect of their journeys.
Gone are the days when an inflatable neck pillow identified its wearer as an Olympic-level globetrotter. What sets today's high-functioning nomads apart is their ability to navigate through an ever-expanding population of websites, apps, devices, and services to efficiently manage their highest-priority travel-related tasks. "Trip planning can get very complicated," says Robert Alessandrini, CFO of The Judge Group, a $375 million staffing firm. "The challenge is to keep it simple."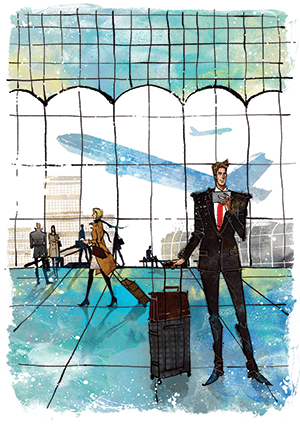 Indeed, there's a disorienting array of apps catering to business travelers, enabling them to bid on seat upgrades (www.seatboost.com), access city maps without incurring roaming charges (www.ulmon.com), and track accumulated frequent-user points across almost 700 different loyalty programs (awardwallet.com). What sprouted from a corporate drive for efficiency — requiring employees to book their own travel online — has ripened into a full-fledged competition to find the most powerful tools for ensuring the least turbulent trip.
The Essentials
By now, even less-than-frequent fliers know better than to go anywhere without a basic foundation of technological tools, ranging from Skype (a high-definition video connection to the home or home office) and Uber (the ground transportation e-hailer) to any number of weather apps (www.weatherpro.eu covers a scant two million locations), and a tip calculator (Gratuity, available on iTunes).
What should you also be packing? Electronic books can lighten the tedium of a long flight, distracting from delays and the colicky cries of infant fliers. Tom Gimbel, CEO of LaSalle Network, a Chicago-based recruiting firm, brings his Kindle on most trips, making sure it's loaded with at least two books, one fiction and one nonfiction.
"I always want to have something to read in case I get stranded," he says. "I keep a running list of recommendations on my phone."
Speaking of which, it's prudent to tote an extra phone and laptop charger, because running out of juice is a big hassle that can sap time—and productivity. Gimbel also carries a battery pack that can charge two devices simultaneously (for an example, see a wallet-sized version at www.travelcardcharger.com). "I'm paranoid about running out of juice," Gimbel says. "So I try to make sure I'm prepared."
Planning Ahead
Business travelers can only control so much about their journeys. There are still plenty of potential irritants: stretched security lines, endless flight delays, and spotty Wi-Fi access, to name just a few. But what they can control starts at the booking stage.
Companies that employ any significant number of travelers have likely trained employees to use software that helps management track and limit spending. The Judge Group, for example, relies on Egencia (www.egencia.com), the corporate version of Expedia. When booking trips, employees are limited as to which hotel they can stay at (no more than 25% above the average price) and must adapt their tastes to accept a less than five-star experience. There are also constraints on rental car choices.
But there are perks for any business traveler who has access to robust trip management software. In addition to improving the expense-submitting experience, employees get the benefit of having all the details of their trip in one place, an itinerary complete with confirmation numbers and hotel addresses.
Companies that use Concur, the expense-reporting tool owned by SAP, for example, have access to TripIt (www.tripit.com), an organizing app to which travelers can forward all confirmation emails. Similar apps like Tripcase (travel.tripcase.com) alert users to any itinerary changes, such as flight delays. They also track frequent-flyer miles and issue reminders when it's time to return the rental car.
Booking accommodations has never been easier, of course, and options for where to stay have increased, thanks to Airbnb (www.airbnb.com), the online accommodations-accessing service. The company's business-travel unit, Airbnb for Business, recently sealed agreements with several top travel management companies to join the list of options served to corporate clients. While it may not be among your company's lodging options right now, that could change — and fast.
As pleasant as it may be to contemplate homey or quaint lodging options—a spare room on a leafy suburban block—some business travelers may prefer the comparative sterility of a hotel, where the Wi-Fi is reliable, room service never closes, and there's plenty of desk-space acreage.
But you don't have to shell out big money for a king-size hotel room, even if you're booking last minute. Since most hotels have cancellation policies offering a full refund before 4 p.m. on the day of arrival, travelers for whom value is a priority can check out websites like www.hotwire.com or www.hoteltonight.com — or their respective apps — to look for better quality digs. "You can get a really good deal," says Alessandrini. The best deals, he adds, are available within 24 hours of when you plan to get rolling.
Up in the Air
Before embarking, there's plenty of road-tested advice that bears minding: Don't check bags (buy the biggest carry-on you can hoist), drink plenty of water (and not much booze) in-flight, and use the hotel laundry so you can pack a little lighter. Technology advancements help here also.
For those who have to check luggage and want to avoid heavy lifting — from their wallets, given the fees for overweight bags — there are now suitcases with built-in scales. And the newest function-packed "smart" suitcases include GPS tracking devices, for those times your bag winds up in Kansas City when it was supposed to accompany you to Des Moines.
Aside from luggage woes, flying itself can be stressful, as flight delays wreak havoc with tightly scheduled road trips. Not everybody wants to know the exact reason why their flight is running late, but for those who do, apps like flightstats.com can answer such queries. You can even study the flight path to see if the plane will be passing over any historic sites or natural wonders and therefore want to grab a window seat.
TripAdvisor's seatguru.com offers color-coded maps and travelers' reviews to help find a suitable place to park your posterior, be it on the aisle or in an exit row. SeatGuru also displays the type of aircraft that is being flown, thereby enabling you to steer clear of eardrum-piercing commuter jets.
For noise-sensitive types, in fact, Bose Noise Canceling Headphones have replaced the eye mask as the traveling executive's accessory of choice. With the help of an iPhone that has been loaded with a white-noise app (at www.tmsoft.com/white-noise sound selections range from a purring cat to a clothes dryer) you'll be insulated from distracting noises and that chatty seatmate.
The potentially overwhelming onslaught of tech travel options might itself be a stressor for executives, but there are benefits. If a popular app or website doesn't suit an executive's particular travel habits or information needs, he or she can just move on to the next one. "One thing I've learned about travel technology: if something doesn't click for me, I get rid of it," says Gimbel. "There are always others out there."
---
Moving Millennials
Until America's genius-in-residence, Elon Musk, perfects his vision of the Hyperloop — a series of vacuum-sealed tubes in which pod-encased voyagers could, theoretically, zoom between locations at blazing speeds — business travelers seem eager to take to the skies.
That's especially true of millennials, according to an 845-respondent survey conducted last year by the GBTA Foundation, the research arm of the Global Business Travel Association trade group. The study, conducted in partnership with America Express, found that millennials are nearly twice as likely to want to travel more for business than baby boomers. In addition, 57% of millennials agree that face-to-face meetings are superior to technology for getting business done.
This up-and-coming generation's well-documented proclivity for constant connectivity (even at 30,000 feet) via smartphones and tablets isn't going unnoticed by legacy brands. American Airlines recently unveiled a plan to up its in-flight Internet access speed. And this year, Hilton Worldwide is opening its first Tru by Hilton, a hotel designed expressly for those first-generation colonists of Instagram, Snapchat, and the like. The midscale hotel brand offers modern building designs, public spaces for working and socializing, and mobile check-in. The chocolate on the pillow, however, endures. — J.H.
---
Trip Tools
A sampling of popular travel apps and what you can do with them
SeatBoost (www.seatboost.com)
• Bid on seat upgrades
CityMaps2Go (www.ulmon.com)
• Access city maps without incurring roaming charges
AwardWallet (awardwallet.com)
• Track frequent-user points across different loyalty programs
WeatherPro (www.weatherpro.eu)
• See the weather in some two million locations
Gratuity (download from iTunes)
• Calculate tips
TripIt (www.tripit.com)
• Forward confirmation emails to create a master itinerary that can be accessed anytime
TripCase (travel.tripcase.com)
• Organize travel plans, receive flight delay alerts and car return reminders, and track frequent-flyer miles
FlightStats (www.flightstats.com)
• Check flight status, track flights, find out what's causing delays, and receive alerts
SeatGuru (www.seatguru.com)
• View seating charts and read travelers' reviews of specific seat locations