After a weak first month, many more teenagers found summer jobs in June, with employment among 16- to 19-year-olds increasing by 691,000, said Challenger, Gray & Christmas.
The 691,000 employment gain recorded last month represents a 13% improvement over June 2015, when 609,000 teenagers found employment. That's after a slowness in summer hiring in May, when only 156,000 16- to 19-year-olds landed jobs, down 14% from 2015.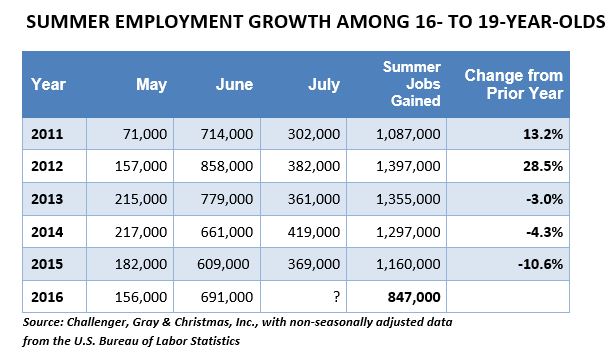 With June's surge, U.S. employers have now hired 847,000 teenagers this summer season, outpacing 2015.
Overall teen employment reached a non-seasonally adjusted 5,548,000 in June, according to the Bureau of Labor Statistics data that Challenger, Gray analyzed. That is up 4% from a year ago and represents the highest June employment level for this age group since 2009, when 5,608,000 teenagers were employed.
"Teenagers may be benefitting from a resurgence in the fast food industry," said John A. Challenger, chief executive officer of Challenger, Gray & Christmas.
"Unlike traditional retailers, which appear to be closing locations as more people shop online, food establishments are expanding. The Sonic drive-in chain added 16 new locations in the quarter that ended May 31. Moreover, there has been an explosion of new restaurants offering healthier alternatives to traditional fast food fare."